I'm excited today to be reviewing and writing about the Epiphone Masterbilt DR 500MCE. The guitar world is full of big-name brands who have built a reputation for creating some truly classic instruments whilst pushing the boundaries of what is possible for musicians to achieve.
Epiphone is one such brand.
Having been established back in the 19th century by a violin maker and luthier, the company has its roots steeped in musical tradition.
They didn't actually start producing guitars until 1957, by which time financial issues had forced through a sale to a little company called Gibson. The rest, as they say, is history with Epiphone becoming responsible for some of the most popular guitar models of all time.
Ideal for Both Beginners and Professionals
Epiphone Masterbilt DR 500MCE | Amazon
The Epiphone Masterbilt DR-500MCE guitar combines traditional construction methods and features with premium all-solid tone woods to bring you a new-vintage electric guitar with deep, rich lows, shimmering highs, and just the right amount of mids.
Buy at Amazon
We earn a commission if you make a purchase, at no additional cost to you.
In this review, we'll be focussing on one of their most recent models, the Masterbilt DR 500MCE. We'll provide some of our own thoughts, what we think the guitar's best features are, the pros and cons we think you should be aware of, some frequently asked questions, and a few noteworthy competitors.
But first, let's take a look at a top-level product overview to get a feel for this particular model.
Specifications
| | |
| --- | --- |
| Body type | Dreadnought |
| Neck shape | SlimTaper D |
| Nut width | 1.68″ (42.67 mm) |
| Scale length | 25.5″ |
| Number of frets | 20 |
| Pickup/preamp | Fishman Presys preamp & Sonicore pickup |
| EQ/Tuner | 3-band, Yes |
| Number of strings | 6 |
| Price | Check Here for The Latest Price |
Epiphone has combined traditional methods of construction with modern materials and premium tonewoods. This has led to the creation of what many have described as a modern classic.
The guitar itself comes packed with features you need to be aware of if you're looking to buy one. Here's a rundown of the most important ones.
Acoustic-Electric
If you're reading a review of this guitar then chances are you already know what the benefits are here, but for guitar newbies here's the low down on what this means and why it could be perfect for you.
First of all, you essentially have access to the best of both worlds. By this, we mean that you can play an acoustic-electric guitar with or without an amplifier.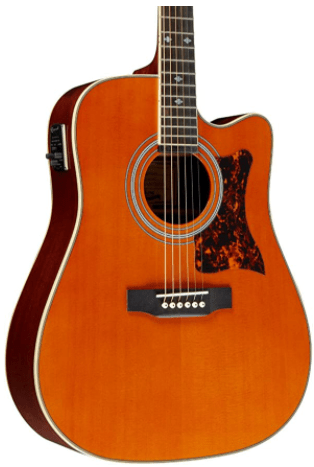 If you play without one, your sound will be a more classical, mellow one. When plugged into an amp you can project your sound much further and make use of some brilliant guitar pedals.
This gives the user greater overall control of their sound, perfect for those who can't choose between an electric or acoustic guitar (and who don't want to buy both!).
Styling
Stylewise, the DR 500MCE is a thing of beauty. With sleek lines and a 1930s style neck, Epiphone has designed a majestic instrument that is as good to look at as it is to play.
This line of guitars sits alongside one of their most iconic products in the Paul McCartney 1964 USA Texan. This limited edition instrument was an exact replica of the 1964 Texan that Sir Paul McCartney and John Lennon used to record 'Yesterday'. Not much for this line to live up to then!
Sound
What use is a guitar that looks good but sounds terrible? None. Luckily, Epiphone hasn't fallen into this trap and the DR 500MCE sounds just as good as it looks.
While used as an acoustic guitar, the tones produced are deep, rich, and warm as you'd expect this from a guitar made with premium materials such as solid Mahogany and Rosewood.
When the guitar is plugged into an amp, however, is when she really comes to life. It's Fishman Presys preamp and the Sonicore pickup system helps deliver a clear and true sound whilst the Presys electronics give an overall premium feel and functionality.
Using the master volume, 3 band EQ, tuner switch, output mute, and phase switch is super easy to do and gives you pretty comprehensive control over your music.
Price
Make sure you check the latest price for this item in the product overview above. As a mid-priced guitar, you'd be forgiven for thinking that it may lack in areas that more expensive products would excel in. For example, overall sound quality and total volume before distortion. With the Epiphone product here though, this is far from the case.
Instead, what we have is a great value guitar that has everything the majority of users will need at a good sub $700 price. Whilst this may not be the overall loudest guitar in that price range, it certainly more than stands up to its slightly more expensive counterparts when it comes to style, feel, and sound quality.
Added Build Features
Epiphone has also included some interesting additional features when designing this guitar. Some of the most notable ones include;
Vintage-style machine heads
Bone nut & saddle
Imitation tortoise pickguard
Nickel hardware
Bound body, neck, & headstock
How does the DR 500MCE Perform?
We know what the manufacturers have said about this guitar and we've established that it more than looks the part too. But does the old saying 'they don't make them like they used to' ring true here?
Despite a modern-day decline in brand reputation, the original Masterbuilts created a huge impression when they first hit the music scene in the 1930s. Aiming to live up to this former glory, Epiphone returned to traditional production methods and used classically inspired materials when building the DR 500MCE.
This combination of retro techniques and traditional materials has resulted in a guitar that delivers a nostalgic sound, perfect for playing music from yesteryear as well as more contemporary tunes. It's the solid wood design and hand-scalloped bracing that really help bring these retro tones to life.
Tonally, the DR 500MCE more than delivers. The mahogany body helps to generate an authentic old-school guitar sound that is perfectly clear, even at louder volumes. These clear highs are counterbalanced by beautifully deep lows. The rich, resonating sound will leave any musician happy.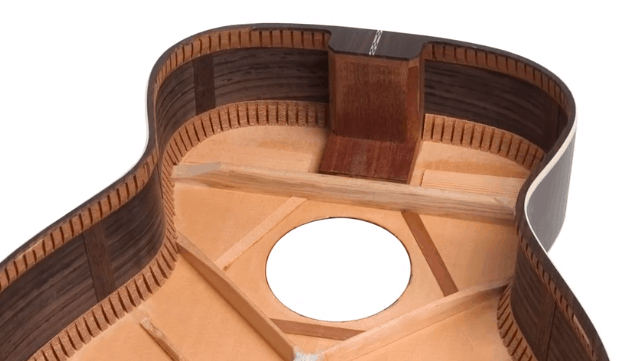 The ergonomics of the guitar are a little like the overall design, classic. There is a reason guitars have been built using this shape for so long, it works wonderfully.
Whilst looking at the design and playability of this guitar it is interesting to note that Epiphone has 'Plek'd' every unit as standard. This usually costs anywhere up to $200 to have done professionally, so to have this feature as standard is excellent in our opinion.
Players who enjoy Fingerstyle or Flatpicking will find this particular model great. The slim, hand-shaped neck and deep cutaway mean playing those fast chords or complex licks is a smooth experience along the entire fretboard.
This guitar is a brilliant acoustic instrument, especially given its price point, but really comes into an entirely different light when you plug it into an amp.
The beautiful tones we have just described are amplified perfectly thanks to the Fishman Presys preamp and the Sonicore pickup system. This really is a great guitar if the ability to easily switch between electric and acoustic sounds is important to your style.
Pros of the Epiphone Masterbilt DR 500MCE
When you're trying to decide which guitar model you should be investing in next it's important to weigh up the pros and cons of each model.
Narrowing down what can often seem like an overwhelming list of features and reasons to buy each one can help to make an informed decision. In this section, we're going to outline the overall pros you can expect from the DR 500MCE.
Gorgeous Vintage Design
We've already waxed lyrical about how good-looking this guitar is but it's a major factor many potential customers will take into account.
Anyone who says they're not interested in looks at all is lying, who doesn't want to look great whilst playing, and who doesn't want to be able to admire their instrument from afar when not?
This Masterbuilt is the epitome of classic cool. The sleek lines and vintage appeal make this guitar pretty hard to top.
Top-quality Electronics
This can sometimes be an area that lets acoustic-electric guitars down. Thankfully Epiphone has spared no expense by including the aforementioned Fishman Presys preamp and Sonicore pickup system.
These electronics, coupled with the adjustability of the volume, 3-band EQ, tuner switch with output mute, and phase switch result in a fantastic electronic experience.
Neck Design Allows Both Comfort and Speed
The overall look and feel of the guitar is a classic and familiar one. However, subtle clever adaptations to the neck allow users to benefit from good overall comfort and the ability to play quickly whilst still remaining so. These features in particular help Masterbuilt stand out from its competitors.
Solid Tonewood Build
The solidity of the overall build is fantastic. A top quality product should have a top quality feel and the Masterbuilt certainly does. With a good weight to it, the overall feel is very nice.
We can't help but appreciate the various solid woods used during production and the level of craftsmanship that seems to be present in what is essentially a mass-produced item. This build quality really adds to not only the appearance of the guitar but helps deliver the gorgeous tones we described earlier.
Pricing
This is perhaps the biggest positive of all. This guitar from Epiphone represents some of the best value for money that we've seen from a guitar. The build quality, sound quality, and looks of the instrument are akin to one that you would expect to pay three or four times the price for.
This price point opens up the Masterbuilt to a much wider audience and allows both beginners and experienced musicians alike the opportunity to access real top of the range quality at a very affordable price. Hats off to Epiphone for that.
Cons of the Epiphone Masterbilt DR 500MCE
Despite the overwhelming positives associated with this instrument there are a few downsides that anyone who is thinking of getting one should be aware of. We outline them here.
Overall Weight
This guitar is on the heavier side. Whilst this may not affect the vast majority of musicians, it is worth noting if you intend to play for extended periods or play whilst standing. This being said, the extras weight comes from the solid build materials used, not a bad price to pay for quality craftsmanship.
EQ Range
Whilst the quality of the electrical components is high, the range of the EQ bands is slightly lower than we would have liked. This doesn't impact playing too much in practice but was noticeable.
What Are the Best Alternatives to the Epiphone Masterbilt DR 500MCE?
Buying a brand new guitar is always a lot of fun. Which features will you need? Which brand has the best options? One thing that is always guaranteed is that you will want to feel like you are getting good value for money.
We've established that the Masterbuilt is excellent value, but are there any other alternatives on the market that are also worth considering? We take a look here.
A strong competitor, the Yamaha A3M offers similar features to the Masterbuilt at a fractionally higher price point.
With a brand such as Yamaha, you get good build quality and sound quality that more than stacks up. The A3M comes with premium Yamaha electrics as standard, performs well, and has the look of a classic guitar.
Overall this provides a good alternative to the Masterbuilt and is well worth testing out for yourself.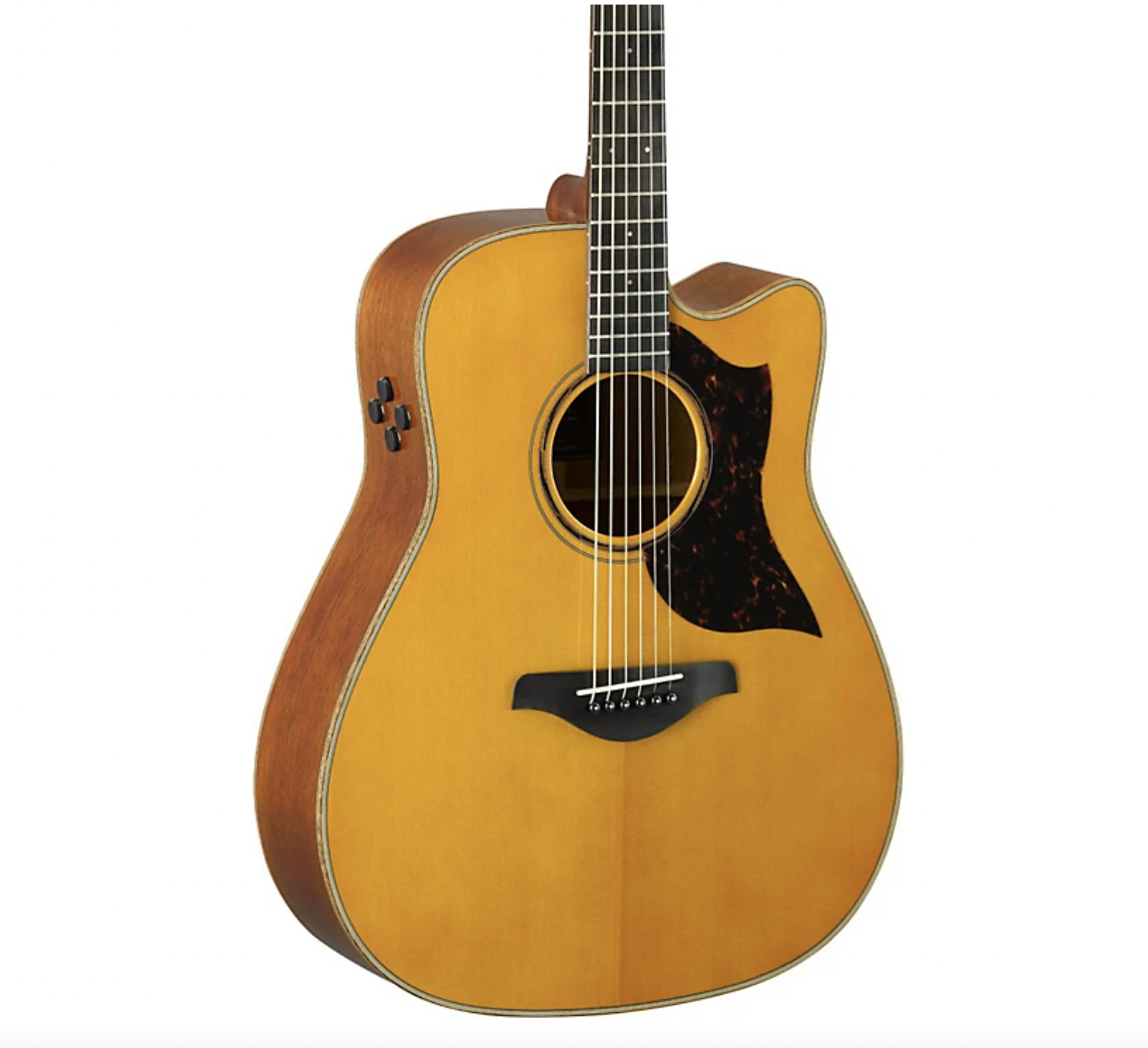 The CD-60 offers something different from the Masterbuilt. Aimed at beginner guitarists and those on a budget this instrument comes in at a fraction of the Epiphone's price.

If you're looking for something a little cheaper but understandably don't want to miss out when it comes to performance, Fender's offering could be for you. Whilst you won't be getting concert ready tones from this guitar, it's a great option if you're on a budget.
We recently reviewed the Fender CD-60 in a little more detail.
Great and Affordable Alternative
Fender CD-60 Dreadnought Guitar | Amazon
The CD-60 is a genuine Fender that is affordable and comes in three great-looking finishes to match your style. It provides a nicely balanced tone and plenty of volume thanks to its dreadnought body style and spruce top with scalloped "X"-bracing.
Buy bundle at Amazon
Buy at Guitar Center
We earn a commission if you make a purchase, at no additional cost to you.
09/29/2023 11:41 am GMT
Perhaps the biggest direct competitor to Epiphone's Masterbilt is the Eastman E1D.

A fantastic alternative and priced at a very similar point, Eastman has designed an instrument equally as brilliant as the Masterbuilt. The reputation of the brand precedes it so there's nothing to worry about there. Another one to add to the list of 'maybes'.
FAQs
Question: What is the Difference Between the Masterbilt DR 500MCE and the AJ500RCE?
Answer: This is a popular question amongst customers thinking of buying either of these models. The simple answer is that they are incredibly similar.
Tonally, they will deliver very similar sounds and are equally as nice to play. The main difference between the two is that the 500MCE is made using Mahogany for the body and sides whereas the AJ500RCE uses Rosewood.
Question: Does the Masterbuilt Come with a Case?
Answer: Unfortunately not. Epiphone does not supply any kind of case or gig bag with this particular model. We think that's a shame given the price but most musicians usually prefer to invest in a more substantial protective case anyway.
Question: Does this Guitar Come with a Warranty?
Answer: Yes. Epiphone offers a lifetime limited warranty on all products, including the Masterbuilt. This limited warranty covers defects present on purchases that were caused by the manufacturers themselves. For full information on what exactly is and is not covered, you can visit the warranty section on the Epiphone website.
Guitar Space's Final Thoughts on the Epiphone Masterbilt DR 500MCE
Epiphone has produced a really solid guitar here that will appeal to an awful lot of musicians. The build quality and overall sound produced both while plugged into an amp and while used without one is excellent and the pricing means it punches well above its weight.
If you're considering getting an Epiphone Masterbilt DR500MCE or any of the alternatives that we provided here, we're sure you won't be disappointed. Ideal for both beginners and seasoned guitar enthusiasts, the Mastersound really is a master of its sound.
Ideal for Both Beginners and Professionals
Epiphone Masterbilt DR 500MCE | Amazon
The Epiphone Masterbilt DR-500MCE guitar combines traditional construction methods and features with premium all-solid tone woods to bring you a new-vintage electric guitar with deep, rich lows, shimmering highs, and just the right amount of mids.
Buy at Amazon
We earn a commission if you make a purchase, at no additional cost to you.
Latest posts by Jodie Chiffey
(see all)