Japanese guitar builders have come a long way from their early roots in the far east to populating virtually every major store worldwide. Now a big name in the guitar world, Takamine best represents the values of "made in Japan" – flawless craftsmanship, performance, and premium quality.
Takamine guitars have been a constant companion in my career from when I started to today, 10 years after landing my first professional studio session.
I still use their guitars in the practice room, studio, and on stage, and I can safely say they are among the most reliable instrument for all player levels, especially on acoustic electrics of all shapes, sizes, and values.
The range of choices is the only thing that matches their quality; as such, I prepared this list of the Best Takamine acoustic guitars with all player's budgets and needs in mind.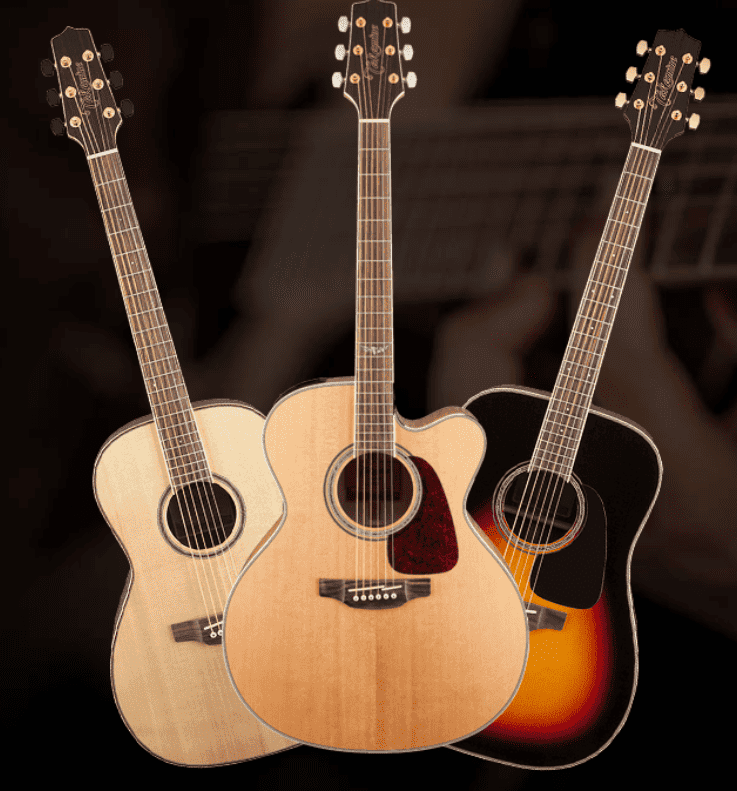 About Takamine Guitars
Takamine started in 1959 as a family-run shop in the central Japanese town of Sakashita near the "Takamine" mountain, from where the company was then renamed. The company's timeline tells of an impressive, always-growing endeavor with a big highlight on master luthier Mass Hirade's success in taking the company worldwide after becoming CEO in the 70s.
Takamine always focused on classical and acoustic guitars and only improved the guitars by adding pioneering adding electronics and offering the best acoustic pickups. There's no loss on the pure acoustic tone, on any model, electronics or not.
This is why Takamine is among the top acoustic-electric guitar builders worldwide, with even their intermediate models offering exceptional performance on stage.
Selection Criteria
Ranking guitars according to their value without context does not give a full picture of what's best for you. A 1000$ acoustic could be more valuable than one triple its price if it matches your needs.
First, I categorized the instrument based on the player's level, whether a hobbyist, advanced or pro player, and even more detailed for the former if they're looking for a guitar for the stage or studio. In order of importance, the criteria used are:
The acoustic tone of the instrument
The quality and transparency of the electronics
Versatility and playability.
Best Value Takamine Acoustic Guitars
A Takamine value model is much cheaper compared to premium models. Still, the difference in quality is mostly in the parts used and the premium extras – when it comes to craftsmanship, almost the same quality control is in place, and they fit well in the hands of a hobbyist or working gigging musician and singer-songwriter.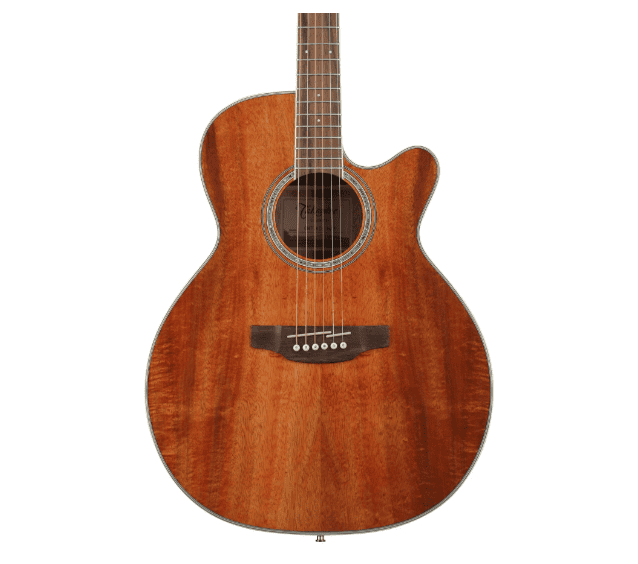 The entire Takamine G-series perfectly deliver the Takamine quality at an affordable price – yet out of all model, the GN77KCE, with its Jumbo body, extremely easy-to-play neck, and honest-to-the-sound electronics, best encompasses what Takamine's affordable line is all about.
The great Tonewoods combination ensures enough of everything in the frequency range. It's surprisingly mid-rangy and full-sounding for its size and has the typical high-end shimmer you look for in quality acoustics.
Takamine's TP-4TD preamp system does justice to the tone and is transparent and easy to use. The big gain/volume knob is a nice feature, as noticeable knobs make a difference when you have only a split second to raise the volume before heading into a solo.
You could even pull off a massive show with this guitar – when it does not catch up with the premium Takamine's, it is that extra 20% that makes the difference between the guitar sounding good or excellent and memorable.
Pros
Great acoustic tone due to the tonewood combination
Easy to carry, small and light for the stage
Transparent electronics
Easy to play neck
Quality craftsmanship
Cons
Not very loud
Not a great recording instrument
The preamp could be slightly more versatile
A Dreadnaught's big body shape is the best tone enhancer you can get in an acoustic guitar. I picked this guitar off the wall of Guitar Center as the cheapest Takamine in the store. Sound-wise, it impressed me more than the more expensive G series listed above due to the rich acoustic tone the body delivers.
The best thing about this guitar is the acoustic tone. It's the perfect campfire guitar you can play on a gig and possibly record all your demos – loud enough to cut through a crowd of singing friends and accompany your voice on stage. The same goes for fingerstyle players who might enjoy the slightly broader Mahogany neck.
The electronics do their job and are transparent enough to get a good sound of the instrument on any PA. However, Dreadnought can be very boomy when plugged in, and the EQ could be more detailed to help eliminate the low mids without sacrificing much of the rest.
The acoustic tone makes it good enough to keep as a spare acoustic or beater guitar, even if you own much more expensive instruments.
Pros
Loud and full sound perfect for folk, country, blues, and rock
Great guitar for home recording
Good neck for fingerstyle and accompanying rhythm guitar
Affordable for all levels
Cons
Electronics could be more versatile.
The lack of a cutaway makes it not a great lead acoustic for all genres.
Hard to transport big body
Hard to play for children and players with a small body
Best Takamine Acoustic Guitars for Performers
In the performer's section, I will include guitars that would very well be in the hand of your favorite player and session musician touring the world. Prices here are high, but nothing is left unjustified.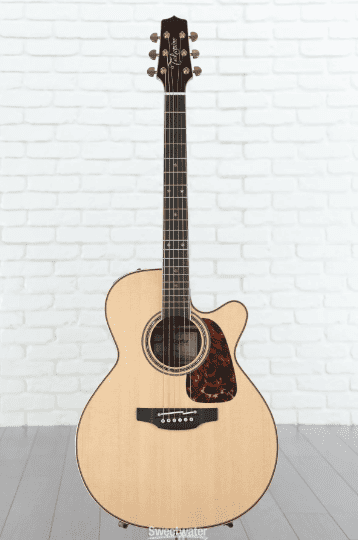 The Pro series delivers what it promises to professional players. The ultimate Takamine performing experience that blends acoustic resonance with the top-end of preamps, pickups, and the comfort and versatility of a NEX body shape single-cutaway.
The price and quality say it all on this guitar, and as much as I am picky about overly expensive brands, everything is justified on this model. The solid Spruce Top, Craftmanship, and the Cool Tube CTP-3 preamp will deliver the same resonance and quality 20 years from now, even with extensive touring and beating.
The only place on earth where this guitar could fail to deliver it on a Nashville recording session where a Martin D-28 or equally quality vintage gem would be the recording instrument of choice.
Pros
Superb performance in every setting
One of the best preamp and pickup combinations in the market
Fine and durable tonewood and hardware
Exceptional intonation and resonance on all frets.
Ideal for soloists and singers
Cons
Not very impressive under the studio mic
The asymmetrical neck profile is not a good fit for all players
Not loud acoustically
The best of both worlds, a big body full-sounding Dreadnought with one of the finest preamps systems to transmit that warmth and power even when plugged in.
This is one of the best alternatives for singer-songwriters of every level or the session musician who needs a powerful guitar to hold a folk and country song together with enough versatility to play lead high up the neck when needed.
Besides delivering in the studio, the guitar is equally suitable for the studio – ticking all the boxes needed to impress the engineer on the other side of the glass. The Tonewoods combination allows it to be loud but not boomy, with an airy sound that is perfect for mixing with the band.
Pros
Superb acoustic tone
Very versatile in tone and playability up or down the neck
Very flat electronics
Beautiful worn-out vintage finish
Excellent craftsmanship, intonation, and hardware
Cons
Hard to transport big body
Not fit for players with small bodies and hands, especially children
Best Takamine Acoustic Guitars for Recording
Experience in the studio taught me that an acoustic guitar must have specific specs to be recording-friendly. Pickups, piezos, or any electronics are rarely used in the studio, as everything is left to the intimate relationship between the acoustic tone, player, and microphone of choice.
The most expensive, flashy guitar will fail to impress a recording engineer or producer if it's not the right guitar for the job. Typically you are looking for:
A big body guitar non-boomy guitar with a lot of clarity for strumming to sound big
If it's a small-bodied guitar, it still should have enough punch and sweetness to it
As close to perfect intonation as possible
A breathy, airy sound that can cut through the mix
I already listed the EF360SC-TT Dreadnought, an excellent premium recording guitar. A 12-string is what's left to add to the mix.
This guitar saved my latest release recording session. We set out to record in another country, and no one I knew there owned a 12-string guitar I could borrow, nor could I bring my trusty Gibson acoustic with me.
As I entered the studio, ready to record with my 6-string, I heard a crisp, airy 12-string tone coming out of the speakers from who a singer-songwriter was recording. He was playing this exact Takamine that I borrowed right after that ended up being on all four songs that day.
You can hear the result here with the guitar in action here; the bright open guitar that kicks off the songs and plays all the fills is this valuable instrument, which I guessed costed twice as much at first.
12-strings are natural recording instruments, but there are different levels to them as well.
The GD30 sounds excellent under the mic, as it does not have messy boomy low-end and low-mids that wobble when strumming.
It might not have the most advanced electronics that can't fully transmit the same natural reverb of the sympathetic harmonix when plugged in. However, that is due to the nature of the 12 string, which is hard to capture amplified.
A trick I learned over time that helps tighten up a 12-string tone is to remove all the doubled strings on the bottom four strings and only keep them on the high E and B strings. This way, the low end is much more focused, and you still keep the shimmer and presence of the high strings.
Pros
Airy light sound with all the good characteristics of a 12-string
Easy to play up and down the neck
Good solid Tonewoods combination
Great to record with a microphone
Cons
The electronics can't fully transmit the open nature of the sound.
It can sound too thin in a band setting.
Not very versatile and limited to rhythm playing
Alternatives to Takamine Guitars
Takamine is not the only quality acoustic guitar builder out there, with rivals that match up to them even locally in Japan. Three of the main alternative brands I recommend you look up are Yamaha, Martin, and Taylor guitars.
Yamaha is the direct local competitor of Takamine, with a broader selection of budget acoustics, and Taylor follows the same line while offering more choices than Yamaha on premium models.
If you encounter a wall of Takamine's, there's likely another full of Yamaha or Taylor guitars somewhere in the same shop. Martin, on the other, wins every in the area of premium instruments with the classic high-end acoustic models that set the standard of how a guitar should sound.
Yamaha LS36 ARE Concert -Small-bodied instrument with a well-defined buttery midrange; one of the best blues acoustic guitars out there.
Martin D-28 Acoustic Guitar – The golden standard of big-bodied acoustics, for which he even prepared a separate full guide.
Taylor 224ce-K DLX – Workhorse jack-of-all-trades acoustic-electric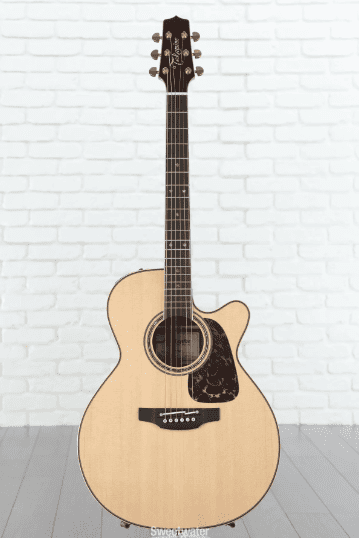 FAQs
Question: Who Plays Takamine Guitars?
Answer: Takamine guitars are played by Country superstars Toby Keith, Garth Brooks, Kenny Chesney, Blake Shelton; Rock and pop stars Jon Bon Jovi, Glen Frey, Nancy Williams, Steven Wilson, and Bruce Springsteen, Bruno Mars and Guitar virtuosos like John Scofield and many others of all genres and styles.
Question: Where are Takamine Guitars Made?
Answer: All the high-end models are made in Japan, with only affordable instruments like the G-series acoustic made in China, still going through a rigorous quality check from Japanese luthiers.
Question: How Did Japanese Guitars Become So Big?
Answer: Four factors contributed to the immense worldwide success of Japanese guitar builders.
• The Japanese guitar-friendly culture gave birth to many small local shops.
• The craftsmanship matched or even surpassed Western guitars in the 80s at a lower cost.
• Gibson and Fender were not in their best shape, and "Japan Made," along with Paul Reed Smith's PRS, took advantage.
• They endorsed the best players, with Ibanez persuading Steve Vai to mass-produce his prototype of the JEM – the no. 1 best-selling signature model in history.
Final Thoughts: Takamine's Greatest Advantage
The biggest reason I recommend Takamine is that you'll likely find an instrument that suits your taste and needs among the many models and series. It's one of those brands you're safe to order online for, as consistency of quality, finish, and sound is always assured.
I still keep three of the Takamines I owned in my career, all of which I bought used and never had an issue with after adequately setting them up.
Latest posts by Altin Gjoni
(see all)