We're all familiar with the iconic image of rock guitarists playing guitar faster than anybody really should, all with spotlights and magnificent heads of hair.
Those interested enough have names for those iconic people, and foremost among those names is Steve Vai. Vai started his career transcribing Frank Zappa's work, then joined Zappa's band, and has since worked with everybody from Mary J. Blige to Spinal Tap to Ozzy Osbourne, and well as being foremost among celebrated, instrumental, solo guitarists.
Ibanez has been putting out Jem Steve Vai signature models since 1987. The original designs were a collaboration between Vai and his friend and luthier, Joe "Jem" Despagni, after whom the guitar was named.
Let's see what it does!
Core features and specs
The foremost feature of the JEMJR is that it catches your eye. Look at it! However, looking at it doesn't count if you're looking for something to actually play.
| | |
| --- | --- |
| Construction | Bolt-on neck |
| Body | Mahogany |
| Neck | Maple |
| Fingerboard | Jatoba |
| Frets | 24, Jumbo |
| Pickups | A Quantum humbucker each at the bridge and neck, and a Quantum single coil in between them |
So far, so good. I'm sure I've noted on reviews before though, that some guitars aren't sold for their parts, they're sold on their looks. The thing about that is that the more interesting aspects aren't necessarily the parts.
This will work well for…
Vai fans on a budget.
Or anybody looking for a wild looking guitar with the basic premise of a Superstrat, on a budget.
Let's be fair, it'll mainly be the former I think. You can get similar parts on many, many other Superstrat guitars, and be mindful that whatever this costs you, Mr. Vai will be getting some of that. So you can probably get as good a guitar, at a lower cost, that you can add your own degree of wildness too.
And I will give money to anybody who can emulate that fingerboard inlay, at home, who hasn't had training in such skills.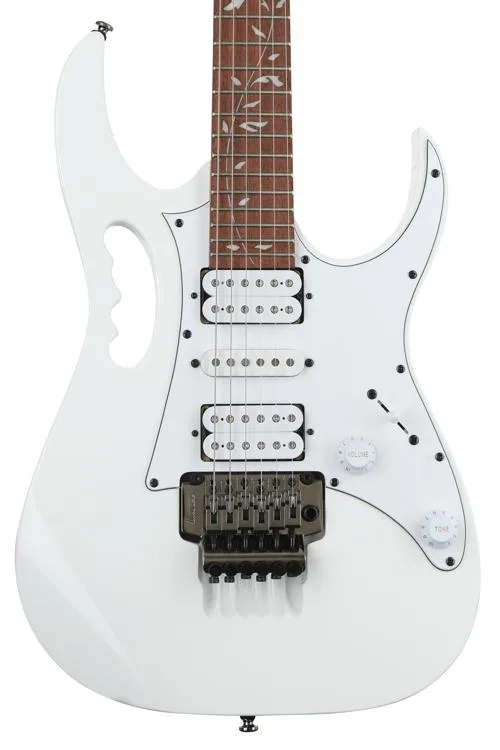 Does it do what it should?
Let's consider this question in the context of the core premise of this guitar: making a noise like Steve Vai.
Yes, of course, it does. You think Steve Vai would put his name to it otherwise? Let's take a look at the parts involved in achieving this though.
As mahogany bodies go, this actually feels pretty light. As previously noted on guitars in this price range, there's mahogany, and there's mahogany. And the mahogany on a $500 guitar will be less dense and therefore less heavy than mahogany in a $1,500 guitar. It's not done or die overall, but something to be mindful of.
The Quantum pickups aboard the JEMJR are made by Ibanez. They're fairly stock ones for the brand, featuring on multiple models… but not the higher end Steve Vai ones – they'll have his signature DiMarzio Evolution ones.
Jatoba may be an unfamiliar name in guitar materials. In a time when regulations regarding rosewood are getting increasingly tighter, especially for guitars being made in the east, that need to be imported to the US market, it's easier and cheaper to find alternatives these days. Jatoba is a really good option for fingerboards because it's a very hard wood, which will help protect the JEMJR's magnificent inlay.
Construction
Ibanez has always been a key brand in terms of construction quality. Hey, they were part of the lawsuit-era for making copies of Gibsons and Fenders that were better than Gibsons and Fenders! And again, Steve Vai is not going to attach his name to a poorly made instrument. Whatever you think of the parts that go into it, a shoddily constructed instrument – in an era when you don't have to spend a lot of money to get a great guitar – is just inexcusable.
Thankfully, it's not an issue here. The neck is cleanly attached at the neck: no scratches or glue residue around the joint, or scrapes from over-screwing. All the hardware looks solidly attached. But let's finally talk about the JEMJR's glaringly obvious unique design aspects. Starting with the monkey handle. It's a hallmark of Vai's JEM guitars. It's… interesting… but I'm not convinced of the practicality, especially on a budget model like this.
So, yes, it's a handle. The grip is curved on the edges, so it's not that uncomfortable, but I still don't see myself holding a guitar there for long periods of time. I don't own any such guitars all the time, and I've certainly never missed having such a handle on my Strat or 335.
The other thing to look at is that inlay referred to as the Tree of Life. Ignoring the pretentious name, you can't help but respect the craftsmanship that went into it. Is it necessary? No, not even for a second. Does it look badass? Clearly!
Tones
Steve Vai has worked with a lot of different people in different styles. His guitar needs to be able to do whatever's required at the time, whether it's gentle clean rhythms, squealing solos, or monster riffs.
The JEMJR is built with plenty of selections to try and achieve this. The pickup selector is a five-way and goes from bridge, to middle-side coil of the bridge humbucker and middle, to middle, to middle and middle-side coil of the neck humbucker, to neck. It's not an unusual feature of Ibanez Superstrats, but still worth remembering.
If you're going for full-on Vai-like accuracy, you'll, of course, want Vai's signature model Carvin amp. For this interview, we're using a British-style, 15-watt valve combo amp, because that's what's available. My go-to settings are bass at four, with middle and treble both at six. Drive, when required, will be at six.
Starting with clean sounds, the JEMJR is perfectly pleasant. The single coil in the middle is my favorite for an all-round sound that could do anything. But, you can push it towards the bridge side for funkier sounds, or over towards the neck for something a bit bluesier.
On the overdrive channel, things are as you'd expect really. The bridge side of the electronics will 100% deliver on searing leads that'll cut through the rest of your band. The middle pickup is cool for some pronounced blues notes, while over at the neck, you have full capacity for some fat riffs. All good!
Read More: How to find the Best Electric Guitar
Playability
The parts, construction, and tones of the JEMJR all add up to it being an incredibly playable instrument.
Let's talk about the neck and fingerboard because that Tree of Life inlay needs to be discussed. Except there's not a lot to say about it, because it's a perfectly smooth playing experience. I'm a straightforward dot inlays kind of guy, so I have a natural tendency to approach such ornate examples with skepticism.
But I can't fault this. On top of the slender Wizard III maple neck, you can't help but feel an ounce of bravado in your playing, so you go faster, tighter, more melodic. Unfortunately, I'm not a shredder, and I just wanted to play Wonderwall, because it's a ridiculous guitar for playing Wonderwall on.
Pros
Cons
-You get to look like Steve Vai!.
-Wild looks even if you're not much of a Vai fan.
-Incredibly affordable.
-God parts, great looks, and a good selection of tones.
-You probably can't play as well as Steve Vai.
-It's not a particularly weighty guitar, which will bother some players.
-You can probably get a similar-spec guitar for less money.
Alternatives
If you think the JEMJR is in the right ballpark, but not quite it, there are plenty of guitars in a similar vein that you can consider.
Let's start with another Vai signature. This one is more of the real deal: it's the JEM7V. And it costs $2999.99. So that's significantly more than the JR!
Remember when I mentioned all the things that kept the cost of the JR down? Well, the 7V includes them. First off, Ibanez makes it very clear that this guitar is made in Japan. That alone has jacked the price up. Ibanez keeps their Japanese manufacturer for their most premium models.
Ibanez JEM7V Steve Vai Signature | Reverb
Built with direct input from Vai himself, the JEM7V features a whip-quick five-piece Wizard III neck and dual humbucker/one single coil Evolution pickup combination for shredding in serious style.
Check Prices
We earn a commission if you make a purchase, at no additional cost to you.
Secondly, unlike the JR, the 7V has those signature Steve Vai Dimarzio Evolution pickups that I mentioned. Again, that jacks the price up just for being a signature model, on a signature model! You'll also notice that the 7V has shiny gold hardware. Additionally, it's had Ibanez's Prestige fret edge treatment, which allegedly helps with playing faster.
Oh, and guitars this expensive come with a hard case.
For $100 less than the JEMJR, you can get an Ibanez RG450DXB. The RG range was Ibanez's original moneymaker original design, and now they make them at price points to cater for everyone. The spec list is identical to the JEMJR for less money: mahogany body, Quantum pickups, Jatoba fingerboard… I did say you could get similar specs for a lower price.
If you're looking for Vai sounds on a budget, and you're more focused on tone than Tree of Life inlays, this RG is definitely worth checking out.
Ibanez JEMJR Review Conclusion
So there you have it. How to look and sound like Steve Vai without completely breaking the bank. Or if you just want a cool looking guitar.
It's important to remember that signature model guitars are essentially an extension of an artist's merchandise offering. It's still going to take practice to sound like them, especially in the case of Steve Vai.
Even if you're not a fan of the man himself, there's no denying that the JEMJR is a great guitar, well constructed, with tones to suit a variety of styles. It's hard to complain about that!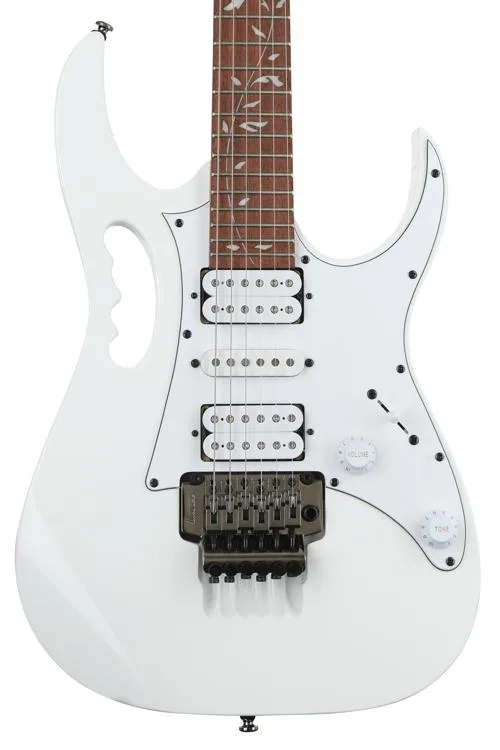 Further read:
• Steve Vai Gear List – From Zappa to the Hydra
Latest posts by Guitar Space Team
(see all)