Search 'how to play the guitar' online, and the number of results that you'll be presented with is astronomical; it can be so hard to decipher the great from the not-so-good – and that absolute no-go's! But, this guide will focus on two market-leading platforms you will come across: let's explore Simply Guitar Vs Fender Play!
During my time learning to play the guitar, there weren't platforms, programs, or apps, so I used the old-fashioned methods of listening, watching, reading, and trying (and trying, and trying!) until I could finally master the chords I needed to.
However, today, many players want to have a skill mastered yesterday, and Simply Guitar and Fender Play provide short, bite-sized lessons to enable this. But is fast-tracking learning to play the guitar a good thing?
I know that learning to play the guitar is a very personal journey. What works for one person will be the wrong avenue entirely for another. So, putting my personal preferences aside, let's discover if either Simply Guitar Vs Fender Play is the right platform for your style, needs, and budget!
Bottom Line Up Front
Fender Play is a no-brainer for total beginners. This slick program has some cool content, engaging tutors, and simple-to-follow videos. Simply Guitar has a more lively user experience with real-time feedback, which can be a great motivator. However, I don't believe that advanced players will find much on either platform to entertain for long.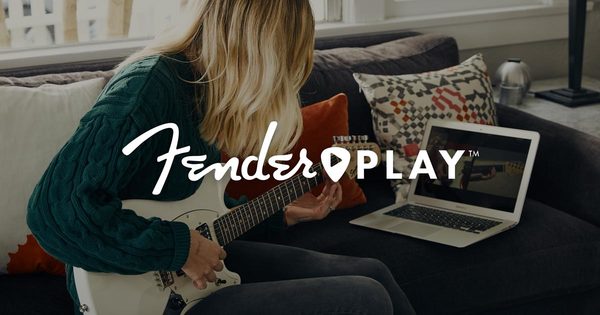 See Also: Fender Play Review and Guide
Main Differences Between Simply Guitar Vs Fender Play
The main differences between Simply Guitar and Fender Play are:
Simply Guitar offers a 7-day free trial upon a subscription to the annual plan, whereas Fender Play offers a 30-day free trial
Simply Guitar has an annual subscription of $149.99 a year, whereas this is $89.99 at Fender Play
Simply Guitar only works on iOS and Android, whereas Fender Play runs on Desktop, iOS, and Android
Key Specifications
Simply Guitar
Fender Play
Monthly Cost
$24.99
$9.99
Platforms
iOS, Android
Desktop, iOS, Android
Genre Search
No
Yes
Best Features
Lively user experience, real-time feedback, strong and contemporary song library
Simple interface, guided paths; bite-sized lessons; suitable for guitar bass and ukulele players; hundreds of well-known songs to learn; multi-angle camera.
APP Version: Free Trial Available
Start today here
Start today here
Exploring Simply Guitar Vs Fender Play
Following a side-by-side view of the basics, let's look into each platform more thoroughly.
Simply Guitar
Bold, bright, and brash, at first glance, Simply Guitar appears pretty gimmicky to an advanced player's eye. However, look past this, and the efficient learning systems seem to not only be addictive but rewarding and challenging in equal measure.
There is a structured framework for learning here, and I found the goals you can set to be easily achievable with extra incentives and praise along the way. I can certainly see how motivating Simply Guitar can be when it can be all too easy to give up in those early days of painful learning.
Getting Started
If you're purely a desktop user, Simply Guitar isn't for you, as it is currently only available in app format for iOS and Android. Your device has to be equipped with an external and internal mic, and it is recommended to use headphones so that you can clearly hear your guitar over the lesson.
There are different subscriptions available and a free option; however, this is very lacking in functionality. The free version of Simply Guitar allows you to work through only a couple of extremely basic levels.
Signing up to Simply Guitar is (for want of a better word) simple, whether you opt to use the desktop or app version. Both will take you to a questionnaire that includes questions about your skill level and overall aim for using the program. Your answers will dictate a Course Path, and you will begin your journey at Simply Guitar's Basics 1 Course.
Irritatingly, you cannot bypass this initial course, but once this has been completed, you're granted more freedom to explore the app in more depth.
Ease of Use
I am not tech-savvy, but I found it straightforward to navigate myself around Simply Guitar and its features (which appear more basic than Fender Plays). There are three sections, including one specifically for songs and chords, which I found fun to use, and I thought the library could more than meet the preferences of most users.
Educational Aspect
Now, here is where Simply Guitar shone for me. The app is perfect for beginners, and results are obtained quickly; it is highly effective at encouraging further learning. I found the step-by-step approach a little painstaking, but I am unsure if this would be the same for a complete learner for whom it could be a benefit.
I like how you're able to play actual songs from the very first lesson, as this is not the case with many online guitar learning platforms. I also like the clear benchmark of success being shown at each progress step – in-fitting with gaming apps; this is a greatly encouraging visual.
Players will be learning to read and play chords quickly and seemingly effortlessly with Simply Guitar, and the development of guitar skills is absolutely here. However, for those who have passed this stage, there is the option to skip along to more intricate and advanced chord switching and positionless playing.
Visuals
There is some video content here, but most of the visuals you are presented with are animated (remember Guitar Hero? That kind of thing). While this doesn't appear to be a serious or engaging element of the app, some of the visuals are encouraging if a little childlike – gold stars, green ticks, and motivational messages that pop up.
Simply Guitar will let you make the odd mistake without interrupting or stopping play, but if you make a few errors concurrently, a bar will be rewound for you to play again.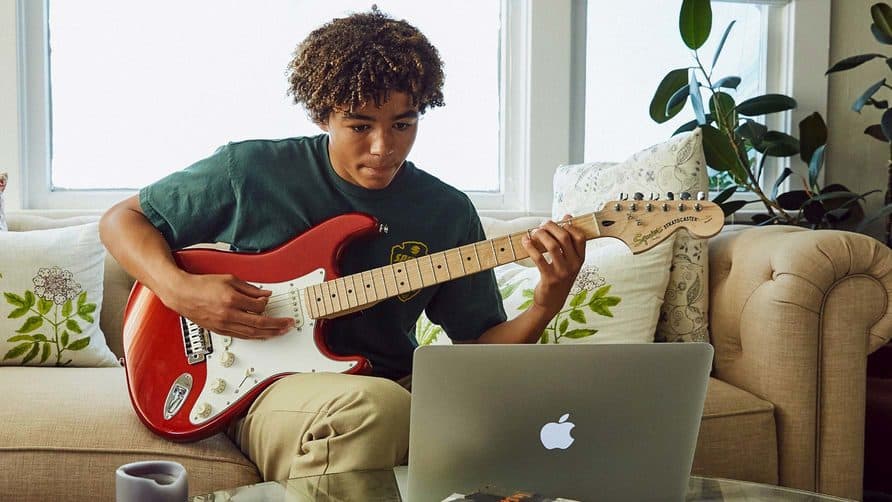 In previous discussions about Fender Play, I haven't been supportive of the platform. However, in a direct comparison guide, this is the one that I found to shine in more areas.
To me, it feels more authentic. This isn't just an app; Fender is a leading guitar brand that has done a great deal for the guitar-playing community. I wouldn't liken Fender Play to Guitar Hero, but would I use it myself? Probably not. Let's look into it a bit more.
Getting Started
Fender Play's sign-up process is straightforward. There are different subscriptions available and a free trial (however, you need to put in your credit card details to access this, which is something that doesn't sit right with everyone).
Once you've chosen how to begin, you will then select the genre (folk, funk, country, R&B, pop, blues, or rock) and instrument (electric, acoustic, uke, or bass) and begin to learn straight away by clicking on a bite-size lesson you like the look of.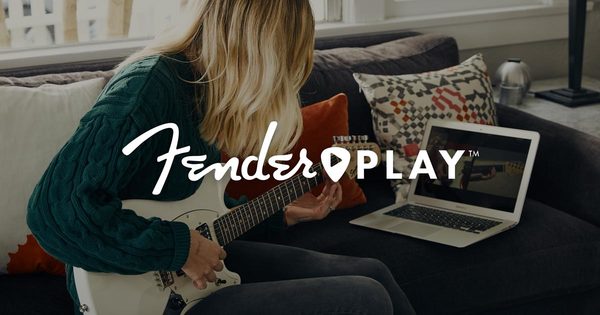 Ease of Use
Fender Play is simple to understand and use. Users can start to learn chords and songs straightaway and customize their lessons (changing the style from blues to rock, for example) effortlessly. I found the theory to be lacking here, but this may not be the case if I were a complete beginner.
Educational Aspect
While there is educational content here, it is not unique content and nothing that cannot be found elsewhere for free. There are instructors who are engaging and knowledgeable, but again, the 'lessons' are not one-of-a-kind and not enough to encourage me to want to input credit card details to view.
Visuals
Fender Play looks the part. The user experience is a joy to navigate, thoroughly modern, bright, and colorful. It behaves and looks like you would expect a paid-for tuition website or app to in our digital era. Meanwhile, Simply Guitar is not quite here.
The video production and audio quality are flawless, and the multiple camera angles are perfectly shot to give viewers a detailed look at hands, fingers, chords, and rifts in action.
Simply Guitar Vs Fender Play Pros and Cons
Simply Guitar Pros
Easy to Install and Use Immediately
Engaging for Beginners
Strong, Contemporary Song Library
Effective at Encouraging Further Learning
Excellent for Young Learners
Simply Guitar Cons
A Lot of Animated Features
Nothing Here for Advanced Players
Expensive Subscriptions
Free Version is Basic
Fender Play Pros
Good Layouts
Excellent Visuals
Growth Tracking
Excellent Content for Beginners
Desktop Version Available
Fender Play Cons
Not Feature Rich
Nothing Here for Advanced Players
No Unique Material
Alternatives to Simply Guitar and Fender Play
Yousician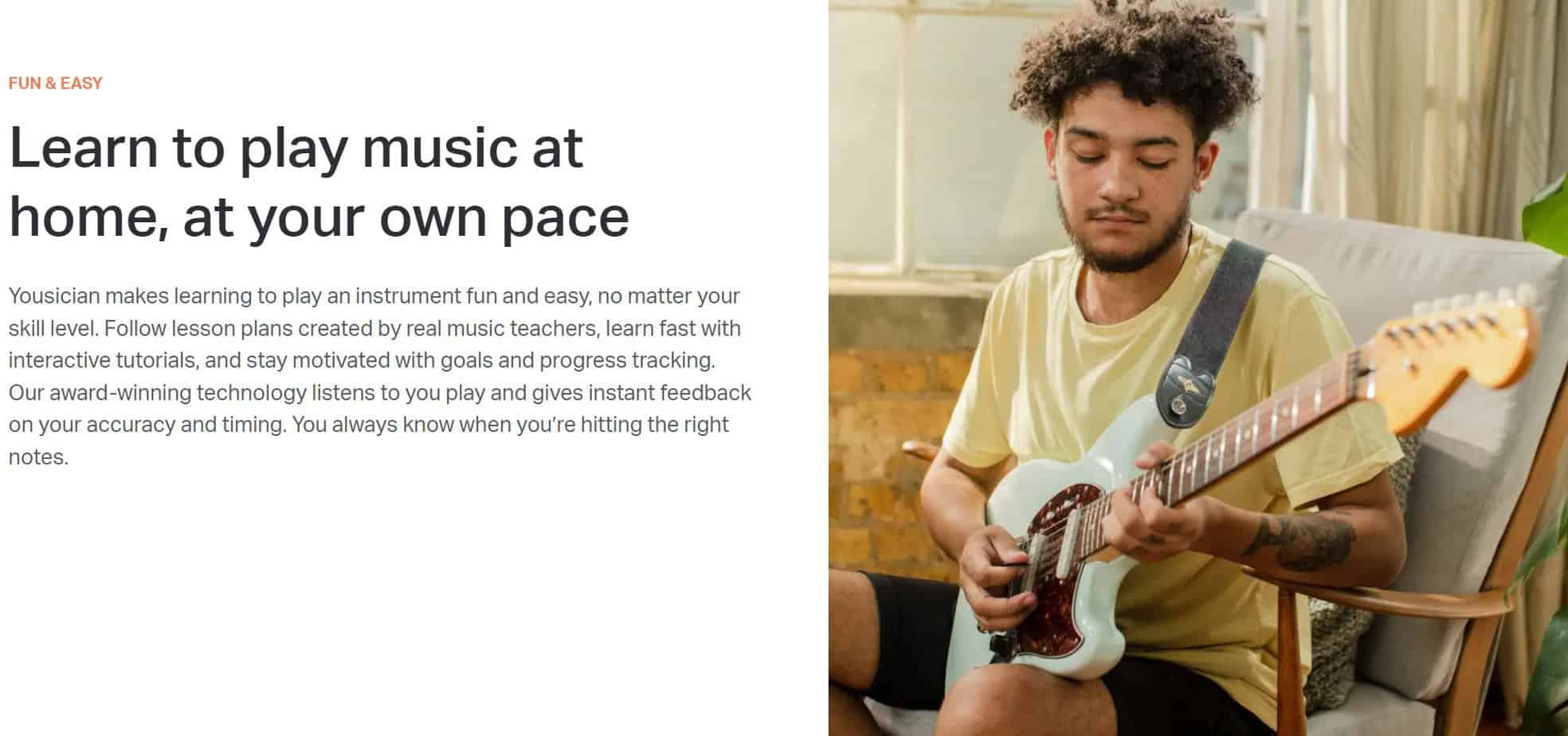 Yousician is compatible with desktop computers that use Windows or macOS and as an app for iOS and Android. There is a free trial of 7-days available and three paid-for options:
Premium: $7.49 per month or $89.99 annually
Premium+ Personal: $11.66 per month or $139.99 annually
Premium+ Family: $17.49 per month or $209.99 annually
I like the intuitive interface of Yousician and its exhaustive choice of learning options for different instruments – this is not solely a guitar learning platform. The program allows users to improve and develop skills through practice and competition.
Lessons are structured but not too intense, and there's always fun elements, such as encouraging visuals. Additionally, there is a color-coded system which is great for young learners.
I like how you can choose between timed lessons: 'quick' is 10-minutes, 'casual' is 20-minutes, and 'intense' is 30-minutes. There's also the option to choose between 'missions' and 'workouts.' The workouts are an excellent resource for advancing ear training, scales, chords, and techniques.
You can test your progress and challenge yourself through quick skill tests, which is great for ensuring your ego is aligned with your skill! You can also compete with friends by trying to beat one another's personal bests; this could make you want to cancel the family plan, however!
The foundation of Yousician is solid, and the software is effective at tracking progress accurately; evaluations returned seem fair.
I would say that Yousician is aimed at younger learners, and again, there is little here for more advanced players.
See Also: Yousician Review and Guide
Pros
Accurate, Real-Time Feedback
Competitive Edge
Timed Lessons
Skill Tests
Cons
Expensive
Nothing for Advanced Players
Rocksmith
Rocksmith is an established name and a direct descendant of the universally successful video game franchise Guitar Hero. And it is somewhat like Guitar Hero, except that it is aimed at people who actually want to learn to play an actual guitar and not a plastic toy!
However, this is very much a game and compatible with PC, Xbox, and Playstation.
Rocksmith has a one-off cost but can come in bundle options that include a guitar alongside the game and sometimes even an amp. You install the game and can begin to play with your guitar at home. There are virtual lessons that are performance focused.
A drawback is that it is limited in style to rock, so if you're looking to learn another genre Rocksmith is not the one for you. Users play along to rock anthems, which can be great fun, but there is little here to develop music theory and other key principles.
Pros
Low, One-off Cost
Fun Way to Learn
Immersive Teaching Styles
Cons
Repetitive Lessons
Little to Develop Music Theory
Fun Element Prioritised Over Skill Development
Guitar Tricks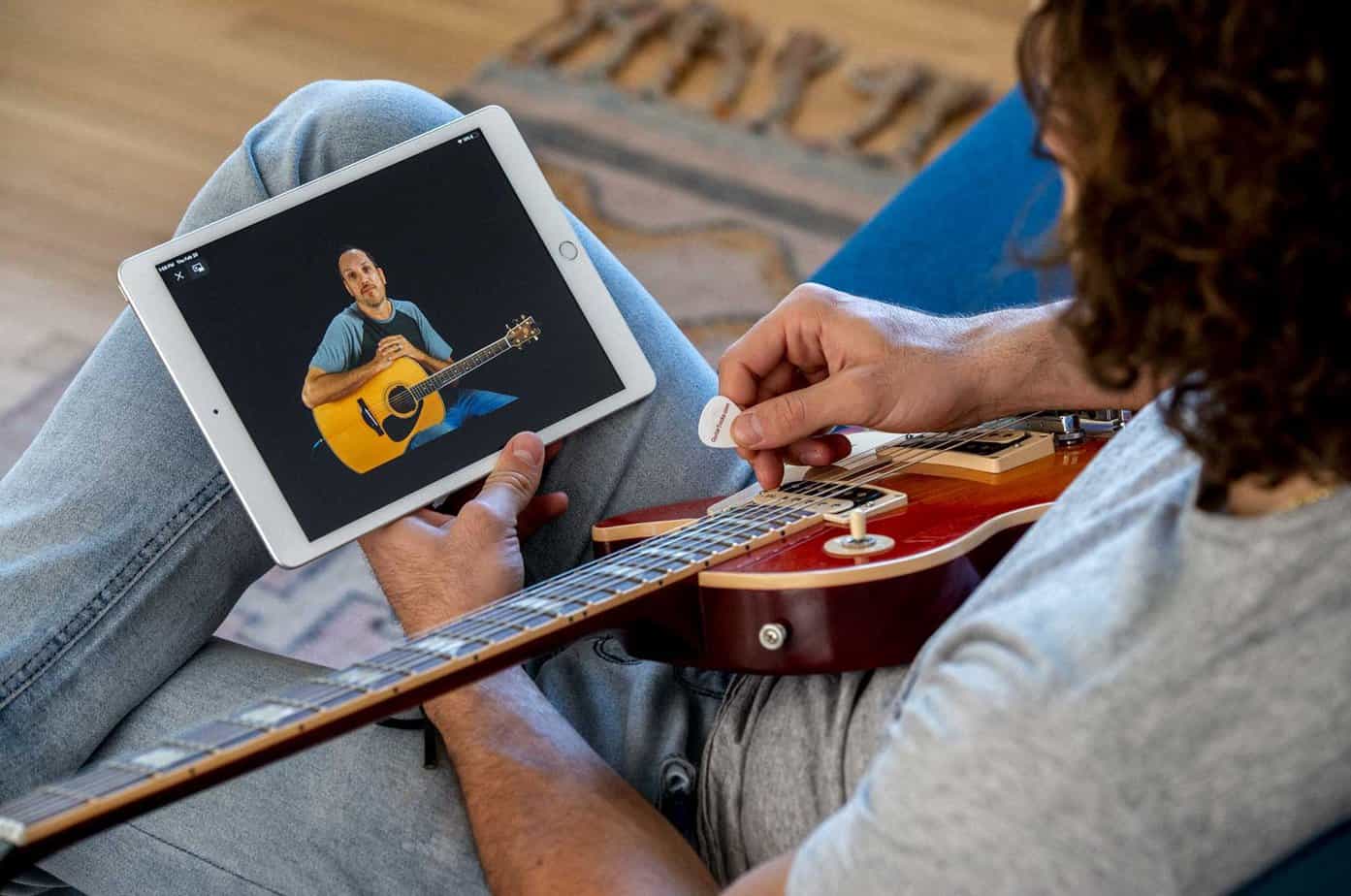 Guitar Tricks is not just for beginners but for any player who wants to improve their skills. The content isn't patronizing or too basic to keep the attention of a more advanced player who wishes to sharpen their skill in specific styles or areas.
Guitar Tricks is a major player in its field; some of this is down to more than two decades in the industry, but also because the platform gets it spot on. Yes, it is a great learning platform for complete beginners, but more than this, it is one of the few out there aimed at intermediate to advanced players, too.
Read more in our full Guitar Tricks review.
Pros
Suitable for Plays of All Levels
Available on Desktop, iOS, and Android
Unlimited Collection of Songs
One-to-one Instructor-led Lessons
Cons
Paid Subscriptions Needed to Unlock all Features
Nothing for Bass Players
Frequently Asked Questions
Question: Should You Pay for Online Guitar Lessons?
Answer: It would take me a lot of encouragement to pay for online guitar lessons when you can find similar content for free on video streaming sites such as YouTube. However, if you're looking for feedback, to view your progress, or to have personalized tuition, then you would have to pay for this standard of lesson.
See Also: Best YouTube channels for free guitar lessons.
Question: How Easy is it to Learn Guitar Online with Simply Guitar or Fender Play?
Answer: It is a fact that around 90% of players will give up playing within the first year. While this could be down to so many reasons, such as a lack of time, deciding this isn't for you, or being unable (or unwilling) to continue practicing on calloused and bloody fingertips, it could also be down to a lack of motivation.
Simply Guitar and Fender Play could both be great motivators for the learning to continue, and while this isn't necessarily going to be easy, it is easy for learning to continue this way.
My Verdict: Simply Guitar Vs Fender Play
While I remain dubious about online Guitar learning platforms, I see their benefits. For me, to continue learning took sheer willpower and the want to not be the one in the family who gave up, but not everyone has this motivator, and without it, I can see why so many stop playing.
Both Simply Guitar and Fender Play could be great for encouraging practice, but sadly I don't see much on either platform to keep a more advanced player engaged, which kind of makes the expensive subscriptions seem excessive to me.
On price alone, I would rate Fender Play as the one to try first; you're losing much less if you master the basics before the subscription ends.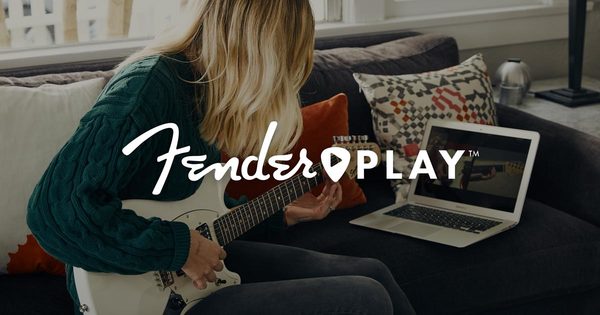 Latest posts by Jodie Chiffey
(see all)