In the old days, musicians would have to record their creations through a painstakingly long tape process, but nowadays, everyone just uses a DAW. Both Pro Tools vs Ableton are handy software applications for your computer that allow you to record your guitars, create pieces of music, and manifest your musical creations.
Two DAWs that I use frequently are Pro Tools vs Ableton, but they are very different. Which is better, and is there a particular preference I have as a guitarist? Let's take a look.
Main Differences Between Pro Tools vs Ableton
The main differences between Pro Tools vs Ableton are:
Ableton is a DAW focused heavily on creativity and experimentation, whereas Pro Tools takes a more professional and audio engineering approach.

Pro Tools is considered a music industry standard within professional studios, whereas Ableton is not at this stage.

Ableton includes a native audio programming language named Max/MSP that allows for bespoke designing of plugins, whereas Pro Tools does not have such a feature.

The resources included in Pro Tools is focused heavily on recording and production, whereas most of Ableton's 70GB library consists of MIDI Instruments and Sample Packs

Pro Tools is very expensive, costing 999$/annually for their top-tier Pro Tools Flex, whereas Ableton Live Suite 11 costs just over $700 for a lifetime purchase.
How Exactly Does Pro Tools Differ from Ableton?
Pro Tools and Ableton are both used every day by hundreds of thousands of musicians worldwide, but they would be difficult to switch between. They are two very different DAWs, providing unique functions and approaches for a range of purposes.
If you're toying with the idea of purchasing either one of these software packages, read this comparison guide first! I'm going to be investigating the differences between these two DAWs, so read on to learn more. I'll be breaking my observations into four different sections:
Features

Max MSP

Industry Standard

Price Difference
Features
Pro Tools and Ableton are both used in professional music situations every day, yet their more defining features differ greatly from each other. Sure, both the DAWs provide the basics to creating computer music, such as recording, using virtual instruments, and other essential functions. Still, each DAW also has its unique workflows according to its audience.
Take Ableton, for example – one of the most important things about this software is that it has a 'Session View' mode, a user interface for experimenting, creating, and looping musical ideas. This is a concept that could be applicable to any musical idea, but it works particularly well for loop-based EDM.
Pro Tools isn't used as much in the EDM industry, but you will find it in just about any professional music studio. As a result, the software is based more around workflow optimization, industry-standard plugins, and intuitive audio file arrangement.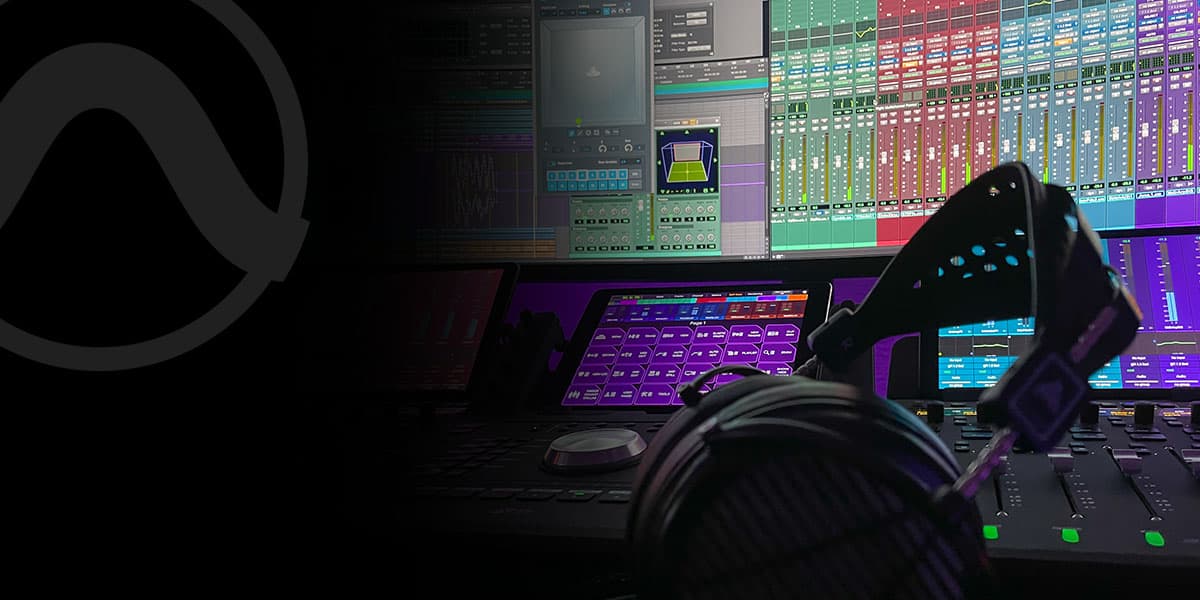 Therefore, I would tend to recommend Pro Tools to audio engineers and other professionals. This is because it provides more specialized production tools and focuses on providing professional studio resources. On the other hand, I would recommend Ableton Live Suite to any musicians looking to create new music and explore sonic boundaries, with a more creative approach over professionalism.
I have studied experimental music all the way up to the postgraduate level, and I can't imagine how this would have been without the creative capabilities of Ableton – it's the DAW for me. There's another key reason for this, and it's called Max MSP.
Max MSP
Up until now, I've been balanced regarding Pro Tools and Ableton, but I actually believe that Ableton stands out from Pro Tools due to Max MSP. Max MSP is an audio programming language that directly links to Ableton's rack, allowing the user to design custom plugins to be used within their musical compositions.
I love Max MSP because it essentially makes Ableton limitless – you can program functions that Ableton doesn't currently have, use chance procedures to make algorithmic guitar music, or simply make your own personalized guitar tuner. You could even take ideas and tools from Pro Tools and recreate them with Max MSP.
Pro Tools doesn't have its own audio programming language in the same accessible way that Ableton does, and for me, that is very important. However, programming is not for everyone, and some people would simply like to have all these tools available instantly, in which case Pro Tools would be more appropriate.
Industry Standard
Creating your own plugins in Max MSP is great fun, but many people simply want to master a DAW so that they can begin to use it in a professional environment. Music is a thriving industry, and whether you are a guitarist or a sound engineer, there are tons of audio tech jobs out there.
For many years now, Pro Tools has been deemed the 'industry standard' in the world of audio production. It's installed and taught on university computers worldwide, and any audio production job you apply for will likely expect you to be familiar with the software.
This means that learning Pro Tools can be an excellent investment in your time, especially when it comes to landing jobs in the audio tech industry. It's unlikely that many jobs will require you to know Ableton, but Pro Tools is pretty much essential in these kinds of jobs.

However, if you're not fussed about the job opportunities and are simply looking for a DAW in which you can jog down your latest guitar riffs, loop them up and create a new song from scratch, Ableton might be more your cup of tea.
The Price Difference (Updated May 9th, 2022)
Money isn't everything, but it pays for DAWs, so it certainly feels like it is sometimes! Choosing a DAW that fits your budget is important, so what's the deal with Pro Tools and Ableton? Is there much difference in the pricing?
There is, in fact, a difference – a big difference. Just take a look at this price comparison table I have provided, and you will see what I mean immediately.
| | | |
| --- | --- | --- |
| DAW | License | Price |
| Pro Tools | Artist | 99$/annually or 9.99$/month |
| Pro Tools | Studio | 299$/annually or 31.99$/month |
| Pro Tools | Flex | 999$/annually or 99$/month |
| Pro Tools | Student Flex Plan | 29.99$/month or 299$/year |
| Ableton Live 11 | Intro | $93 (one time) |
| Ableton Live 11 | Standard | $428 (one time) |
| Ableton Live 11 | Suite | $723 (one time) |
As you can see, Pro Tools is significantly more expensive, with an annual price tag for the Ultimate package that costs more than the one-off payment for Ableton Live 11 Suite! However, there is a reason for this – as I mentioned earlier, Pro Tools is considered an industry-standard DAW, and unfortunately, they charge accordingly.
The Ableton pricing shouldn't be scoffed at either – $723 is a lot of money to spend on any software, so it's important to consider the pricing carefully. However, if you are a student, you will be entitled to benefit from huge discounts on the purchase of either DAWs.
Pro Tools provides a massive discount for students and teachers, allowing them to get the Flex plan for the same price as the studio plan. Although not quite as impressive of a discount, Ableton provides a generous 40% off to students and teachers, resulting in Ableton Live Suite costing just $434.
Always do your research to find out if you are entitled to any of these discounts. It could be massively worth it.
Considering The Alternatives
You've probably noticed by now that I am very pro-Ableton. It's been my software of choice for years. However, I always consider other DAWs such as Pro Tools and try them out to see if they might be useful. It's always a good idea to consider the alternatives when it comes to DAWs, there are so many outside the world of Pro Tools and Ableton, and most of them have free trials! Let's take a look at three of the best DAW alternatives for recording your guitar music.
Studio One
I briefly tried out Studio One as a young producer, but I wasn't a fan of it. It felt quite clunky and old-fashioned, so I looked elsewhere for a DAW. However, I recently tried out the latest Studio One 5, and the software has improved massively over the years.
It's a DAW that is built around professional audio production, yet it also includes innovative and experimental features that you would expect to find in Ableton. One of my favorite examples of this is Studio One's chord detection feature, detecting chords and suggesting the best chord sequences to follow.
It's clear that the developers are paying a keen eye to improve workflows and increase productivity, and this effort makes for a powerful contender against Pro Tools and Ableton.
FL Studio
FL Studio is a DAW that saw enormous popularity in beatmakers, DJs, and hip-hop heads, but I've really enjoyed my experience with inputting my guitar into it. It's set up in a similar way to Ableton, facilitating both the traditional linear arrangement approach and the more experimental loop-based approach.
The software includes a ton of unique audio production plugins and tools and a huge library of electronic music samples. However, it must be said that if you simply want to record your rock band instead of playing with samples, then FL Studio may not be for you.
Logic
I've been a Windows user for the last five years or so, but before that, I was a university student using an Apple MacBook for all my musical creations. I hadn't discovered Ableton yet, and I was using Apple's Logic.
This DAW is one of the only things I miss about the Mac OS; Logic is a highly intuitive and accessible piece of music software. There are two main things that I really liked about Logic, with the first being audio editing. Audio editing in both Pro Tools and Ableton can frequently get tedious, but I never had this issue with Logic, it makes it incredibly easy to handle.
Secondly, Logic has a 'compose to video' feature which allows you to load a video file and compose through its timeline. It's a fantastic way to work on audio-visual pieces. Ableton and Pro Tools both have this feature, but I don't find it as intuitive as the Logic version.
FAQs
I've covered a huge amount of information throughout this guide, and you must be full of questions. Let's take a minute to step back, taking a look at four of the most frequently asked questions that I receive as a professional in the industry.
Question: Does Pro Tools and Ableton Have a Free Trial?
Answer: Yes, both DAWs provide free trials for their full packages, so there is no excuse not to give them both a try and see which one works best for you.
Question: Is Ableton a Standard in the Music Industry?
Answer: Whilst Ableton is very popular, it is not deemed as 'industry standard' software and will often be missing on professional studio computers, unlike the ever-present Pro Tools.
Question: Is Ableton Good for Recording Guitar?
Answer: Despite being focused heavily on electronic dance music producers, Ableton can be used for just about any musical purpose, and that includes recording and producing guitar-based music.
Question: Does Pro Tools include MIDI Instruments?
Answer: Yes – despite Pro Tools being a software heavily focused on recording and producing, there are many MIDI Instruments to experiment with for use in composition.
Conclusion
Overall, Pro Tools and Ableton are both excellent DAWs, with each providing its own specialized features and workflows. It's difficult to say whether either DAW is better as they are so different, but I personally would have to go for Ableton.
The biggest reason for this is Max/MSP – this audio programming language completely destroys the boundaries of what Ableton is capable of, and if there is anything you miss from Pro Tools, you can simply program it in Max. For me, it's an absolute game-changer.
However, it's undeniable that Pro Tools is an excellent DAW, too, particularly if you are working professionally as an audio engineer. Ableton isn't associated with such prestigious status, so this is worth considering if you want to set yourself up for a career in audio tech.
Ableton still wins for me, but why not try both of these DAWs out? It would be a seriously good combination if you could master them both, bringing together the symbiotic worlds of creativity and professionalism. After all, both DAWs provide free trials, so what have you got to lose?
Latest posts by Calum Vaughan
(see all)