Back in 1965, Fender purchased the Squier Musical Instrument Company and spend the next several years making changes inside of the Squier Musical Instrument Company.
In 1982, the Squier brand was introduced to the world through Fender, with an entirely new line of inexpensive guitars that were alternatives to higher-priced instruments made in the USA.
The Squire Jaguar Short Scale Bass guitar is a bass guitar that is an extremely attractive instrument with a black body, a matching black headstock, and a white block Pearloid fretboard inlays that gives the appearance of a Fender bass guitar from the 70's era.
The inlays on this guitar are completely flush with the rosewood fretboard, while also showing no signs of poor cutting or shrinkage. There are 22-frets, 9.5" radius maple neck that is comfortable, smooth, and completely even; when running my hand across the frets, I found that there was no sharp fret ends sticking out.
As for the neck of the Jaguar, the neck is attached to an Agathis body with a deep black finish. because Agathis is extremely abundant in that section of the world. This type of wood is a softwood that has an extremely similar tone to alder but has a higher end and midrange that is much airier.
Agathis is a type of wood that's commonly used on guitars that are produced in Asia, most
While the Jaguar isn't an extremely heavy bass guitar, it did have some weight to it when I played this guitar with a shoulder strap; however, it was a very balanced weight and didn't move around too much when I wiggled around without my hands being on the body or the neck of the guitar.
The body of the Squier Jaguar has a boy that houses two Duncan Designed pickups; one Jazz Bass single coil pickup at the bridge and one split single-coil Precision Bass pickup in the middle of the guitar.
The biggest complaint that I had about this guitar is that controlling the output and tone of each pickup (which are stacked concentric knobs) were a little loose underneath my fingers.
Features
The features of the Squier Jaguar Bass include:
30-inch scale length
Maple neck
C-shape neck
Rosewood fingerboard
20 Medium jumbo frets
Agathis body
High gloss polyurethane body and headstock finish
Satin polyurethane neck finish
5" inch nut width
One Jazz Bass single coil pickup at bridge
One split single-coil Precision Bass pickup at middle
One volume control per pickup
Master tone control
Nickel plated steel round wound strings; .045, .065, .085, .105
Color options: candy apple red, silver, or black body.
Sound
The Jaguar produces a full sound that's surprising to find on a short-scale bass guitar. The overall sound quality of this bass guitar is quite balanced and can produce some funk and rock-inspired fingerpicking if paired up with the right amp.
While when I first started playing the Jaguar, I did notice that the feel of the strings was a bit tight, it was comfortable after a little while of playing. However, the most impressive feature was the number of tones that were available when adjusting the dual and Volume/Tone controls.
You can really experience a whole world of tones from modern rock to R&B by easily dialing the knobs.
When going through and experimenting a bit more with the sound of the guitar, I found that there was a bit of a brittle-sound when the bridge pickup volume was set higher than the volume was set on the neck pickup when I hit into the high range.
If you're worried that getting your hands on a low-priced bass guitar will provide you with a background noise and hum, I found that both of these things were pretty much non-existent when playing, but there was a slight feedback when I was standing too close to an amplifier with my volume turned all of the way up.
However, I really did enjoy that I was able to set my tone controls in the position that I liked the best and was able to just leave them alone. I didn't have to constantly fidget with my tone control knob positions to get them back to the original positions that I liked them in.
Electronics
The electronics that are on the Jaguar are actually pretty simple and straightforward. There is a split-coil Precision Bass pickup that is located in the middle position, while there is Jazz bass single coil pickup that is located near the bridge.
Each of the pickups is connected to their own 250K Alpha mini volume potentiometer, with a .050 microfarad capacitor function and a third 250K pot serving as the master tone control.
The pickup and the control cavities are painted with conductive paint that is used for shielding. The pickups on this short-scale bass guitar have a much better note definition and resonance, especially along the low E string, which tends to be the weakest areas for many short-scale bass guitars.
A lower output and being so close to the bridge provide the Jazz Bass pickup with a bright, but thin quality.
However, the Precision bass pickup is truly what saves the day and the sound quality of this bass guitar; the Precision bass guitar has a full and throaty sound, while also providing musicians with amazing midrange note definition and punch, without any concerns for muddiness.
If you are someone who is looking to get their hands on the Squier Jaguar for the purposes of modifying the instrument, I would highly recommend that you leave the Precision pickup alone, simply because it's amazing sound quality.
However, the Jazz Bass pickup and the Precision pickup work really well together when they're both in use; the Jazz Bass used alone just can't measure up to the sound quality of the Precision Bass pickup. So, if you are someone who is going to rely heavily on the Jazz Bass for your sound, I would suggest looking into a pickup upgrade.
The Jazz Bass doesn't have a poor tonal quality, but the sound that it produces is just weak. Check out Jazz Bass vs Precision Bass comparison.
Playability
If you pull the Squier Jaguar bass guitar straight out of the guitar and are looking to play, you will find that the action is set well; the action is set low enough to be comfortable and fast, but not low enough where you have to worry about fretting or buzzing.
As for the tuners and the top bridge, these are both extremely solid and have an amazing tuning stability. The truss rod is set perfectly, while the neck of the guitar was straight and true, so you're not going to have to go back in and adjust the neck or the action of the guitar in order to begin playing your guitar comfortably.
The medium jumbo frets are installed extremely well; they are crowned well and don't have any sharp edges for you to worry about.
I really enjoyed the four-saddle bridge, as it could easily be adjusted for height and intonation, as well as the placement of the truss rod adjustment at the headstock. All of these options really allow fine-tuning of the action and intonation a breeze to set up.
If you are looking to adjust the truss rod or the bridge saddle height, you're going toned a pair of Allen wrenches, but these come with the purchase of most Squier Jaguar Bass guitars (unless you're buying from a farmer's market, eBay, or a friend).
However, the majority of new or novice guitar players are not going to know how to adjust the action, truss rod, and/or the intonation on a guitar, which means they're going to have to figure out how to adjust these things by themselves.
There is no type of manual or instruction booklet of sheet included with the purchase of a guitar to help them walk through adjusting these things, which is the biggest downfall of the playability of the Jaguar.
The neck is a true joy to play because it's smooth, fast, and comfortable to play on, no matter the period of time you're spending playing.
The profile of the neck reminds many musicians of a Jazz Bass or a full-sized Jaguar Bass, as it has a narrow nut that gradually gets wider as you move further up the neck, getting closer to the body of the bass guitar.
However, the neck doesn't get as wide in the upper registers as a full-sized Jaguar Bass would and this is because of the shorter scale length that this guitar has.
As for the offset waist that the Jaguar body has, the offset-ness makes the bass guitar very comfortable to play, no matter if you're seated, standing, or if you're using a neck strap. There is a forearm contour for the musician's right arm and a stomach contour on the back of the body, to further increase the comfort of playing on this bass guitar.
Overall, the balance of this bass guitar is also designed really well, which isn't extremely common to find on short-scale guitars. When this bass guitar is held on with a neck strap, it doesn't really dip down due to the weight of the neck; instead of dipping down, the bass guitar hangs evenly and parallel to the floor.
Finish
The short-scale Jaguar Bass guitar comes in three different color combinations, which are; candy apple red, silver, or black. No matter what body color you choose, all three color options have a black headstock, a black pickguard, and the rosewood fingerboard.
There is a satin finish that's on the maple neck that isn't bleached-looking, but if you are someone who is looking for a highly yellowed vintage neck tint, you may find that the shade is a little too bleached-looking.
As for the neck, the inlays on the neck are white plastic dots inlaid into the rosewood fingerboard. There are also white plastic side inlays to help guide your hands while you're not looking at the neck of your guitar.
This is a nice-looking bass guitar that has a very classy appearance. However, if you're someone who is looking for a bass guitar that's cosmetically perfect, you're going to find some cosmetic flaws in this bass guitar.
None of the cosmetic flaws affect the tuning, sound, or playability of this bass guitar; the cosmetic appearance of this guitar is part of the reason that Squier can sell their bass guitars so cheaply.
Pros and Cons
In order to truly understand if this bass guitar is the best instrument for your personal needs, you should take a look at the pros and cons of the Squier Jaguar, which are:
Pros
Exceptional value for your money; would make a great gift for players who are looking to delve into the bass guitar world or even just to have around as a personal guitar for experienced bass guitar musicians
Having a split-single coil and a single coil bass provides the guitar with a surprisingly versatile sound that's extremely comparable to much more expensive bass guitars.
Would be a great bass guitar to modify or customize. Since this bass guitar is affordable, you could spend any extra budget on different knobs, pickups, a customized pickguard, strap locks or retainers; this means that you can buy the guitar at a low price and modify the instrument to suit your personal tastes and preferences while still being on a modest budget.
Cons
The finish quality of this instrument is not exactly perfect; if you're interested in a bass guitar that has decent performance but also has a stunning cosmetic quality this may not be the best guitar for you
Doesn't come with a tortoiseshell pickguard, which is the type of pickguard that is typically found on Jaguar Bass guitars
I would recommend purchasing the Squier Jaguar if you are in need of an inexpensive alternative to an expensive Fender or you're looking for a solid backup for your favorite bass guitar. However, I would not recommend buying this bass guitar if you are looking for an instrument with the smoothest tones ever.
Read More: How to find the Best Electric Guitar
Other Alternatives to Consider
In case the Squier Jaguar doesn't sound like the best fit for your personal needs, we've come up with another alternative to consider in replacement for the Squier Jaguar Bass guitar:
Ibanez GSRM20 Mikro Short Scale Bass Guitar – The Ibanez GSRM20 is a bass guitar that's easy to play for younger children or individuals with a smaller sized stature. At a 28.6-inch scale, Ibanez took the time to create a short scale bass guitar that's perfectly suited for younger children to learn guitar on.
The Ibanez GSRM20 has a deep resonating tone due to the mahogany body and the easy playability of the medium frets on the rosewood fingerboard. Also comes with a traditional single and split coil pickup setup.
Top Choices for Pickups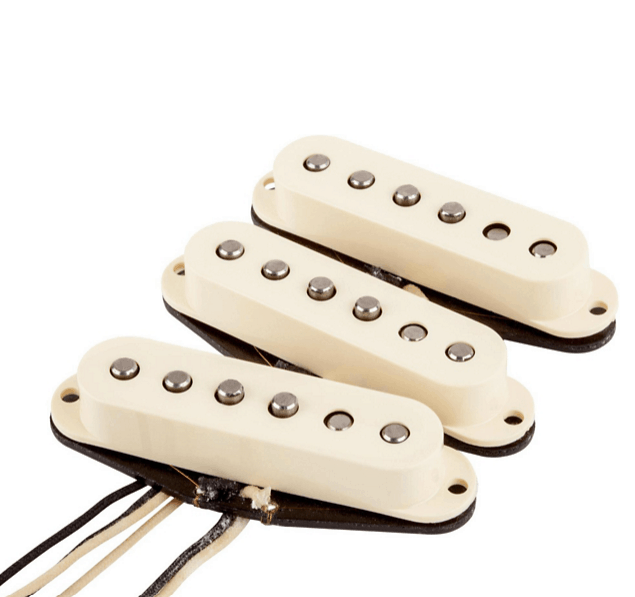 Conclusion
If you're looking to give of music to an older child, teenager, or someone who is looking to grow their guitar collection, the Squier Jaguar Bass guitar would be an amazing gift to give. Playing on a short-scale bass guitar for a student who is looking to learn how to play a musical instrument is much less intimidating than learning how to play a full-scale bass guitar.
Short-scale bass guitars are also much more affordable to purchase (which means less of a financial risk), since they're smaller than a regular-sized bass guitar and require fewer materials to build.
With the combination of stunning looks, high-quality performance, and tonal qualities, the Squier Jaguar is a stylish short-scale bass guitar that is highly recommended for beginning bass musicians.
Latest posts by Guitar Space Team
(see all)