Latest posts by Jodie Chiffey
(see all)
Our Fender Bassbreaker 15 review will help you decide whether this is the right guitar amp for you.
Those who want to invest in a reliable tube combo from one of the industry's greatest names should have Fender Bassbreaker 15 on their radar. While it won't strike you with endless features and in-built effects, its bold sound and maximum control over its tone and gain are really all you're going to need.
Fender is not only one of the greatest producers of electric guitars in the world, but it's also known for delivering reliable, exciting, versatile, and often also perfectly affordable guitar amps.
The Fender Bassbreaker 15 amp we're going to discuss today in detail is aimed mostly at advanced musicians who are ready to invest a bit more into distinctive qualities and tonal characteristics typical for all-tube combos.
Bassbreaker boasts smooth lows, super-thick mids, crispy heights, and a surprisingly huge presence. It also looks great and works flawlessly in all types of situations. But is it really the right amp for you? Let's check it out closely.
Fender Bassbreaker 15 Combo
Check Price
We may receive compensation from the companies whose products we review. We only recommend products that we believe in and test.
06/25/2022 11:59 am GMT
Key specifications of Fender Bassbreaker 15
| | |
| --- | --- |
| Amp type | All-tube combo amplifier |
| Power/Electronics | 15 W/2x EL84+3x 12AX7 |
| Controls | Bass, Middle, Master, Gain, Treble, Structure, Cabinet emulation, Ground lift, Mute |
| Speaker | Single 12" 8-ohm Celestion V-Type speaker |
| Weight | 40 pounds |
| Dimensions | 12.5 x 25.75 x 21 inches |
| Latest price | Click here for the latest price |
Core features of Fender Bassbreaker 15
Fender Bassbreaker 15 combo is a guitar amp full of character, and I can hardly imagine anyone who would despise it completely. Nevertheless, since it's one of the more expensive 15W amps on the market, it's surely a good idea to spend some time researching its exact features and qualities before ordering yours. To make it as simple as possible, let's discuss its most distinctive characteristics in detail one by one:
Construction and connectivity
Fender Bassbreaker 15 is a beautiful modern combo amp with a relatively robust body (it measures 12.5 x 25.75 x 21 inches and weighs 40 pounds), which predestines it to be mainly used in studios or rehearsal rooms, yet it's also perfectly suitable for live use.
It's important to note that besides the combo version of this amp, which we review today, Bassbreaker 15 is also available as a head-only.
When it comes to design, Bassbreaker will satisfy both traditionalists and admirers of originality. Clearly inspired by the iconic 1959 Fender Bassman amp, this combo boasts a lovely lacquered gray tweed surface that makes it stand out from the competition, yet it will still fit into your whole setup smoothly.
In regards to its input/output interfaces, Bassbreaker 15 has somewhat limited options. There is no USB interface, no Bluetooth connectivity, and nothing to accommodate your MIDI gear.
On the other hand, there's an XLR line output with switchable speaker emulation and a Power Amp Mute; you also get two parallel speaker outputs (main/extension speaker – the main one will automatically shut off the internal 1x 12″ speaker); and there are also send/return connectors for your external effects.
Functions and controls
Fender Bassbreaker 15 doesn't offer tons of innovative functions, so if you're planning to model your sound with various effects, your only option is to add your own external units or play with the sound within the post-production. Nevertheless, even the limited array of controls this amp offers can be used to sculpt your tone creatively in many different ways.
The control panel offers toggle switches for Power and Mute, diamond-shaped LED indicator for the amp's (in)activity, and knob controls for Gain, Structure, Bass, Middle, Treble, Master, and the on-board Reverb (which is the only in-built effect you can find on this combo amp). It's a pretty much classic setup, yet every control and feature here is fine-tuned to perfection, so playing with the amp is truly enjoyable and unpredictable.
Fender Bassbreaker 15 Combo
Check Price
We may receive compensation from the companies whose products we review. We only recommend products that we believe in and test.
06/25/2022 11:59 am GMT
Sound
Now we finally get to the main quality of this combo amp: Yes, Fender Bassbreaker 15 is all about the sound, which is truly huge and impressive regardless of whether you're using it in combination with single-coil or humbucker pickups.
The all-tube warmth is magnificent and it perfectly represents all the strengths and qualities you might be expecting from the iconic Fender brand.
First, you'll be surprised by how loud and aggressive this amp can be. I can't remember any other 15W amplifier that would sound comparably bold and dominantly.
Although it requires some dialing and amending when you first take the amp out of its box, I genuinely enjoyed its massive presence, as it surely adds to the versatility and usability of this amp.
Secondly, the sound is remarkably smooth and distinctive in all its positions from the twangy lows to its massive mids to the glassy heights. This wide range of top-class tones will complement your style of play regardless of the genre you prefer.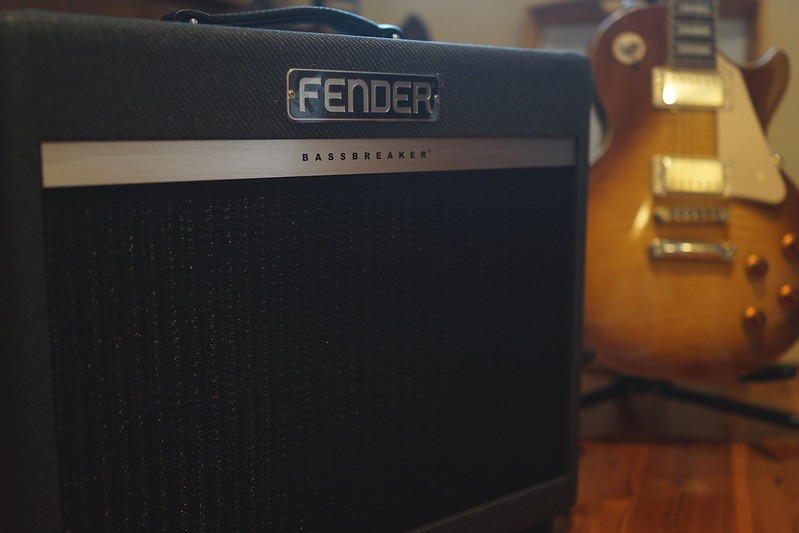 Reliability
Fender is known to produce durable and reliable amps that can easily withstand many years of intensive use both in studios and on the road. The combo itself feels sturdy and pretty much damage-proof, and I haven't personally come across any quality issues that would be worth reporting.
Nevertheless, I've read reviews from a few users who claimed that their Bassbreaker amps required repairs quite soon after the purchase – these issues were mostly related to faulty electronics and broken tubes, which is, sadly, one of the common issues with tube-amps. Although their sound and character are unbeatable, they are usually not as reliable and durable as solid-state amps.
Thankfully, Fender offers a standard 2-year warranty on all its amps, so in an unlikely case you'll come across such issues, it should be quite easy to get things right.
Price
Fender Bassbreaker 15 is clearly not the cheapest 15W amp you can get, so if you're looking for a no-frills combo for at-home practice and occasional jam sessions, its price tag might scare you off quite easily. On the other hand, given its iconic brand, bold sound, versatility, and standardly pricier all-tube technology, the price of this amp is not unreasonable. If you can appreciate its qualities, you'd be probably also willing to pay its price.
Click through for the latest Fender Bassbreaker 15 price quote.
Pros of Fender Bassbreaker 15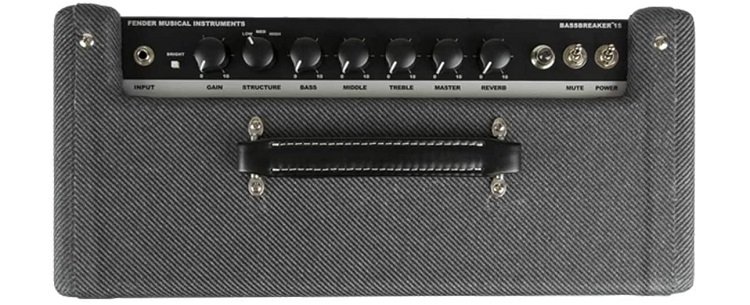 There are certainly many good reasons for investing in the Fender Bassbreaker 15 combo amp. Let's summarize the key qualities it boasts:
Perfectly versatile
Fender Bassbreaker 15 is a combo amp that can be used comparably well in all types of situations. Whether it's a rehearsal, stage gig, or studio recording session, this powerful and self-sufficient guitar amp is really all you're going to need. In my opinion, this versatility also perfectly justifies the amp's higher price.
Loud and bold sound
Bassbreaker 15 will certainly surprise you with its huge sound, much more powerful and dominant than you would probably expect from a combo of this size and power. Moreover, the sound is not only loud but it's also very self-conscious and versatile in each setting I've had the chance to try.
All-tube warmth
If you can appreciate the beautiful warmth, preciseness, and delicacy of classic tube amplifiers, the all-tube Bassbreaker 15 equipped with a 2x EL84 + 3x 12AX7 tube set will most likely make your heart (and ears) melt with pleasure.
Suitable for all genres and styles of play
Whether you play metal, rock, or blues, this combo amp can complement your style of play as if it was custom-made especially for you. I've also tried it with both single-coil and humbucker pickups, and both options were great.
Classy design
Most musicians probably don't decide on their new guitar amps based on their looks, but it's certainly nice to get a gear that sounds and looks equally good. Fender Bassbreaker's stylish tweed surface is a tasteful blend of vintage tradition and modern minimalism. Also, you certainly won't mistake this amp for any other on the stage or in your rehearsal room.
Cons of Fender Bassbreaker 15
While Bassbreaker 15 surely has a lot to offer, there are some downsides to this amp you should consider too:
No inbuilt effects
If you like to add effects to your sound right at the amp you're using, Fender Bassbreaker 15 is not going to help you with that. Although this tube amp allows you to tweak and sculpt your tone quite freely with its native controls, except for the standard reverb, it offers no onboard FX options at all.
Of course, you can easily overcome this by pairing the amp with external pedal effects of your choice via the effects loop. However, this might not always work out flawlessly.
Limited ins/outs
Limited I/O options of this combo amp might interfere with your innovative workflow routine or unconventional creative intentions. Although I can certainly live without a Bluetooth connection, a simple USB interface would be appreciated.
Higher price
As you certainly know, tube amplifiers are by rule more expensive than their solid-state counterparts. Combine this with the Bassbreaker's iconic brand (Fender) and what you get is a relatively expensive piece of equipment that might be out of reach especially for younger/beginner musicians.
Are there any alternatives?
If you like some of the Fender Bassbreaker's feature but can't relate to the product as a whole, these alternatives might suit you better:
Fender SuperChamp X2
Fender SuperChamp X2 has a lot in common with the Bassbreaker 15 amp we've reviewed in this article. Both amps are, obviously, produced by Fender, both offer 15W of power, and both employ tube-type amplification.
Nevertheless, SuperChamp is, in fact, an innovative hybrid amp that blends traditional tube warmth, solid-state reliability, and digital technologies into a joint perfection. It also comes with Fender's FUSE software and a practical USB interface for your total creative freedom.
Check our in depth review of the Fender SuperChamp X2.
Fender Hot Rod Deluxe
The iconic Fender Hot Rod Deluxe first appeared on the market in 1995. Currently, it's already on its fourth iteration. This 40W amp features modified preamp circuitry and smooth-sounding spring reverb. Just like Bassbreaker, Hot Rod Deluxe is also a tube amp with a 12″ Celestion A-Type speaker.
It also comes with a 2-button footswitch and an on-board reverb. Although this amp is certainly perfectly versatile, I'd say that it has a distinctive blues-rocky spirit to it.
Learn more details our full review of the Fender Hot Rod Deluxe

Frequently Asked Questions about Fender Bassbreaker 15
If you need to learn more about this amp before making your final decision, check out these frequently asked questions and answers:
Question: Is Fender Bassbreaker 15 a tube amp or tube hybrid amp?
Answer: Fender Bassbreaker 15 is an all-tube amplifier equipped with 4 EL38 power tubes and 12ax7 preamp tubes.
Question: Where is Fender Bassbreaker 15 being made?
Answer: According to the manufacturer, all Fender Bassbreaker 15 tube combo amps are currently being produced in Mexico.
Question: Is Fender Bassbreaker 15 a reliable amplifier?
Answer:
Although Fender is known for producing very reliable, durable, and perfectly fine-tuned instruments and gear, as with every tube amplifier, you can never predict how your Bassbreaker 15 will stand the test of time. Some tubes last forever, others give up sooner than you'd expect them to.
In any case, all new Fender amps come with a standard 2-year warranty, so you should be able to get a replacement or repair within this period relatively easily.
Question: Does Fender Bassbreaker 15 have any onboard effects?
Answer: The only in-built effect on this amp is a standard Reverb. Any other effects must be added externally through the available effect loop.
Question: Is Fender Bassbreaker 15 a combo amp?
Answer: Bassbreaker 15 is a combo amp, yet this product is also available in different setups including separate head and cab designs.
Final thoughts: Fender Bassbreaker 15 is a perfect choice for tube-lovers
Fender Bassbreaker 15 Combo
Check Price
We may receive compensation from the companies whose products we review. We only recommend products that we believe in and test.
06/25/2022 11:59 am GMT
Fender Bassbreaker 15 is a great combo amplifier for anyone who can appreciate a top-class tube sound with lots of warmth, a beautifully bold overdrive, and perfect versatility.
It will surprise you with its huge presence, which allows it to be used flawlessly in all kinds of situations from simple rehearsals to gigs to recording sessions. But is it really the best choice for everyone?
The sound of this amp doesn't leave a lot to be desired, yet if you're after tons of additional features (onboard effects, modern connectivity options, etc.), this might not satisfy you completely.
So, as usual, the decision of whether this amp is really good for you mainly depends on your own preferences and tastes. In this particular case, it might also be a matter of finances, since Fender Bassbreaker 15 is far from being the cheapest 15W combo amp on the market.
Generate the CSS style for border-radius, fonts, transforms, backgrounds, box, and text shadows with the online CSS code generators.