Many people assume that the act of purchasing a new guitar can only be positive – after all, it means browsing a range of guitars that could end up being yours, what's not to love about that? Well, whilst all this is true, I've always found the shopping process overwhelming, especially dealing with complicated matters such as wood types. Like, what on earth is a tonewood, and what is a torrefied spruce guitar?
This last question had me stuck for ages – I was searching for a new acoustic guitar at the time and kept coming across torrefied options, and I had no idea what this meant. However, with a ton of research, I eventually got to the bottom of it, and I've decided to curate this knowledge into this guide to torrefied spruce guitars.
Hopefully, it should save you a ton of time when doing your research! Well, what are you waiting for? If you're in the market for a new guitar and are considering torrefied spruce guitars but don't quite understand them, read on to find out more!
Bottom Line Up Front: Torrefied spruce guitars are guitars that use spruce wood that has been baked at high temperatures to reduce the levels of oils, vapor, and natural compounds in the wood, thus improving the resonance of the instrument.
The process is used mainly for acoustic guitars, but electroacoustic alternatives such as the Hudson Torrefied Spruce Live provide the same tonal, structural, and aesthetic benefits with added amplification!
Spruce and Other Tonewoods
It's undeniable that the jargon used when describing guitars can get very confusing – I've dealt with this on countless occasions, but I found a great way to make it more simple. Break down the keywords into smaller chunks. For example, with torrefied spruce Guitar, let's forget about the word 'torrefied' for a moment and focus on 'spruce.
So, what is spruce? Well, you've probably already heard of it – it's a type of wood that is commonly used in musical instruments, and that includes guitars. The reason it can be found in so many different guitars is that the spruce tree grows all over the world, and that makes it easier to source than many other types of wood. This has meant that spruce is valuable for instrument building, but there are much stiffer and more sought-after wood alternatives such as mahogany and rosewood.
Generally speaking, spruce is used commonly on the top wood section of a guitar. It's a tonewood (a type of wood used to optimize musical resonance) that has many positive properties – the light yet strong properties of the wood makes spruce guitars easy to hold and light enough to perform with, whilst maintaining its durability and protection of other parts of the guitar.
It also has a much better sound profile than cheaper synthetic alternatives, whilst some snobs believe that the tonewood doesn't sound as good as more expensive alternatives.
Ultimately, spruce is a common wood used for the production of guitars, particularly within the top wood section, facilitating the sale of guitars that have great resonance, amplification, and tone, without breaking the bank. This makes it ideal for beginners and guitarists who are looking to upgrade their instruments but don't want to spend too much.
What Is Torrefied Spruce?
So, you should now have a decent understanding of what spruce is and why brands use it to produce guitars, but we missed out on the 'torrefied' part – what on Earth does that mean?! Don't worry – I'd never heard of it either until I came across my first torrefied spruce guitars, but thankfully I had a friend in the know who could help me out. I'll be summarizing the information he provided me here, so you have nothing to worry about – it will all make sense soon.
Torrefied spruce guitars are guitars made out of spruce that have gone through the process of torrefaction, rendering the wood as torrefied. Torrefaction is the process of baking wood at high temperatures before use and is commonly used on high-quality wood such as spruce.
It's a process that takes place for the sheer purpose of removing moisture, oils, and other organic compounds, a process that would typically happen naturally over natural aging processes. However, through the process of torrefaction, these benefits can be reached much faster.
So, how does it work? Well, the wood is first placed into an oven at a temperature that generally sits between 235 to 260 degrees, with this temperature being reduced after the wood has been exposed to the heat for 20 hours. This allows all moisture to be removed from the wood before it is replaced in the oven at a higher temperature of around 400 degrees.
The temperature of the oven will then be lowered again with the combination of water vapor to add natural amounts of vapor back into the wood – this allows for the removal of oils and compounds without affecting the integrity of the wood structure. It may sound complicated, but it's a simple process when you break it down and has been applied to the wood tops of guitars, along with their necks, backs, and sides for decades.
Why Choose a Torrefied Spruce Guitar?
You should now have a decent grasp on what a torrefied spruce guitar is, and whilst the removal of oils, moisture, and natural compounds sounds like a good thing, what does this mean? It's a very good question and one that needs an in-depth answer as there are many benefits to torrefaction. Let's take a look at these benefits one by one.
Tone
Whilst there are several key benefits to purchasing a torrefied spruce guitar over one with standard spruce, there is one benefit that overrules the rest of them – tone. When spruce has been subject to the torrefaction process, the guitar it is fitted to will have a significantly better tone.
It's going to sound warmer, brighter, and more organic, as opposed to the shallow and synthetic tones that can often be present in guitars that use young and non-torrefied wood.
The reason for this is ultimately the emulation of the aging process. As I mentioned earlier, if you kept a guitar for years, the wood would be naturally subject to torrefaction with the gradual heating and cooling of the guitar resulting in the slow reduction in levels of vapor, oils, and natural compounds.
This allows for a much cleaner resonance through the wood and explains why many people favor vintage guitars so much. There is just something about the aging process that dramatically increases the quality of the tone it can produce.
However, not everyone has the time to save up for a vintage guitar, and they certainly won't have time to wait decades just to improve the tonal quality of their guitar.
Going for a torrified guitar skips this entire process – you'll have a result that provides fuller tonal qualities, stronger amplification, and a broader dynamic range, without having to put in a significant time investment!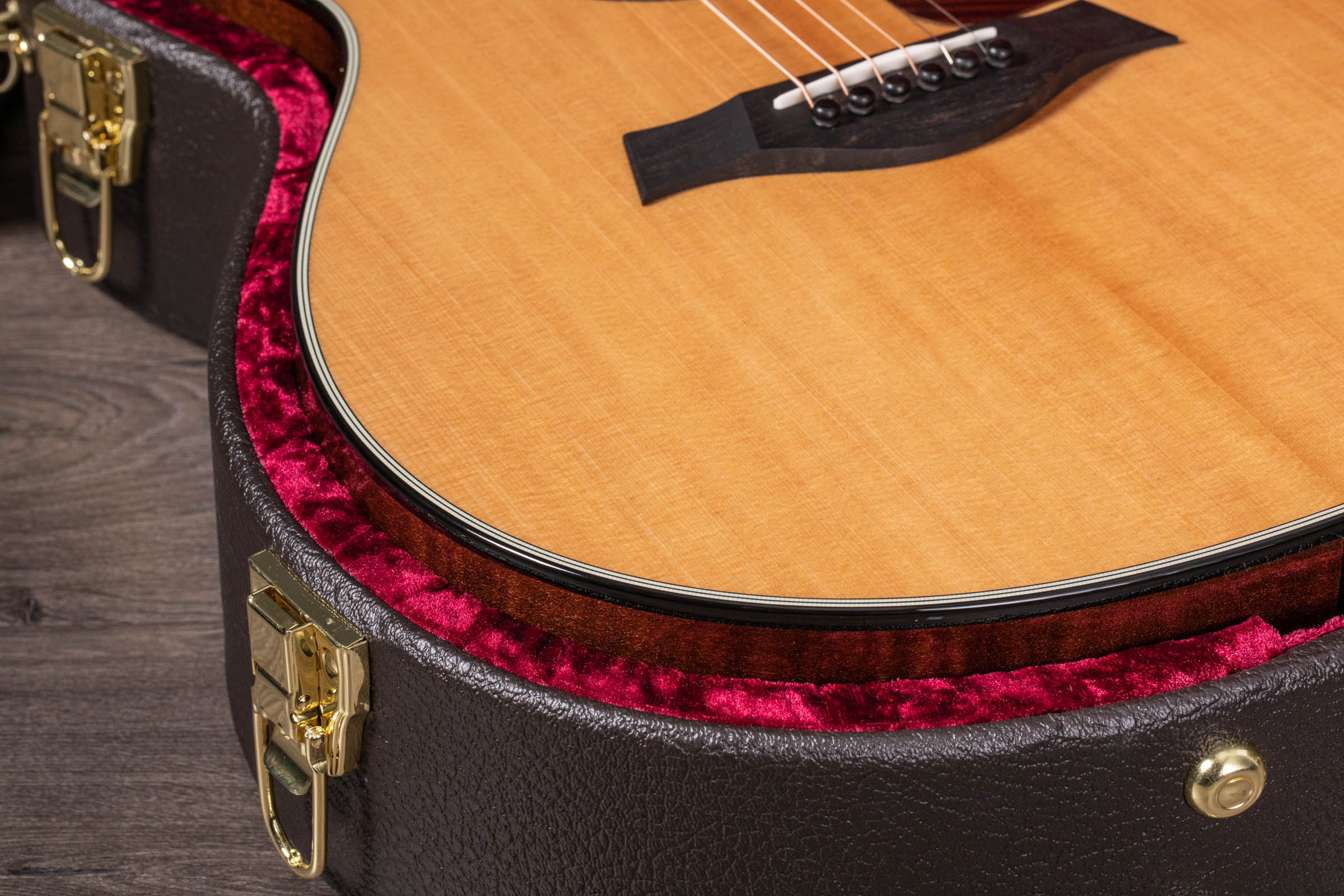 Structure and Weight
When guitarists first learn about torrification, the initial reaction is not often positive. The idea of taking a perfectly good piece of wood, baking it, cooling it, and baking it again does not exactly provide much confidence in the structural integrity of the wood.
After all, surely these extreme temperature fluctuations will ruin the fibers and make them more susceptible to breaking?
Believe it or not, this is simply not the case – torrified spruce guitars are just as strong as regular spruce guitars, and do not suffer any form of compromise in terms of structural integrity.
The torrefaction process makes the wood stronger and more versatile. This means that there is more flexibility in the wood which in turn provides greater durability.
Furthermore, the torrefied wood will be significantly lighter than the wood before it was exposed to high temperatures, simply because a ton of vapor, oils and natural compounds are being lost.
Again, this benefit does not come with any downsides – if you have a torrefied spruce wood top on your guitar, you can expect a lighter playing experience which will help with your performance, posture, and transportation.
It's undeniable that the idea of baking wood sounds a little scary, but trust me – there is no outcome from this process other than positives. Torrefied wood is stronger, more flexible, and lighter, and if you ask me, there's nothing bad to say about that!
Aesthetic
There's no denying that the main benefits of owning a torrefied spruce guitar are the tonal and structural qualities, but I think it's important to think about the aesthetic too. Sure, the most important part of a guitar is the sounds that it produces, but it's even better if it looks cool, right!? Well, you'll be happy to know that the torrefaction process improves the look of wood.
Ever noticed that gorgeous roasted gold appearance that is present on vintage guitars? That's nothing to do with having a fancy finish but is instead a byproduct of the natural aging process. The gradual emissions of vapor, oils and natural compounds improve the clarity of the wood, giving it a more noble and vibrant appearance.
Much like the magnificent tonal qualities that are found as a result of naturally aged wood, waiting around is not the only option. Any guitar that has "skipped the queue" and thus been torrefied will have the same rich roasted appearance as naturally aged guitars. As long as the process has been controlled professionally, you won't have to worry about that – it's a given.
Due to this, I have always avoided purchasing torrefied guitars that have exuberant finishes, particularly if they cover the top wood. I think the roasted, hazy look of a torrefied guitar should be on full display, without any other decorations or accessories to distract from it.
That's just my personal opinion and explains why my small torrefied guitar collection consists of standard spruce acoustic guitars. However, if you're not bothered about the looks, it's still worth considering for an electric or highly-decorated guitar purely for the tonal advantages!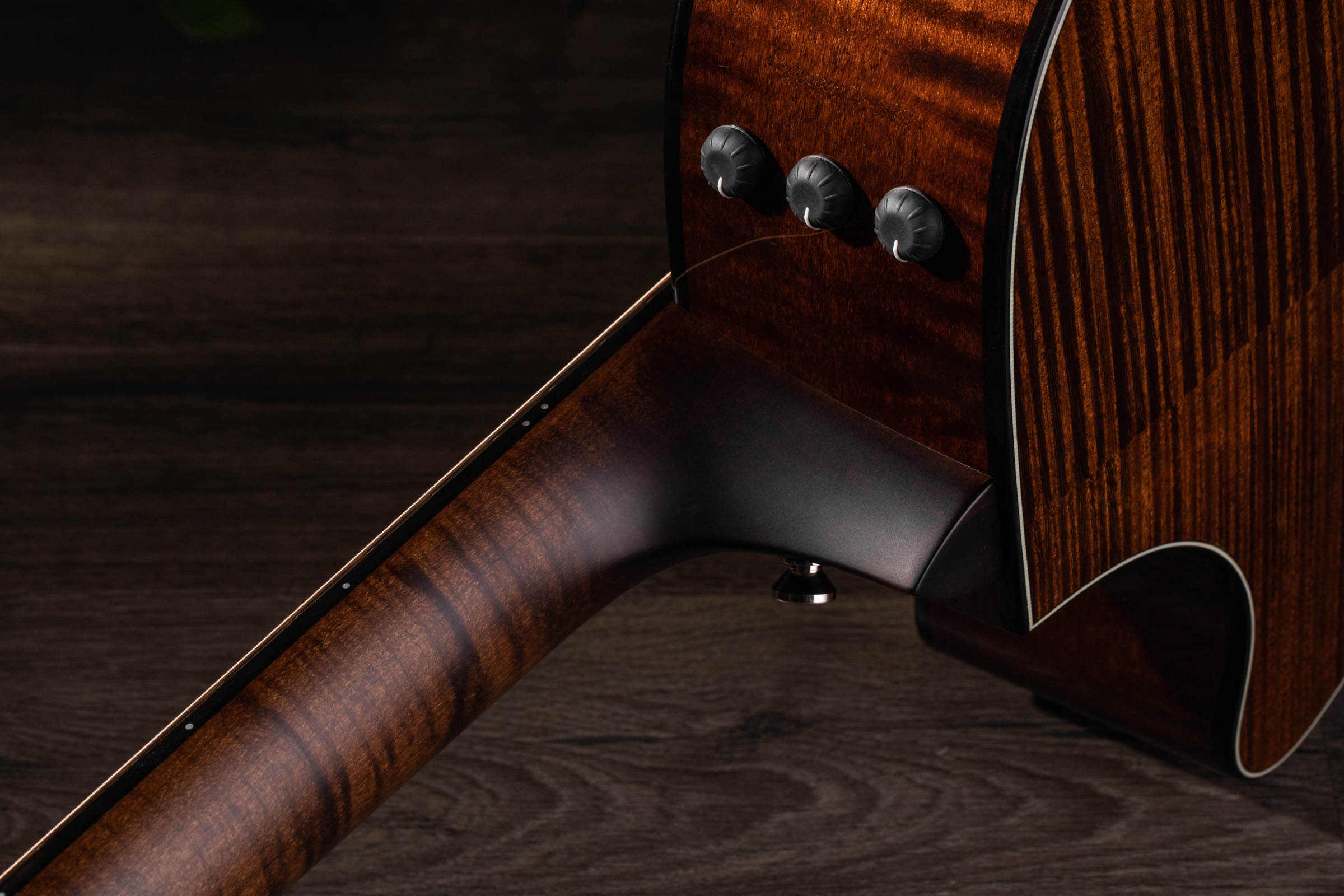 Value
The final thing that I think everyone should consider when purchasing a torrefied spruce guitar is value. I know, I know – the last thing you want to be thinking about when getting a new guitar is the resell value, you want to be thinking about the many years of enjoyment first! However, if you're anything like me, you'll go through tons of guitars throughout my life, and sometimes it can be a worthwhile investment to sell a guitar.
If you're selling a standard guitar made from standard spruce, you're unlikely to get anywhere near the original price from punters – that's just the way things go unless it's vintage of course. However, listing your guitar with the glorious description of being made from torrefied spruce can be a huge selling point, and could help you earn the same amount that you paid for the guitar, potentially even more!
Ultimately, vintage guitars sell for higher prices because the wood has aged over time and expelled its natural oils, vapor, and compounds, giving it that sweet tone that everyone craves.
As we discussed earlier, the torrefaction of wood is a great way to skip this natural aging process and access those benefits early, so trust me when I say that having a torrefied spruce guitar could fetch you a premium if you consider selling it!
My Top Recommendations for Torrefied Spruce Guitars
Now that we have covered exactly what a torrefied spruce guitar is and why you may wish to invest in one, it's now time to tackle the absolute minefield that is the guitar market!
It can be seriously overwhelming, and I've been there many times before, so I've decided to provide you with a list of my top torrefied spruce guitar recommendations.
Hopefully, at least one of these guitars will help provide you with a bit of recommendation – let's see which ones I chose.
The first torrefied spruce guitar that I want to discuss is none other than the Mitchell T413CEBST Terra Series Auditorium electroacoustic guitar. If you have ever found yourself wandering through the music aisle in Walmart, you may have come across this fantastic guitar before.
It's a fantastic intermediate guitar upgrade particularly due to its torrefied spruce top, providing stunning tonal resonance considering the low price.
In addition to the benefits of the torrefied wood, this instrument is also fantastic for accessibility. Perhaps your current guitar can be a little uncomfortable to play at times – well, with the auditorium body style, cutaway design, and 24.75″ scale length, Mitchell has got you covered with this guitar.
What's more, because it's sold at Walmart, there are a ton of bundle options available if you need to kit yourself out with any additional guitar gear!
Pros
An incredibly cheap option for intermediate guitarists looking to upgrade to a torrefied spruce instrument
The cutaway design, 24.75" scale length, and auditorium body style all make for a guitar that focuses heavily on a comfortable experience
As this guitar is sold at Walmart, it's easy to get hold of and comes with a variety of bundle and delivery options
Electroacoustic, making it excellent for both acoustic practices and live performances
Cons
The quality of this instrument is reflective of the low price, and whilst it does sound great due to the torrefaction, other elements of the guitar could be improved
See also: Best Mitchell Electric Guitars.
The next guitar that simply had to make my list is the Hudson Torrefied Spruce Live, an acoustic guitar that is significantly pricier than the last option.
This beautiful acoustic guitar features a classic dreadnought design, and when this iconic design is combined with the torrefied spruce top, the resulting bold and crisp tones are second to none for performances.
If that isn't enough, the gorgeous tone can be massively aided by the award-winning LR Baggs Anthem pickup, ensuring that all of the torrefaction-driven resonance is converted seamlessly into an electric signal.
Believe it or not, that pickup is included with the purchase of this guitar, although you'll have to set it up yourself.
The guitar also includes solid mahogany sides, an ebony fretboard, and a bridge, in addition to an insertable pickguard and even a hard case! If that isn't enough bundled features for you, then I am not sure what will be!
Pros
Classic dreadnaught design
Torrefied spruce top is beautifully paired with mahogany sides and ebony fittings, making for truly stunning tonal resonance
Comes bundled with an LR Baggs Anthem pickup, a hard case, and an insertable pickguard
Hudson is well known for fantastically unique guitar builds
Cons
Might be a bit expensive for guitarists looking for torrefied spruce on a budget
The LR Baggs Anthem pickup and pickguard must be applied manually
Everybody knows that if you want high-quality products, you have to pay accordingly, and whilst those last two products that I recommended are stunning for their prices, their quality may not cut it for some.
So, this final recommendation is for anyone who is looking for a serious upgrade, perhaps even a lifelong guitar companion – the Taylor 612CE V-Class Electroacoustic Grand Concert guitar.
Do I need to say any more than the word "Taylor"? Taylor has been known worldwide for their impeccable ability to produce acoustic guitars of only the highest quality, and this is one of the best showcases that you could find. I
t's got everything from that sought-after Grand Concert design for bold amplification, specially selected protein glues for seamless tonal transfer, a newly designed back bracing profile, and of course that sweet, especially roasted torrefied spruce top.
This guitar even features a small-scale neck, electroacoustic engineering driven by three piezo sensors, and a maple body to compliment the Sitka Spruce perfectly.
Just don't get too excited about purchasing this masterpiece of a guitar before you check the price tag – it's pretty extreme, but so is the quality!
Pros
Guitar brand reputations don't get much better than Taylor's
Specially roasted torrefied spruce matched perfectly with a maple body
Electroacoustic engineering is driven by three piezo sensors, providing stunning dynamic reactivity
Includes a small-scale neck, perfect for all hand-sizes
Cons
It's difficult to find a flaw in this stunning guitar, other than the fact that the price tag is huge and inaccessible to most guitarists
See also: How to Find the Best Taylor Guitars.
FAQ
Well, that just about brings me to the end of this guide to torrefied spruce guitars! We've come a long way, beginning with the wood qualities of spruce, to torrefaction, all the way through to my top recommendations. To summarize everything that we've covered so far, I've decided to prepare a quick FAQ for you – I hope that the answers help explain any burning questions of yours!
Question: What Is Torrefied Spruce?
Answer: Torrefied spruce is the product of when guitar manufacturers bake spruce at high temperatures to reduce oil, vapor, and natural compound levels, helping to improve the guitar's tonal quality.
Question: Is Spruce a Good Wood for Guitars?
Answer: Absolutely – spruce, particularly Sitka Spruce, is fantastic for bringing out the resonance of a guitar, particularly when torrefied and applied to the top wood of the instrument.
Question: Is Torrefied Spruce Only Used for Acoustic Guitars?
Answer: Torrefied spruce is typically only used for acoustic guitars as opposed to electric guitars, but many torrefied spruce acoustics also come with electroacoustic functionality.
Question: What are the Benefits of Torrefied Spruce When Applied to Guitars?
Answer: The main advantages of a guitar being built with torrefied spruce is a general increase in tonal quality, lighter weight, and a vintage aesthetic.
Final Thoughts
I hope that this guide to torrefied spruce guitars has helped clear the air for you – it can be a confusing topic, but hopefully, I have shown you that it's pretty simple. There's no denying that guitars such as the Taylor 612CE have a huge one-up on other acoustics due to their wood torrefaction, but this comes at a high cost. Therefore, I would recommend checking out the Hudson Torrefied Spruce Live instead – it's significantly cheaper, yet the quality is still extremely high.
I wish you the best on your guitar journey, and I just hope that you can appreciate the intricacies of torrefied spruce as much as I do. If you have any doubts, make sure to get yourself to your local Guitar Center and see some torrefied spruce guitars for yourself – I'm sure that will seal the deal.
Latest posts by Calum Vaughan
(see all)