Washburn guitars are instruments that don't let you down. A long history as a stringed instrument builder has seen the company evolve into one of the best mid to upper-range electric and acoustic guitar manufacturers of modern times. Good quality at an affordable price makes the best Washburn acoustic guitars an alternative you should consider whether you're a casual or advanced player.
I first got to know Washburn through one of my idols, the virtuoso Nuno Bettencourt. His signature N4 is an iconic rock guitar; however, the one that caught my eye the most is his black Washburn acoustic. A Washburn then became my main acoustic for playing shows and even my future beater guitar.
Washburn acoustic guitars will please you with their performance and surprise you by the price if you pick the right one. The opposite is always true if you choose a poor model.
My Top Picks At a Glance
Apprentice Series D5CE – Best For Beginners: This big-body acoustic guitar is perfect to start playing or replace your cheap first guitar. I chose it because, besides fitting the comfort criteria, its shape and size give it a decent full, balanced sound.
Deep Forest Burl Ace – Best Affordable Electric Acoustic: Washburn's new Deep Forest series focuses on the best plugged-in element on a budget. It plays well and sounds balanced but sacrifices the woody, rich tone with the not-popular tonewood choice.
Bella Tono series Allure SC56 – Best Unplugged Tone: Selected tonewoods and a unique design make this guitar stand out from the rest. Surprisingly, it costs under 700$, considering the flawless build and the tonewood selection.
Festival Series EA10 – Best Affordable Guitar For Live Shows: The legendary festival series appeared during the MTV unplugged shows and has never left the rock stage. It plays exceptionally well and is one of the best-sounding plugged-in affordable acoustics out there.
Festival Series EA20s – Best Overall For Live Shows: This Nuno Bettencourt signature acoustic is all made in the US with the best parts. You might have seen the model in the legendary "More Than Words" music videos. This is one of the best plugged-in acoustic guitars I have ever played on stage.
About Washburn Guitar
I was unsure where to place Washburn as a company for a long time. From the price of some models, they seemed like an affordable brand, yet the quality of my Washburn was nothing less than my expensive Yamaha's. On the other hand, my bandmate Washburn didn't feel quite right.
Getting my hands on a few models, I realized that Washburn is an all-around company that offers a full range of instruments, from beginner ones to 3000$ + signature models. Depending on what you're after could give you a completely different experience. They outsource much of their production, causing some models to be great and others not.

The one thing all Washburns have in common is they never compromise the basics. Not all their guitars sound great, but they are always comfortable and never feel cheap.
The main reason anyone would buy an upper-range Washburn is to plug it in and play shows. The company doesn't insist on any other aspect; instead, they make the guitar guitars comfortable, reliable, and good sounding enough for the stage.
Selection Criteria for Best Washburn Acoustic Guitars
Considering how varied Washburn guitars can be, it took years of playing them to make a list of the best.
The main criteria I considered for affordable models are playability and build quality, followed by tone. On the models under 300$, there's no space to consider tone before the rest. A beginner might not even be able to get the best tone out of the guitar.

For the upper intermediate and expensive models, I took the build and comfort as given and focused mainly on the tone and how the guitars might be helpful to an intermediate or advanced player.
How are Washburn Guitars so Affordable?
The main reason is that most manufacturing is in China and Indonesia. Only a few custom shop models, notably the N4, are still produced in the US. Those guitars are not affordable and rival even the mainline Martins.
All the other guitars are good for the money because they sacrifice some aspect for another. The main thing that gets laid off is the unplugged acoustic tone, which I don't think any affordable Washburn, or even the most expensive ones, get right. The tonewoods used vary from cheap to decent, and I think they are good enough for an advanced player only on their costly guitars.
Washburn, though, is much better than most companies at "hiding" the compromises they make on affordable models. You will say, "I can't believe it's this cheap," rather than say, "I wasted my money on it."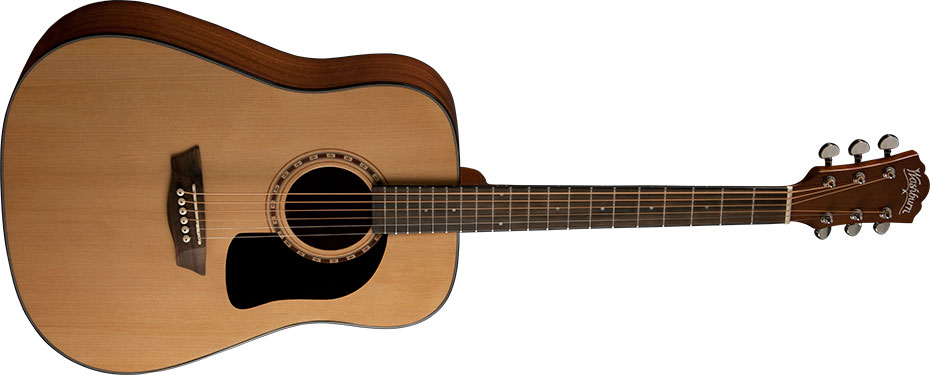 A dreadnaught shape guitar is always a good idea to get the best tone out of any tonewood. The guitar ticks all the boxes for being a perfect beginner guitar as there's not much more a starter would need. It plays well and can be an excellent campfire guitar and, in my case, a perfect beater for when you become an intermediate or advanced player.
The cutaway gives it a good versatility for rock acoustic leads, while the strings as far enough apart to make fingerstyle comfortable. I would not recommend it for small body-sized children, but I think it's perfect for all serious beginners. The tonewoods used are Spruce and Mahogany, which you find on even more expensive models.Considering the price, don't expect it to be a good guitar for a big gig or to record. The electronics are surprisingly versatile, but I don't think the plugged-in tone transmits the acoustic properties well.
Pros
Affordable guitar

Loud, well balanced unplugged tone

Comfortable neck

Versatile electronics
Cons
Poor plugged-in tone

Cheap tuners
This model is one step above the D5CE in almost any aspect. I especially like the Burl Ace's modern, slick auditorium shape and its overall better built, suited for live shows. Most importantly, the guitar feels solid and stays in tune very well.
Washburn advertises the tonewood choice as a selected pick. The choice might be unconventional, with Poplar Burl-Blend on the Top and Okoume on the back and sides. The result is decent, but I suspect It has more to do with the price than the quality.
The tonewoods combined with the electronics make for a good plugged tone that I would expect from more expensive models. This guitar is an excellent pick for the intermediate players who just started playing shows.
Pros
Good plugged-in tone

Easy to play, comfortable to play

Detailed EQ

Good tonewood choice
Cons
Not a rich unplugged tone
This is my favorite modern Washburn guitar for many reasons. If I had to pick one Washburn acoustic guitar to bring to the studio, this would probably be the only one.

This guitar's acoustic properties are superior to most Washburn guitars. Select Spruce and Acacia are excellent tonewoods that balance each other well. Acacia is generally used for ukuleles and is cheaper than aged Mahogany. It's dense and heavy as Mahogany contributing to a similar warm tone.
The only I wish Washburn had done differently is install a Fishman preamp. The existing one is good and relatively flat, but it doesn't make the guitar justice. With a better premium electronic system, I would gladly pay up to $1000 for this guitar and rival quality Taylors and Martins.
Pros
Comfortable modern design

Excellent unplugged tone

Fine tonewoods choice

Easy to play neck
Cons
The preamp is not very flat.
Nuno is not a player who compromises on any aspect. As a player, he is notorious for using very few instruments and only carrying what he needs for the show.
The EA20s is the equivalent of the one-tone and one-volume workhorse N4. It's a fantastic guitar for one purpose, getting the best performance when plugged in. This is the guitar to look forward to if you are a gigging musician. The neck shape is perfect for an all-around good experience.
It's elegant and versatile in all aspects. I recommend it for intermediate and advanced rock and blues musicians or anyone who does not need a big body, classic-sounding guitar. This means it's not a good fit for singer-songwriters but a perfect one for a lead guitarist.
Pros
Well build and reliable

Very comfortable, easy to play neck

Great plugged-in tone

No Feedback even on arenas
Cons
Low volume and not much low end when unplugged due to the small body

Not fit for most studio work
The EA10 is, in many ways, the affordable version of the EA20s. It's a small body guitar, fit for upper beginner and intermediate players who want a comfortable guitar to play on gigs.
I find this guitar easy to play and carry around. Every beginner would find it perfect, as would most intermediate rock guitarists. The tonewood choice is what I don't particularly appreciate as Basswood is not my favorite sounding tonewood for the body and top.
Considering the price, though, it's a good compromise as you get excellent playability. Fingerstyle players or singers might not find it suiting due to its small size, while a rock guitarist will love it. I kept mine for years and used it for bar shows or as a spare travel guitar.
Pros
Affordable guitar

Easy to play comfortable guitar

Easy to carry

Good plugged-in tone

Detailed EQ
Cons
The small body gives it less volume and low end when unplugged.

Not the best sounding tonewoods
Plugged-in Tone or Acoustic Tone; What Do You Need More?
What works for me might not always work for you. I mostly play rock and blues on acoustic guitar, making Washburn's plugged-in tone and slim body perfect. Since I can't always have a mic on stage, a decent plugged-in tone and easy-to-play neck are what I'm looking for.

Washburn guitars are generally good for shows, yet they suffer compared to other brands that focus more on the Tonewoods than the electronics and playability. You don't need a fast neck if you only play cowboy chords and sing. It would help if you had a guitar with a rich tone that fills the entire sonic spectrum.
Whenever I need to record in the studio or perform a live session, I pick up my Martin D-28, as nothing can match the acoustic style of a big brand big body guitar. A good tip is always to pick the big sizes on affordable guitars if you're after a rich tone.
FAQs
Question: Who Plays Washburn Guitars?
Answer: The most famous Washburn artist is undoubtedly Nuno Bettencourt. Besides Nuno, other rock and metal guitarists such as Michael Sweet, David Palay, Marc Rizzo, Jeniffer Batter, Marzi Montazeri, and others have signature models.
Question: Are Washburn Electric Guitars Good?
Answer: Washburn electric guitars are mainly intermediate rock and metal guitars, with some models like the N4 and other signature guitars being exceptionally good.
Question: Are Washburn Mandolins and Banjos Good?
Answer: Like their guitars, Washburn mandolins and banjos are intermediate instruments with great signature models.
Final Thoughts on Choosing Best Washburn Acoustic Guitar
On the affordable range of acoustic guitars, Washburn is one of the best at blending playability and good tone, especially when plugged in. You have to be careful, though, as not all of their guitars are great and not all suit your needs.

Start by asking yourself what kind of acoustic guitar you need, what shape suits you best, and if you need good electronics or tonewoods. You will make some slight compromises, but compared to other brands, they are much more experienced in making you feel the guitar is worth more than its price and fit for the stage.
Latest posts by Altin Gjoni
(see all)