Very few guitar players are more recognizable than Angus Young. Sure, we can focus on his contributions to the legendary rock band AC/DC and how his signature guitar playing truly characterizes the band's sound. In our Angus Young bio and gear list, we can also talk about his appearance, how he's famous for wearing schoolboy outfits, and how his 5'4″ height makes him look even more childlike.
Instead, I'll discuss what guitar players care about: his gear! Angus Young is famous for playing Gibson SG guitars and has played a whole line of them throughout his career, as I will discuss more in-depth. He also plays Marshall amps, Fender Extra Heavy picks, and Ernie Ball Strings.
I will also provide a brief background and legacy information on him, so you get to know this legendary guitar player better.
Bottom line Upfront
Angus Young first picked up a '67 Gibson SG, and rock history was changed forever. Ever since then, he has used this guitar line and owns multiple SG guitars to this day, even getting his custom model at one point.
His SGs have slight alterations, such as different finishes. Otherwise, this classic guitar has been a staple of Angus Young's throughout his entire career. The only guitar that isn't a Gibson is a Jaydee Custom Guitar, though it's also modeled after the classic SG.
In addition to Gibson SGs, Angus Young plays Marshall amps, use Kikusui PCR4000M pedals for volume control, Fender Extra Heavy Picks, and Ernie Ball Slinky Strings in 009-042 gauge.
Which Guitars Has Angus Young Played?
As stated previously, Angus Young has mainly played Gibson SG guitars. What makes Angus Young unique is how he focused on specific guitars throughout different periods.
1967 Gibson SG Standard
If there's one guitar that Angus Young never gave up is the classic Gibson SG Standard. He has been playing this guitar ever since 1977 and is still playing it today. Young said he picked up the guitar, not knowing much about it, and immediately fell in love. The Gibson SG Standard with the black finish and now associated with Angus Young perpetually.
This guitar is also famous for being on the album Let There Be Rock. It was also his primary stage guitar until 2016. However, Young doesn't play this guitar on stage anymore (though he still plays it in the studio).
Since he's had this guitar since the 70s, he wants to preserve it as much as possible. And it's no surprise why. Any AC/DC fan knows how much Angus Young moves around. I don't blame him for keeping this legendary guitar off of the stage!
He also loves his Gibson SG Standard so much to where he hasn't altered this guitar as much. The only real change he made is he installed Seymour Duncan custom-wound wax pickups. And Angus Young only uses these pickups because the wax doesn't falter with excessive sweating as metal does. Otherwise, the guitar has a classic feel and tone.
1970/1971 Gibson SG Standard
The 1967 Gibson wasn't the first guitar that Angus Young picked up. It was the 1970/1971 Gibson that changed the way that Angus looked at guitar playing.
When he first started playing, he learned on a banjo and eventually switched to an acoustic guitar. But the loud electric guitar was really got Angus Young's attention.
Young played a few different guitars before settling on the Gibson SG Standard. He loves how light the SG is, especially when compared to other guitars on the market.
Watching him run around the stage, it's no surprise that Angus Young plays something on the lighter side! In addition to the weight, Angus Young has said how he likes the slim neck.
His first Gibson SG has a walnut finish, PAF pickups, and a Lyre Maestro tremolo bridge. Angus Young has also modified it, moving the input jack to the bottom of the guitar, and he removed the pickup covers.
You can mainly see Angus Young playing with this guitar during AC/DC's earliest history. He played it from 1971 to 1978 and only stopped because the guitar became completely damaged, due mainly to his excessive sweating.
1960s Gibson SG Standard
After retiring his original SG, Angus Young found a few more Gibson SGs at a music store in New York City. This Gibson and the 1970s SG became Angus Young's go-to guitars throughout the late 70s and 80s.
He had a few of these classic songs from the 60s and usually played them on stage, though we also saw the factory second frequently. His classic 60s SGs also had the same cherry red finish.
It was around this time that Angus Young became notorious for playing the Gibson SGs. After the band released the Back in Black album, Gibson SG sales soared through the roof.
1970s Gibson SG Standard (Factory Second)
Angus Young liked this guitar because it looked identical to his original, though it had a cherry red finish instead of a walnut finish.
But what attracted Young was the #2 stamp on the back, meaning it's a factory second (rejected model). Angus Young immediately bought it.
It quickly became his primary guitar, using it on the Highway to Hell album as well as the tour. However, he only played it until the early 1980s, when the 1970 SG custom caught his eye.
1970 Gibson SG Custom
Angus Young plays the Gibson SG so much. It's no surprise that he bought another one in 1980. He found it at a local music store and immediately bought it. It was the same brand and model and also had the original walnut finish. However, it was slightly different than his first since it had three pickups.
Angus Young did make some changes to it. He removed the tremolo tailpiece and the middle pickup. He also made it, so the guitar ran on a wireless battery. He also repainted the guitar black since there was some damage done to the body of the guitar when he was experimenting with the wireless battery.
Angus Young used this as his backup guitar until 2016. It was primarily used on the Back in Black tour, still making it one of his most legendary guitars.
1981 Jaydee Custom SG
This is one of the few guitars that Angus Young played that wasn't a Gibson. The Jaydee Custom SG was given to him as a gift. It was designed by British luthier John Diggins, and Diggins built this guitar for Angus Young by using the Gibson SG as inspiration.
Diggins gave him the guitar as a gift before AC/DC played the Monsters of Rock Festival. Angus loved it so much, he played the entire set with that guitar.
But there are a few differences between this guitar and the Gibson SG that Angus loves. For example, it features Jaydee's custom-wound Hooligan pickups. It was also made with a built-in wireless battery pack. There are also lightning fret inlays, which Angus added to his custom Gibson SG Signature.
Angus used this guitar throughout the 80s. However, he switched back to Gibson SGs in the 90s.
Gibson SG Angus Young Signature
It should be no surprise that Angus Young has his own signature Gibson SG. However, he didn't get his model until the year 2000! The Angus Young Signature Gibson SG is modeled after the first SG that he got in the 1970s. It has a mahogany body, 12″ radiused fretboard, and a classic '57 humbucker neck in a small size.
The guitar features custom-made Seymour Duncan pickups based on the SH-PH1. As stated previously, this guitar has the lightning bolt inlays from the Jaydee custom guitar as well as a "devil schoolboy" inlay in the headstock.
You can see Angus Young playing his signature guitar during the Stiff Upper Lip tour and other notable shows. It also makes an appearance in their latest music videos.
1963 Gibson Custom Brian Ray SG
Even though this is a custom guitar by Paul McCartney guitar player Brian Ray, he is a massive AC/DC fan and got his guitar modeled after all of the specs that Angus Young likes.
This guitar is slightly more unique than Ray's custom, having a black translucent finish. It also features some factors that fit Young's preference, such as Seymour Duncan pickups and a stop tailpiece. Brian Ray presented this guitar to Angus Young himself and was used as his backup guitar for his 2016 tour.
Gibson SG Junior
The SG Junior is a stripped-down version of the classic SG. It has one tone knob, one P90 pickup, and only one volume knob.
This guitar only appears during press and special occasions, never during a concert. In this video, Angus Young and AC/DC singer Brian Johnson were guests on the Howard Stern show.
They performed a version of their single "You Shook Me All Night Long" without any additional accompaniment and Young used this guitar.
Other Gear That Angus Young Plays
We all know that guitar players have a whole entourage of other gear to create their individualistic sound, aside from the guitar itself.
So, what completes Angus Young's set-up?
Pedals
Angus Young uses the Kikusui PCR4000M pedals. While they're not traditional effects pedals, these pedals do let him control how much power is sent to his amps.
In other words, the amps alone don't provide the amount of power that Angus prefers, so he uses the pedals to get his sound to his liking.
The only other pedal he uses is a Hush pedal, which keeps the amps under control. These pedals specifically eliminate hiss, feedback, and any buzzing from the pickups. While Angus needs this because he overpowers the amps, these also keep his tone clean.
Amps
Angus Young uses Marshall 100-Watt Super Lead heads and Marshall 4 x 12 cabinets. The heads are truly the reason why AC/DC has a rocking sound!
These heads truly push out his guitar, making the stadium louder than anything you've ever heard before. He's used these 100-watt heads practically throughout his entire career.
He uses nine of these heads on average during a show! All of these heads go to the cabinet, except for one that goes to their sound engineer.
As you can see, he goes through quite a bit of amp heads (he has a full-time amp tech whose job is to repair heads and replace the tubes).
While all of these heads are slightly different wiring configurations, Angus sets them at the same settings, produces the same tone, and uses EL34 tubes.
Strings
Light strings are the secret to his hard-hitting sound. These strings also help him control the noise and assist with some of the techniques he uses, such as his specific bends.
Keep in mind, while he's been using Ernie Ball recently, there's no way of knowing if he used Ernie Ball strings in the past or not.
Picks
Angus Young uses Fender Extra Heavy Picks. Again, these are common picks you can find at any music store. These picks were a replacement to his previous favorite, hot-stamped picks (Fender no longer makes hot-stamped picks).
Angus likes these picks because they have more grip. Besides, Angus Young needs those extra heavy picks for how hard he plays!
He does have custom picks, though he throws them in the crowd and gives them to fans instead of playing with them.
Guitar Innovations
Angus Young is the classic "old school rock" guitarist. To this day, he inspires guitar players with his big riffs and unmistakable tone. His playing is the reason why AC/DC fans still bang their heads to some of their most famous songs, such as "Dirty Deeds Done Dirt Cheap" and "It's a Long Way to the Top If You Want to Rock n' Roll."
If you didn't know Angus Young's rig before, you're probably shocked by the simplicity of it at all. Ironically, that's what makes Young so innovative! He just has his playing and his tone. Nothing fancy or complex.
As long as you have an SG with those Seymour Duncan pickups, you can get that classic Angus Young crunch. Oh, and don't forget plenty of volumes. That's really what Angus Young is famous for!
Playing Techniques
Angus Young offers pure energy to his playing. However, he does have some specific techniques up his sleeve.
Surprisingly, his playing wasn't inspired by rock. It's inspired by blues. He mainly plays in both major and minor pentatonic blues scales, melodically combining them. This is why Angus Young doesn't play mindlessly fast or shredding. Instead, he uses effective guitar licks that are catchy.
Another major component of Angus Young's playing is his use of vibrato. He plays full bends and even holds them. However, his bends are a little loose, and this slight imperfection gives his playing more feeling. All of these factors truly make Angus Young's guitar playing unique.
Angus Young's Contribution to Guitar Playing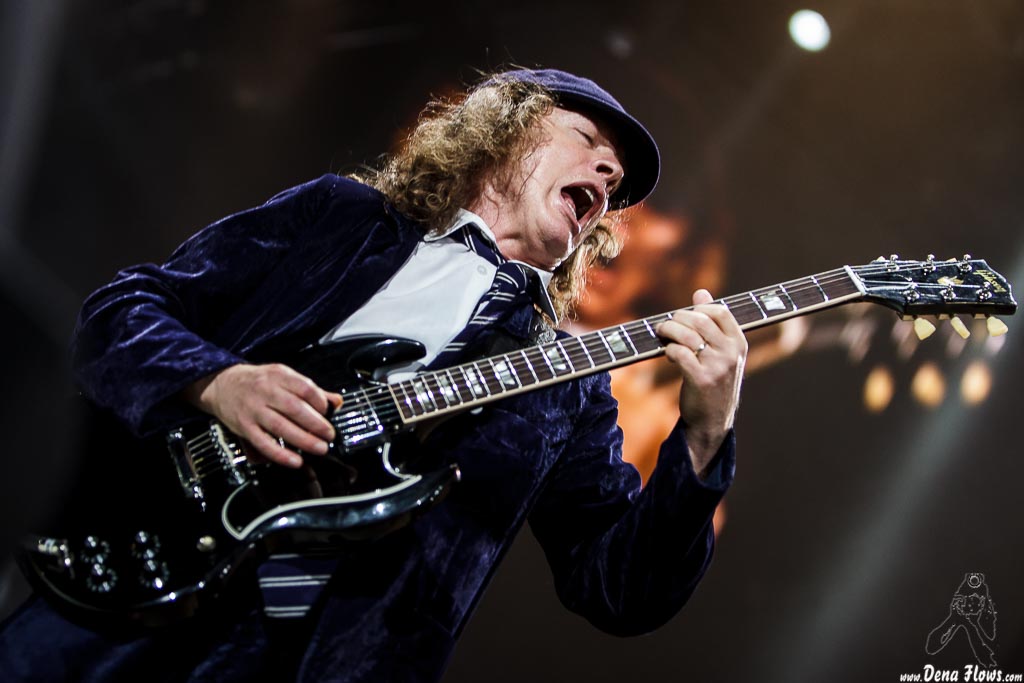 Angus Young contributed something to guitar playing that wasn't seen at that time: attitude. He goes on stage and rocks your face off. Period. End of story. There's no fast shredding or fancy accents. His energy and authenticity are truly what makes him stand out from other famous rock guitar players.
If you ask me, Angus Young proves that you don't have to be proficient to be an amazing guitar player.
His playing is best described as loud and powerful, with thundering riffs that aren't too complex. Take a look at the modern rock guitar icons. Do they stand idly on stage? Or do they exceed the power on their amps and run around the stage like a maniac? The latter. And there's a good chance they took a lesson or two from Angus Young.
So, I guess the answer is not so much what Angus Young contributed to the actual playing of the guitar, rather the power he gave the instrument and rock music as a whole.
Angus Young's Background
Angus Young was born in 1955. He's originally from Cranhill, Scotland, but his family moved to Sydney, Australia when Young was eight years old. He was born into a family of musicians.
Angus took up playing the guitar at about five or six years old. He's technically self-taught, but he did receive a lesson from his brother, Alexander. As stated previously, he originally played on a banjo that had six strings.
He later switched to acoustic guitar. When that wasn't enough, he bought his first electric guitar. He bought it second-hand and played it until the wood rotted.
Angus and his brothers, Malcolm and George, were in a band with Angus Young's friend, Harry Vanda. They were originally called the Marcus Hook Roll Band.
Angus also played in various other bands before he and Malcolm formed AC/DC in 1973. The original line-up featured Angus and Malcolm as the lead and rhythm guitarists, respectfully, in addition to Larry Van Kriedt on bass, Colin Burgess on drums, and Dave Evans on vocals (though he was shortly replaced by Bon Scott).
From here, they made history!
Angus Young Today
To this day, AC/DC is an active band, and Angus Young still serves as their lead guitar player. They released their most recent album, Power Up, in 2020 with nearly all original members. However, at that point, Malcolm Young had been dead a few years. He died of dementia in 2017. Both Young and Johnson have said that album was a tribute to Malcolm Young.
Angus Young is in his 70s, yet he isn't slowing down. During live shows, he's still doing his classic moves, such as the duck-walk. He still wears that schoolboy outfit. This proves that rock n' roll truly lasts forever.
FAQs
Question: How many SGs does Angus Young have?
Answer: Angus Young owns 9 SGs!
Question: Is Angus Young the richest member of AC/DC?
Question: Who writes AC/DC songs?
Answer: It depends. It looks like the whole band had a say in the songwriting throughout the band's history. Looking at their songwriting credits, it looks like Angus and Malcolm Young were the two main songwriters, followed by whoever was the singer in the band at the time (Bon Scott or Brian Johnson).
Bottom Line
Very few bands have the legacy that AC/DC says. And more specifically, very few guitarists have been more recognizable than Angus Young.
Have you ever wondered what gear Angus Young plays? It's no surprise that he's a big fan of Gibson SG guitars since he has been playing this line nearly throughout his entire career.
A '67 Gibson SG was the first guitar that Angus Young picked up, and he has barely picked up other guitars since then.
Since then, this guitar has been synonymous with Angus Young, and many guitar players play the SG to embody the legend.
Latest posts by Stephanie Jensen
(see all)