Finding the right DAW is one of the most important steps in your studio career. Whether you are a producer, sound engineer, or artist, your workstation and how well you use it will affect your music as much as any real instrument. In the REAPER vs Logic Pro comparison article, we will put head-to-head two of the most popular modern DAWs.
My Bottom Line Up-Front: The major one is that Logic Pro is an exclusive Mac software, slightly more oriented towards modern music production. At the same time, REAPER is available on every OS, highly customizable and somewhat more friendly towards live recorded instruments.
Logic has a simple layout, is mastered quickly, and comes with many great-sounding stock plugins; however, it is primarily a mid to advanced level DAW not very nowadays in professional studios.
On the other hand, Reaper has a long learning curve and comes with no plugins. However, I give it an advantage over Logic as the ability to customize it to your workflow makes it a perfect fit for all producers, even professional ones.
Having used every major DAW in my years as a session guitarist and assistant producer, I want to provide you with some practical insight into which to choose.
Logic Pro X: Audio and Music Production | Amazon
Logic Pro X: Audio and Music Production leads you through the music creation and production process, giving you all the tips and tricks used by the pros to create release-quality recordings.
Buy at Amazon.com
We earn a commission if you make a purchase, at no additional cost to you.
11/30/2023 11:41 pm GMT
REAPER vs Logic Pro Pros and Cons
Having used both extensively for recording and producing, I can say for sure that both are friendly and very versatile. Even though both serve the same purpose, slight differences make one better than the other for some people or situations.
Also, note that the comparison was made with the latest up-to-date software on the date this article was published; Logic Pro X 10.5 and REAPER 6.51.
REAPER Pros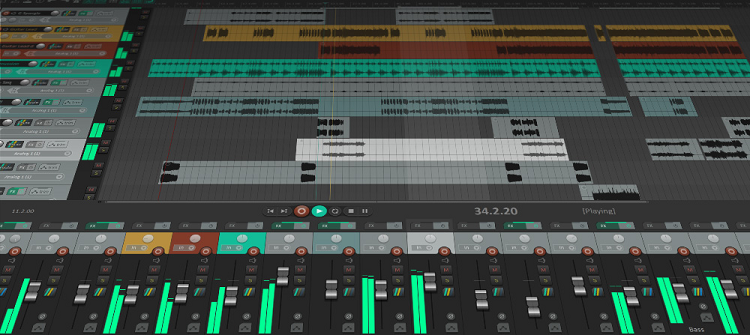 It's compatible with all OS; Windows, Mac, and Linux
It's open-source, meaning you can customize it in every way to your pleasure.
It's free to try for 60 days, while you can continue to use it for free if you don't buy the commercial or discounted license.
The layout is intuitive.
Excellent track editor
Lightweight for the CPU and minimal space required
Support both 32 and 64-bit VST
REAPER Cons
It does not come with any VST apart from a few basic ones
It might need some customizing before being 100% ready for modern production
It has a steep learning curve due to the many functions
Logic Pro Pros
It comes already packed with 57Gb of very good free VST-s
It's feature-packed and not expensive
Easy to use intuitive layout for beginners and advanced users
It's ready to use to the fullest without any customizing
It does not take much time to learn
Logic Pro Cons
It's only compatible with Mac.
Not customizable; you get what you see.
Relatively heavy software
Does not support VSTs, only AU
Does not support 32-bit VST without 3rd party 'Plugin 32 Lives'
How does a Different DAW Affect Your Music?
Before going through each software in detail, I want to expand on how a DAW affects your music and why choosing a suitable one is essential.
Any Workstation will not affect your sound directly. If you use the same plugins in two different DAWs, the result will be the same. A workstation affects your workflow significantly. Changing how you approach your music can indirectly affect your songs.
My personal experience with that is in recording and producing bands. Having tried many DAWs, there is always a learning curve associated with a new one, and I have found myself unable to get my normal sound with a new DAW until I mastered it.
Even after getting used to the DAW, I still had to adapt the software to my workflow; doing the opposite resulted in me taking hours and sometimes not getting the result I wanted.
Also, some DAWs do not support every plugin and/or are unique to specific operating systems. 'Wave' plugins, for example, are unique to Mac. You cannot have the same sounds using Windows-exclusive software.
Even though any DAW can be adapted towards different genres, some are better than others. Since most modern music today focuses on electronic sounds and programmed beats, many software now are developed to fit these genres.
There are also certain standards for professional music production that not every DAW fulfills. Only a handful of software is used in professional studios worldwide for a good reason.
Why Use Reaper?
REAPER is an acronym for Rapid Environment for Audio Production, Engineering, and Recording. It's a relatively late entry in the DAW world, where the heavy and expensive Pro Tools and Cubase dominated the market. Initially released in 2006, the software branded itself as the most affordable and customizable alternative.
What sets REAPER apart from all other DAWs is the ability to write your own script and customize the workflow. You can change all the minor elements or change the entire theme. If you dislike some visual element or prefer to have your set-up your way, you can do it.
It takes some time to get it to where you want it, but it's worth it. The step learning curve on Reaper is challenging for some, especially MAC software users, where layouts are usually straightforward. There is a "beginners frustration" aspect to consider when using it, but after you get much more freedom than on any other software.
Compared to other Windows-compatible DAWs, it's not too hard on the CPU and less prone to Crashing. Using REAPER can compensate for the lack of CPU power and space. You can save up the money on an expensive MAC and purchase plugins.
Who is REAPER Best For?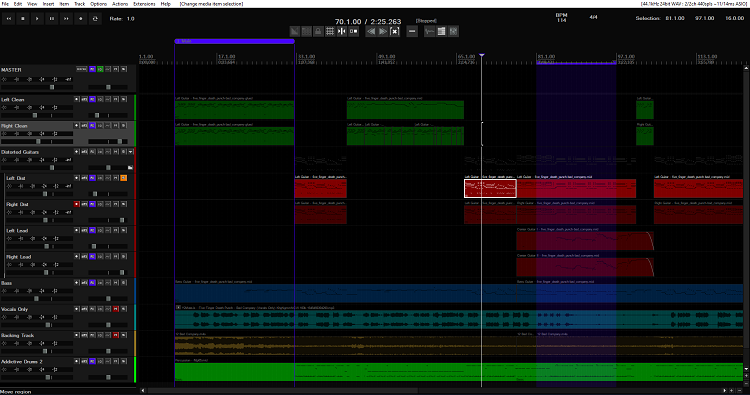 Having used REAPER for years in live instruments recording sessions, I recommend it to others. The track editor is extremely friendly towards editing live instruments on the grid or not. Many rock and metal musicians use Reaper for this reason. This is not to say that it's not equally as good for modern loop-based music production.
For example, you can customize the commands and interface to respond like Ableton, a modern music-oriented DAW. Still, Ableton would be better suited for Electronic music.
Both pros that used the industry-standard Protools and home studio owners are switching to Reaper in recent years due to the ability to customize it. If you have figured out what you want from a DAW, REAPER is the only one that can do exactly what you ask of it,
For guitar players like myself who record from home or in the studio, REAPER is the best software of the two. Basic recording commands like setting up new tracks, editing WAV files, routing, etc are very easy to do. Also, you can find more guitar VSTs for REAPER than for Logic.
Logic Pro X: Audio and Music Production | Amazon
Logic Pro X: Audio and Music Production leads you through the music creation and production process, giving you all the tips and tricks used by the pros to create release-quality recordings.
Buy at Amazon.com
We earn a commission if you make a purchase, at no additional cost to you.
11/30/2023 11:41 pm GMT
Logic has been around since the 90s and placed itself along with Pro Tools as the best professional DAWs for Mac OS.
Logic Pro stands out cause it is feature-packed, reliable, and has a long history of being used in professional and home studios. Like most Apple software, you can rest assured that there are continuous updates, support is excellent, and it's less likely to crash or freeze. It's not expensive software and a great fit for experienced and casual producers.
You will find it very familiar if you jump from Garage band to Logic. The layout is oversimplified; however, this can be a disadvantage as you need to activate manually some critical features that any professional would need.
Logic automatically does many processes for you; however, software like Protools pushes you to learn more technical aspects and be more precise.
It comes with many stock plugins, some of which are excellent. However, the guitar and bass VSTs are not the best, and I suggest buying other ones. Some of its features, like DOLBY mixing, are especially great and cost much more to have in other DAWs.
Who is Logic Pro Best For?
I recommend it more for modern music producers as the editing, mixing, and mastering interface is very friendly towards loop-based music. It's suitable for live recorded instruments like any DAW; however, the latest updates focus more on programmed instruments. Its an excellency software r Beatmakers. It's good for live rock bands, but there are better options.
The simplicity and versatility of Logic make it a good middle point. It can be used easily by beginners and also fit professional producers. However, it doesn't go as in-depth as Protools or well customized Reaper.
If you intend to buy only once a fully packed DAW and want a simple layout, primarily geared towards modern music, Logic Pro is the right DAW for you.
Which One is More Convenient, REAPER or Logic Pro?
The discounted license is only 60$ and lasts for two products upgrades. The only plugins that come with REAPER are stock Reverb, EQ, and other basic plugins. Being only around 20Mb in size, the software by itself is very sparse, almost empty.
Logic Pro costs around 200$, and you only need to repurchase around every five years when a new version comes out. With the license, you also get 60Gb of plugins and sound libraries that would typically cost much more.
The stock plugins are excellent for anyone just getting started with music production. The electronic sound packs and drums are especially good.
A free 60 days trial for Reape is available with 100% of its full functionality. What's surprising and generous about the company is that even after 60 days, it remains free to use if you don't buy it and wait for the opening dialog box to close.
The total cost of your rig can vary depending on how much you spent on plugins, I still give the advantage to REAPER on the cost as you will most likely need to replace most of Logic's stock plugins.
Other Alternatives
You can consider other software if either REAPER or Logic Pro don't convince you. Some I recommend are the following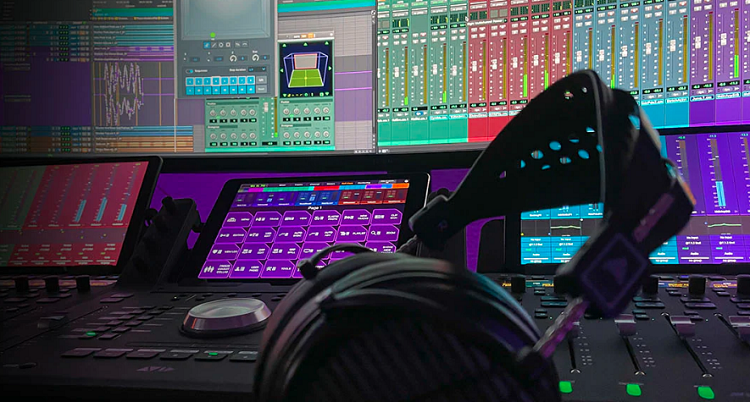 Pro Tools is the first industry-standard DAW that still to this day is used in most professional settings. It's much more expensive than Logic Pro and Reaper but has tools that go into every small detail of music production.
It's has a steep learning curve like REAPER, but it's not customizable. I recommend it for pros who can afford it and really need all its functions. You can learn more here about which version of Pro Tools to choose.
Our Top Recommendation
Pro Tools Studio Music Software | AVID
Turn your ideas into hit records—save 33% on Pro Tools Studio now and get what's coming soon. Midsummer Special: Save $100 USD when you pay for a year upfront!*
Get Pro Tools Studio
We earn a commission if you make a purchase, at no additional cost to you.
Ableton Live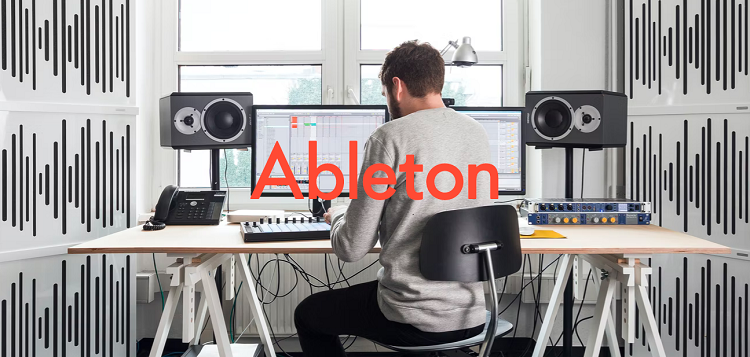 This modern DAW is an excellent fit for everything electronic, From hip hop to techno and all loop-based music. It's probably the best DAW to use for live looping performances.
Ableton is very popular nowadays, considering it serves extremely well the needs of today's producers. For live recorded music, however, I would not recommend it for tracking and editing live instruments might not be as intuitive as in ProTools or Reaper. Other differences between Ableton and other DAWs make it great for electronic music.
FAQs
Question: Do Any Professional Producers Use REAPER?
Answer: One of the most famous musicians ta use REAPER is Hans Zimmer. A modern producer that has used reaper in some of his live streams is deadmau5. REAPER is just recently getting commercialized as ProTools still dominates the market of professional studio DAWs.
Question: Which Professional Musician Uses Logic Pro?
Answer: Some famous contemporary names that use Logic Pro are Taylor Swift, Björk, Brian Eno, Chris Martin, Shawn Mendes, Ed Sheeran, etc.
Question: How to Choose a Computer for Music Production?
Answer: A 4 or 6-core CPU paired with 16 or 32 GB of RAM (DDR4) is ideal if you can afford it. You will need more only if you are working on projects with many tracks and plugins active simultaneously.
Final Verdict on Reaper vs Logic
In a nutshell, Logic is an excellent software to use; Reaper is a software that you can make work for you as you most prefer.
If you learn about modern music production and want software ready to use, user-friendly, and packed in sounds, Logic is excellent.
For producers who want to put the time and effort into customizing the interface and purchasing plugins, I'd recommend REAPER for its versatility and adaptivity to operating systems and individual workflows.
Logic Pro X: Audio and Music Production | Amazon
Logic Pro X: Audio and Music Production leads you through the music creation and production process, giving you all the tips and tricks used by the pros to create release-quality recordings.
Buy at Amazon.com
We earn a commission if you make a purchase, at no additional cost to you.
11/30/2023 11:41 pm GMT
Latest posts by Altin Gjoni
(see all)