Roland Sherwood Ball (known as "Ernie" Ball) was a musician from his early life onward and learned much of what he knew from highly skilled family members. By the time he was 19, Ball was a touring musician, playing primarily pedal steel guitar.
Shortly thereafter, he joined the US Air Force Band in his early 20s as a guitar and bass drum player.
In his late 20s, Ernie Ball decided to open a music store—which some say was the first music store in the US that exclusively sold guitar equipment. He was criticized for not selling other instruments, but he simply stuck with guitars.
Ball's major success began with the release of his "Slinky" strings, the idea for which he first suggested to Fender and Gibson but got rejected. Ball's strings had a thinner and unwound G-string, which was first intended to better facilitate beginners' learning how to play the instrument but later became popular with intermediate and professional players alike.
Before long, Ball was preparing custom string orders for professional guitar players, and today many of the world's greatest play Slinkys, like Jimmy Page, Paul Gilbert, Slash, Joe Bonamassa, and John Mayer.
In 1984, Ernie Ball bought Forrest White and Tom Walker's company, Music Man, which made Ernie Ball's guitars (which had previously gone by the name Earthwood) more visible in the guitar market.
Throughout the '80s and '90s, Ernie Ball Music Man created a lot of guitars and basses, many of which were signature artist models, such as the Silhouette, Eddie Van Halen Signature, John Petrucci Signature 6- and 7-strings, Sterling, and Bongo.
Today, Ernie Ball Music Man is one of the most well-known music equipment innovators on the market, and while it may not be quite as ubiquitously known as other manufacturers—such as Fender or Gibson—the company's innovative edge makes it popular with pros around the world.
In 2009, Music Man started a sub-company called "Sterling by Music Man," which creates a budget line of instruments that are $300 or under and target beginners. One awesome guitar out of this line is the, which this article will focus on.
Sterling SUB Silo3 Specs
Body: The Silo3's body is made out of a single piece of jabon wood, which is similar to basswood but is heavier and has better resonance. Where basswood has a midrange bump, jabon is more well-rounded and delivers clearer lows and highs with a broadened warmth reminiscent of mahogany—although not quite as good. The body's shape is interesting, with a basic Strat-style design but dramatic differences. The sides of the horns are contoured, and the horns themselves are skinny and rounded. The bottom cutaway allows clear access to the neck's 22 frets. The Silo3 comes in four different finishes: metallic red, black, white, and tobacco sunburst, of which I find the sunburst most appealing.
Neck: The Silo's neck is made of maple with a rosewood fretboard, with the exception of the black finish, which has a maple fretboard. The neck is bolted on with five bolts and has 22 frets that are easily accessible thanks to the body's large lower cutaway. The Silo3's neck feels super comfortable to play, with a matte finish across the back side and medium-sized frets. A nice addition that Sterling added to this guitar is the wheel adjuster for the truss rod, which is squished compactly between the neck joint and the neck's single-coil pickup.
Pickups: The Silo3's pickups are, in a word, surprising. They come in HSS arrangement and sound downright awesome with responsive twang, powerful lows, and clear highs. They even sound great both clean and distorted, which is uncommon with budget guitars. People on forums across the web are debating whether the Silo3's pickups are Dimarzio, and while it seems highly unlikely (because that would mean the pickups would cost nearly as much as the whole guitar), the very fact that people are mistaking the Silo3's pickups for Dimarzios is a testament to their quality. Sterling advertises the pickups as being "overwound," meaning they have more dynamic response than other pickups, and they respond wonderfully to the rich resonance that the jabon body produces.
Hardware: Sterling's Silo3 boasts some of the best hardware to be found on a budget instrument. It comes with the minimum knobbage, with one volume and one tone knob. The knobs are both Fender-ey top hat style and feel reliable and smooth to the touch. The 5-way pickup selector switch works wonders for dialing in the tone you're looking for, thanks to the HSS pickup arrangement. The pickguard looks stylish and adds a vintage, yet progressive, style to the Silo3's appearance. Even the 4-over-2 tuners are reliable, turn smoothly, and stay in tune very well, even when using the tremolo bridge to your heart's content. They seem to be much better quality than the tuners found on… well, basically any other budget guitar.
So, how does it sound?
Thanks to the resonant jabon body, maple neck, and awesome pickups, the SUB Silo3 sounds fantastic. The lows are powerful, the mids are bold, and the highs are clear but not overbearing. What's more, the Silo3 is extremely versatile and sounds great on both clean and distorted channels.
The neck is fast and smooth and lends itself to whatever style you want to play, whether it be subdued rhythm guitar chords, picked lead lines, or screaming, distorted solos.
As a tonewood, jabon is well-rounded, producing strong lows and a powerful midrange, which is further improved upon by the maple neck, which boosts the midrange tones and provides a clearness and immediacy to the highs.
Sterling planned the SUB Silo3 very well, as the combination of the jabon body with a maple neck, rosewood fretboard, and HSS overwound pickup arrangement produces a tone that sounds much more expensive than it is. Thanks for this one, Sterling… or Music Man… or Ernie Ball… or something…
For more options or alternative guitars to try, check out my round-up of the Top 11 Electric Guitars for Beginners!
Alternatives
Unfortunately, this product is currently out of stock. However, while this model isn't available anymore, that doesn't mean you have to miss out! Here's an alternative that's very similar to the Sterling SUB Silo3:
The Yamaha Pacifica Series PAC012DLX HSS is a rockstar of a guitar and makes for a great alternative to the Sterling SUB Silo3. Not only does it provide a beginning musician with all of the basics they need, but it's a great instrument for experienced musicians to groove to.
Not only does it offer a vintage-style tremolo bridge and an HSS pickup configuration, but with a price lower than $200, you'll be able to explore a lot of different tones with this guitar. Plus, this guitar is made by the world-famous Yamaha.
As far as the physical build of this guitar, you'll find it has a thin waist and deep cutaways. paired with a sharper horn, you'll find that is super easy to access the upper registers of this guitar. Plus, you'll notice and it's a lot more modern van at the Trailblazer that Fender offers. If you're an experienced musician oh, you may not enjoy that the body of the guitar is made with agaiths instead of Alder. However, its softer tonewood is what helps to make this guitar a lot cheaper.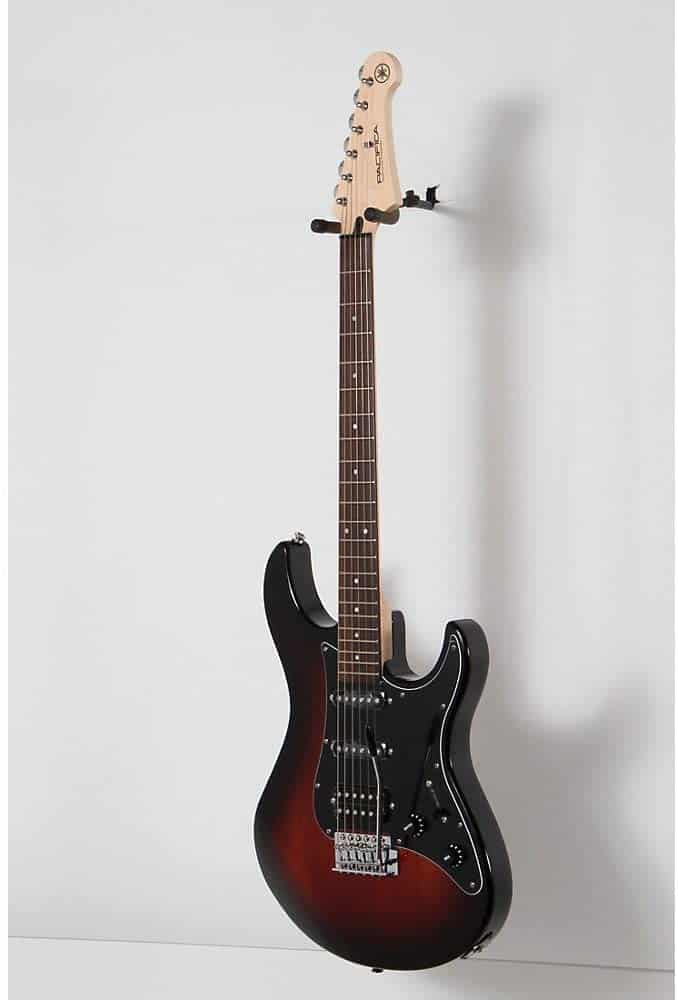 Taking a look at the HSS pickup configuration, you'll also notice that there's a five-way switch. This will provide you with the opportunity to develop a total pallet. That's so exciting, you won't have to think about upgrading your guitar to get a better quality sound. Plus, you'll find that the single coils available in this guitar amp are clear and bright. moving on to the bridge, the humbucker around this part of the guitar has an amazing crunch when you pair up with distortion.
Also, you'll find that the tremolo bridge is Chrome, as well as the tone control knob and at the master volume knob. By using chrome on this instrument, you'll get an affordable guitar that's a lot of fun to play on.
In Conclusion
Pros:
Awesome sound, great pickups
Reliable hardware
Versatile tone
Cons:
I give the SUB Silo3 an impressive 5 out of 5!
While most companies go cheap on pickups or other hardware in the manufacturing of their budget instrument lines, Sterling by Music Man has a different approach. They instead spend fewer hours of work on each instrument to minimize the cost and bring an affordable instrument to beginners everywhere.
Using a spray-on matte finish on the neck instead of oil, for example, saves time in the manufacturing process but doesn't sacrifice quality (as many high-end guitars use spray-on neck finishes anyway).
For the price, there could not be a better beginner-oriented instrument, coming in at a super affordable $200.
It delivers in every way you would hope, with quality hardware, excellent pickups, stylish design, and a comfortable neck and body contour. If you're new at guitar, this is the perfect instrument for you, hands down. You won't regret buying this guitar.
Recommended Reads:
Latest posts by Guitar Space Team
(see all)