This ESP 7 string comes from their LTD range, which means it's made in the East. No problem. It comes amongst the cheapest seven-string guitars available, and we'll be considering it in terms of materials used, construction, tones and overall playability.
These days, any guitar that has provision for an additional low B will put it very much in the metal camp. But, as part of this review, I'd like to explore if it might have a wider range of uses than heavy riffs and infinite scales. So let's get down to it and see what it has to offer!
Core Features and Specs
ESP firmly markets the M-17 on its affordability, so they're aiming this at kids in basements, and maybe people who are just curious about what an extra string would bring to such a traditional and revered instrument.
The specs of the instrument are pretty standard at this price point.
| | |
| --- | --- |
| Construction | Bolt-on |
| Body | Basswood |
| Neck | Maple |
| Fingerboard | Rosewood |
| Frets | 24 |
| Pickups | ESP designed |
The full list of specs shows this is a no-frills guitar, so it's not a bad baseline to have if it's your first foray into seven-strings, and trying to get an idea of how they feel.
This will work well for…
All of the metal! Because this guitar is available in any color you want, as long as it's black! To be fair, they have a plain matte black or a satin black, but still… black!
It's interesting to note that seven-string electric guitars actually have their origins with jazz musicians, and hey – there's nothing to stop anybody using it for that. However, ESP are very much a metal brand. An instrument at this budget may not lend itself to clean tones, so it's probably best to dirty things up with some distortion.
Does it do what it should?
Straight out of the box, the esp 7 string smells and shines just like a new guitar should. The basswood body makes it noticeably lighter than its mahogany-bodied cousins. It weighs in at 9.5 pounds, so it's not too heavy, but you'll know it's there.
The M-17 is equipped with fairly standard chrome hardware. Everything has been kept simple to keep the cost down. Two knobs control volume and tone, while its strings go directly through the body to the Tune-o-matic bridge – no tailpiece of any kind, just some simple metal rings to stop the strings from cutting into the body.
24 frets are embedded on the rosewood fingerboard, with dot inlays. The only embellishment to be seen is the M-17 inlay on the twelfth fret.
The pickups are ESP-designed. This means it was designed by the manufacturers in Japan or the US, and actually made in the East.
It's probably important to note that even though there's nothing about the parts that scream "fancy" or "awesome", that's completely not the point of this guitar.
Construction
The standard parts already highlighted will make or break based on how the guitar has actually been put together. For the price of this guitar, there's not too much to pick on – overall, the M-17 is a solidly built instrument.
With bolt-on necks, it's generally a good idea to start construction examinations there. The joint was perfectly cut and the maple neck comfortably fitted, with no gaps, and no obvious forced wedging or unsightly globs of hardened glue. You can't really ask for much more than that. Honestly, I've seen worse bolt-on jobs on more expensive guitars!
The neck and fingerboard are very presentable. The frets and inlays are tidily embedded in the rosewood fingerboard. There won't be any binding on the neck at this price!
Looking at the reverse headstock, LTD's own-brand machineheads adorn one side. A simple chrome affair, they are perfectly aligned. A few seconds poking and prodding at them doesn't reveal any kind of play or rattling.
An unbranded truss rod cover also lives on the headstock.
By now, it's evident that the success of the M-17 won't be won or lost on its looks.
Tones
A large solid state is what's most likely to be used by the target market for the M-17, so it seemed an obvious place to start with plugged in sounds.
Plugging directly into a 100-watt solid state head with an accompanying half stack, and cranking up the volume and gain with its built in distortion, the M-17 sounded exactly like you might expect: loud and filthy! For a person in a basement looking to do some noisy metal with the extended range of a seven-string, there's absolutely no problem.
Hitting out single notes for solos, there was somewhat of a lack of definition. On the bridge humbucker, with some tweaking of the EQ, it was OKish. It might be that in a live setting a pedal would be the best job for solos – an EQ pedal, treble booster, or even an overdrive/distortion pedal with the tone pushed.
Rolling off the gain, I hoped for a little more clarity in the notes. No matter where I positioned the pickup selector, or tone or volume knobs, it just wasn't there. The bridge pickup wasn't "bad", but if you're serious about your bright clear cleans, this probably won't cut it.
To double-check this, I switched to a smaller, all-valve combo amp to see if I could get any better clean tones out of it. It didn't take many jazz chords and light noodling to determine that the answer was no.
As a general point, you would expect the pickups in this price range to be a little bit noisy, and yes, that's a fair expectation that is delivered. Between this, and the lack of clarity from cleaner tones, if you're looking to use a seven-string for jazz, you should look elsewhere. This guitar is just not supposed to be played quietly!
Playability
If you're fussy about your guitars and their playability, you're probably not looking at budget guitars anyway. This is a cheap guitar, and looks and tone aside, it feels it. Strapping on the light basswood body doesn't fill the player with the chest-out metal bravado inspiration that a weightier instrument might.
The fingerboard's 350mm radius is comfortable to this player. This guitar is aimed at seven-string newbies, so it's going to feel weird and massive at first.
There's no real discomfort as such to playing the guitar. The frets are neat and finished well at the edges so that the lack of binding isn't really that big a deal. But it does feel like there might be a little more "fight" to get up to full-speed shredding. This isn't necessarily a bad thing, and might well be helped with a setup and some of that string cleaner that claims to allow you to play faster.
If you're looking for something where you can comfortably launch into your solos, this probably isn't for you, but if you're a less fussy player just looking for fun noise, you probably won't be put off too much!
Pros
Cons
· Cheap! Just so wonderfully cheap!

· The parts used are decent

· Construction is spot on

· Ideal as a first seven-string, whether you're emulating heroes, or experimenting with developing your playing

· It feels cheap to play

· Pickups could be refined to allow a wider range of tones

· The limited color options may not appeal to everybody
Alternatives
If you're looking to keep your seven-string purchase sub-200 bucks, there are a few alternatives available. But it is important to remember that guitars in this price range will be no-frills affairs.
Considering the additional craftsmanship that goes into this type of instruments, costs have to be saved somewhere to keep them accessible.
Probably the leading brand in electric seven-string guitars, Ibanez have a few models for super-cheap. Like the M-17, the focus of their Gio range is to make a highly affordable guitar for players on a tight budget, and they've pretty much nailed that.
Keeping things simple, the Gio hails from Ibanez's Chinese factory. Made with a poplar body, it's still pretty light. Ibanez's website lists black as the only finish, but some mooching around the internet reveals alternatives, such as white and a trans-tobacco burst thing. They're very pretty.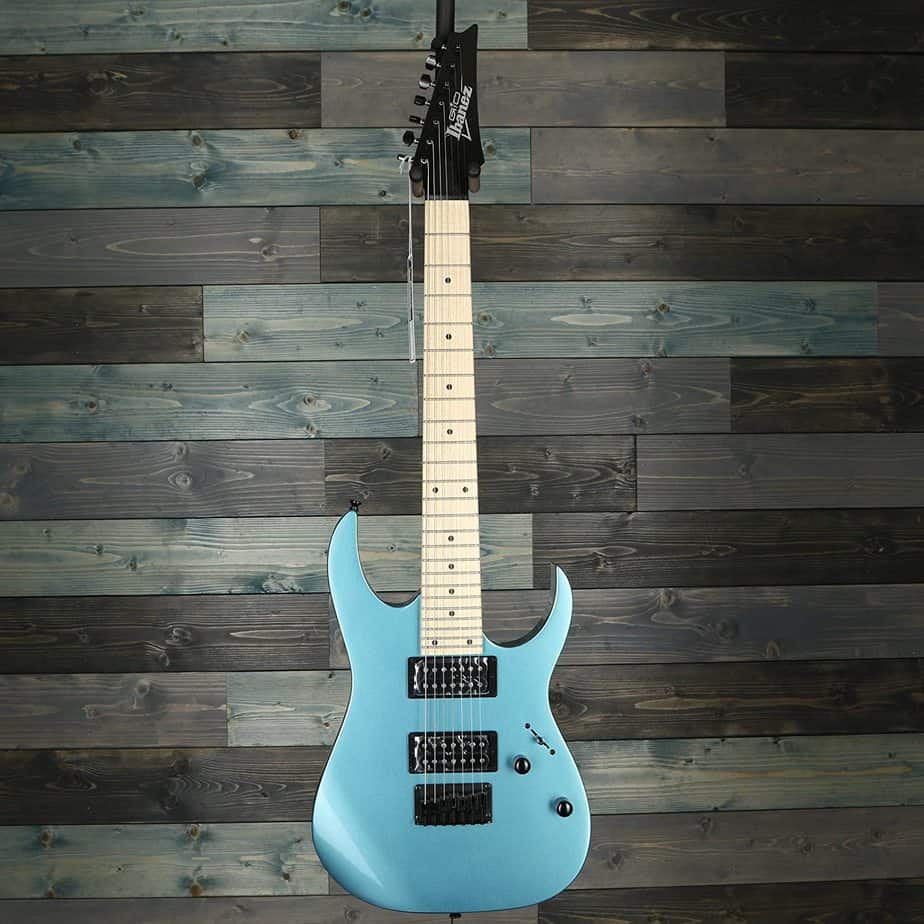 The hardware comes in a black chrome finish, which overall, isn't that common, and which I personally think looks kind of badass.
Dean also have a seven-string tucked away among their budget guitars. Their Vendetta model is probably the most "normal" looking of Dean's guitars, and their XM range houses their low-end instruments.
The string holes through the body are in the shape of a V – this simple aspect of the design is actually quite striking, offering an aesthetic variation from the norm. It also comes in a very beautiful trans-black finish.
Another brand renowned for their Superstrats, Jackson's Dinky range is home to the JS22-7. The most obvious thing about this guitar is its shape – look at those curves! It looks like it should be more expensive. As a standard model, it comes with a rosewood fingerboard, but a limited edition version can be found with a maple fingerboard, which is pretty unusual.
In Conclusion
The esp 7 string is a no-frills, all-fun guitar. If you're looking to just make some noise, you won't go wrong with the M-17.
This is very much for the riffs though, and likely to suit rhythm players best. It's not that it can't do lead, it's just that it won't be as much fun, because it takes a little more to tease out a good lead tone that will cut through the rest of a band's noise.
Latest posts by Guitar Space Team
(see all)