If you are considering buying a new affordable beginner guitar or discovering a gem without spending + $1000, the Grote guitars are worth the look.
In this guide, I will inform you in detail about Grote guitars in order to help you choose the best one for you, and we will also look at several alternative solutions.
Furthermore, you will also find the answer to the most frequently asked questions about these lesser-known guitars, so let's dive in.
Grote MG 404 | Amazon
Unique Metal truss rod cover and Laser Security Trademark. It looks super upscale. New Grote Brand 335 style electric guitar semi hollow body.
Buy at Amazon
We earn a commission if you make a purchase, at no additional cost to you.
09/30/2023 12:31 am GMT
Who Are Grote Guitars?
Probably only a small part of you are familiar with this brand or know very little about it.
This is to be expected because these guitars started to be produced much later compared to Fender, Gibson, Martin, or Ibanez.
The first Grote guitars were made in 1989. There is a small number of successful guitar brands that appeared in this time period and managed to break through the strong competition (such as PRS, Schecter, or even Kiesel); this is not the case with Grote.
The second reason that Grote is not very popular is that they are not known for producing original models. Their most successful models are replicas of the Stratocaster, Telecaster, Les Paul, and ES 335.
And reason number 3 is that the main goal is to produce budget-friendly guitars – something that does not attract the attention of most consumers.
Where Are Grote Guitars Made?
Grote guitars are made in China. This is the main reason for their low price.
But unlike the body and the neck, the pickup system is made in Korea, which is known for its high quality.
Are Grote Guitars any Good?
This is perhaps the most important question, and the answer is yes.
The Grote guitars are surprisingly high quality in sound, look, and playability.
Looks
They can brag with a high-end quality finish, smooth fretboard, and, as I mentioned before – quality "made in Corea" pickups.
The look of these guitars is amazing, especially the hollow and the semi-hollow body models. They usually have a matte finish – a rough, unreflecting surface with a great multiply binding on the body, the neck, and the headstock.
This gives you the feeling that you are holding a 2K Gibson guitar! But for all the fans of shiny guitars, don't worry. There is also a smooth gloss finish as an option.
Logo, details
One of the key elements that give a brand its identity is the logo – and Grote can't really brag with originality.
Their logo is actually their name written in a font that resembles the Fender "spaghetti" font.
The same goes for the headstock. Grote does not have their original shape of the headstock. They usually vary depending on the model of guitar they are trying to imitate.
There is a small detail by which one can recognize a Grote guitar, and that is the truss rod cover on the hollow and semi-hollow models.
It is a small metal plate with the Grote logo placed on the headstock. The cool thing is that this truss rod cover is screwed with only one screw on the top.
This means that if you want to adjust the truss rod, you can simply move it on aside instead of using a screwdriver.
One thing I personally like is the inlay on the headstock, which is very simple but original. The inlays on the fretboard, just like the headstock, depend on the model.
The hollow and the semi-hollow body guitars have a big rectangle shape, and the solid-body models have dots marks.
Types
From everything you read above, it can be concluded that Grote produces hollow, semi-hollow, and solid body guitars.
In addition, Grote also produces bass guitars.
Models
Grote has several successful models from which I will start with the best – MG 404. The Grote MG 404 is a copy of the legendary ES 335 Gibson, and just like the original, this Grote model looks astonishing.
Appearance
The guitar has the characteristic red "Cherry" color with a black pickguard and rectangle-shaped marks on the fretboard.
When it comes to hardware, this guitar has two humbucker pickups with a standard H configuration, a 3-way pickup switch, two volume knobs, two tone knobs, and a Tune-O-Matic bridge.
The only part that does not have a high rating is the tuning pegs. I'm not saying they're not good, but they just aren't on the same level as the other hardware.
So far, so good. But how does it sound?
Sound and playability
The two biggest factors that affect the sound are the body materials and the pickups. The Grote MG 404 is made entirely of maple (top, body, back, neck).
This combination has already been proven, and it sounds really good. The exception is the fretboard which is made of blackwood.
Although used very often, the blackwood is no better choice than the rosewood, as in the case of the Gibson ES 335.
But well-crafted blackwood can be a pleasant surprise when it comes to playability.
The pickups are not to be underestimated. The "CR (JIN HO J-03)" made in Korea are high-quality pickups that guarantee good sound.
Price
Although I mentioned earlier that these guitars are budget-friendly, their price is ridiculously low.
The Grote MG 404 can be purchased on Amazon for between $189 and $219.
Grote MG 404 | Amazon
Unique Metal truss rod cover and Laser Security Trademark. It looks super upscale. New Grote Brand 335 style electric guitar semi hollow body.
Buy at Amazon
We earn a commission if you make a purchase, at no additional cost to you.
09/30/2023 12:31 am GMT
Pros:
Great looks;
High-quality finish;
Nice and warm jazzy sound;
Budget-friendly;
Cons:
Below average tuning pegs;
Overall, the Grote MG 404 is a great affordable solution for jazz and blues beginners or even experienced guitarists who do not want to carry their expensive guitars when traveling.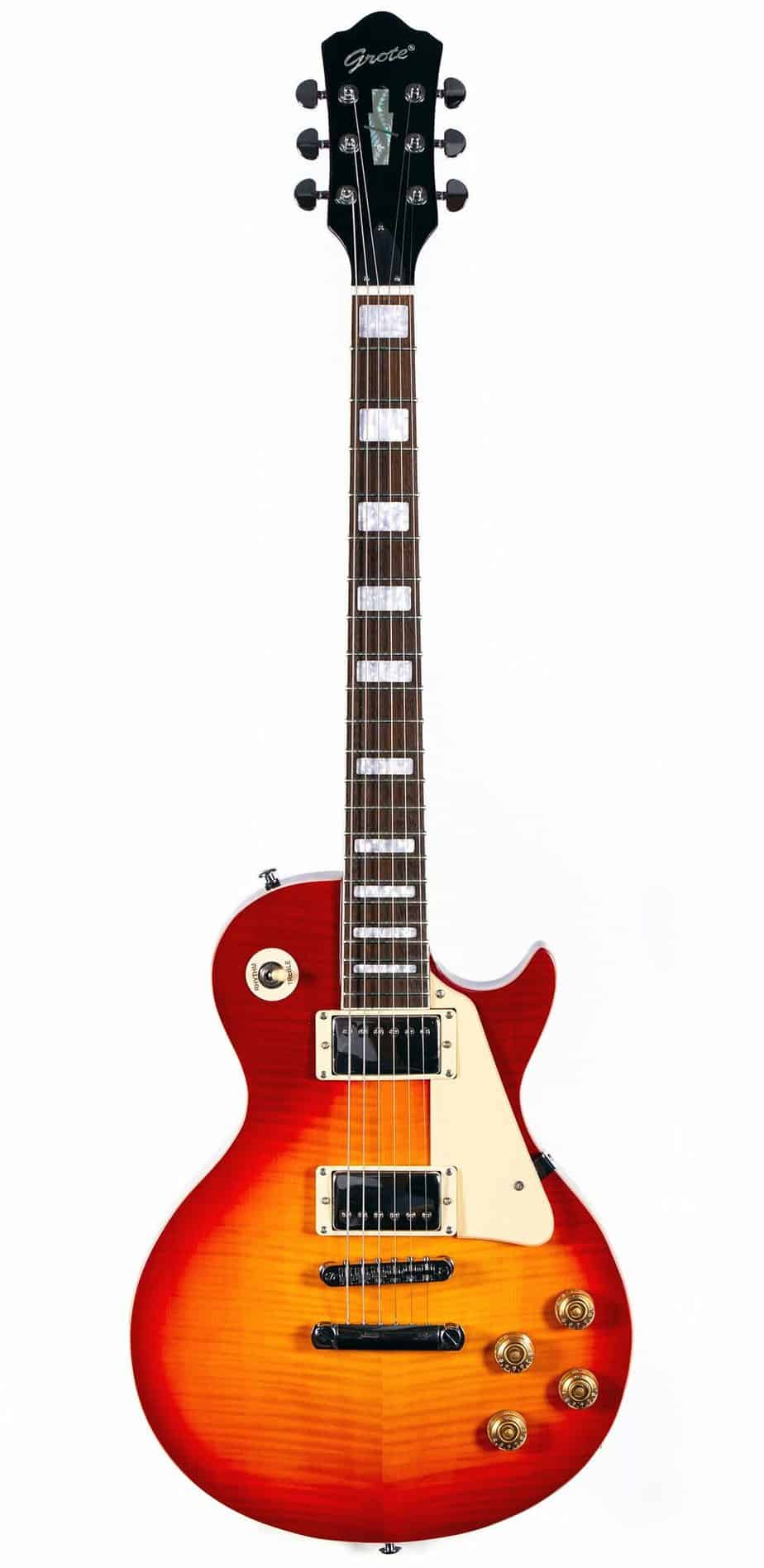 The second best Grote model is the LP-HW. This is another Grote copy of arguably the most popular Gibson guitar – the Les Paul.
Appearance
As you already know from the previous example, Grote pays a lot of attention to the appearance of the guitar to a level where the difference is noticeable only in the logo on the headstock.
This single-cut solid-body guitar, just like the original Gibson guitars, is made in several shades, the most common of which is the sunburst and black with a gloss finish.
The binding is no exception either. But it is only on the front of the body and on the neck. The pickguard on all Grote LP models is white, and the two humbuckers can be found as black and metallic.
This means that the guitar has an H pickup configuration with a 3-way pickup switch, two volume knobs, two tone knobs, and a Tune-O-Matic bridge.
The color of the fretboard is dark brown, which is obtained from the very wood from which it is made – rosewood.
And of course, on it are the fret marks as a white rectangle.
Playability
The rosewood is not my favorite type of wood for the fretboard, but it can be quite playable, especially when made at a high level, as is the case with Gibson, and also – Grote.
What reduces the sound quality compared to Gibson is the body material. All Grote PL bodies and back are made of basswood, which is one class lower compared to mahogany.
The top and the neck are made of maple, which is true for both the Gibson and the Grote models.
Normally, the pickups are one class lower than the Gibson, but this is normal considering the prices of both guitars.
Price
And when it comes to prices, the Grote LP models can be purchased for between $190 and $300, which is too little for a guitar of this quality.
Pros
Great look/quality finish;
Nice playability;
Affordable;
Cons
Not as playable as an original Gibson;
Doesn't sound like an original Gibson;
This guitar is a great option for almost every guitarist – it's cheap, sounds good, and plays even better. Just like the original LP, the Grote LP-HW is suitable for rock, blues, metal, and even jazz.
If you want to experience an LP guitar without spending too much money, this is the right choice.
Grote ST Style
The Stratocaster is arguably the most iconic and recognizable guitar model.
Therefore, it is no coincidence that many guitar manufacturers tried to make high-end and affordable versions of it.
From the category affordable and yet good strat models, the most famous are Squier. But that does not necessarily mean that they are the best.
Grote is one of the most successful companies that has managed to make respectable and super-cheap strat guitars.
Appearance
As in previous cases, Grote has paid attention to the small details.
Like any Strat model, this is a double-cut solid-body guitar that can often be found in black, red, and sunburst – each with a white pickguard.
At the front of the guitar are three single-coil pickups, with a 5-way pickup switch, one volume knob, two tone knobs, and a fixed bridge with a tremolo arm.
Sound and playability
Recreating a good American strat feel and sound is really hard. That is why hardly anyone decides to make a high-quality strat guitar.
In this case, Grote reached the highest point that an affordable guitar can reach. One of the most noticeable things when you take this guitar in hand is the weight.
The Grote strat guitars are super-light – ideal for children and travelers. The biggest factor when it comes to playability is the fretboard – something Grote has done successfully.
The twenty-two medium-jumbo frets are made very carefully, so the movement through the fretboard is super smooth.
This is especially true on the edges. The top and back of the guitar are usually made of sycamore, the neck and the fretboard are made of maple.
The wood type for the body is not ideal, but we are talking about an extra-cheap guitar, after all.
The guitar has three single-coil ceramic magnets, which means that they produce prominent mids and quick low feedback – something that is not very characteristic of a Stratocaster.
Price
Grote makes some of the cheapest strat guitars out there, and most of them can be found at around $100.
This is even stranger when you consider that they come with a bunch of extra accessories.
In the starter kit besides the guitar, there is also a gigbag, 20w guitar amp, strap, picks, hexagon spanner for adjusting the truss rod, and a tremolo arm.
Pros
Super-light;
Extra-low price;
Smooth fretboard;
Gigbag, 20w guitar amp, strap, picks, hexagon spanner, and tremolo arm included;
Cons
Low-quality electronics and tuning pegs;
Not for experienced guitarists;
If you need a starter kit for your kid or a backup guitar, a Grote ST model should definitely be considered.
Alternative options
It is very difficult to find good budget-friendly guitars such as Grote, but there are several alternatives that offer high quality for relatively little money.
If you want to experience a Fender strat or tele without breaking the bank, Squier is probably the best option.
Ibanez has a huge selection of Artcore hollow and semi-hollow guitars, from $250 to the signature + $1000 models.
So if you need a long-lasting, reliable jazz/blues guitar, consider Ibanez.
Epiphone is known as the Gibson's shadow, but that does not mean that all their models are not good.
On the contrary, in many cases, it is difficult to distinguish between the quality of a good Epiphone and a Gibson – a minor difference that can be cost you an extra $500.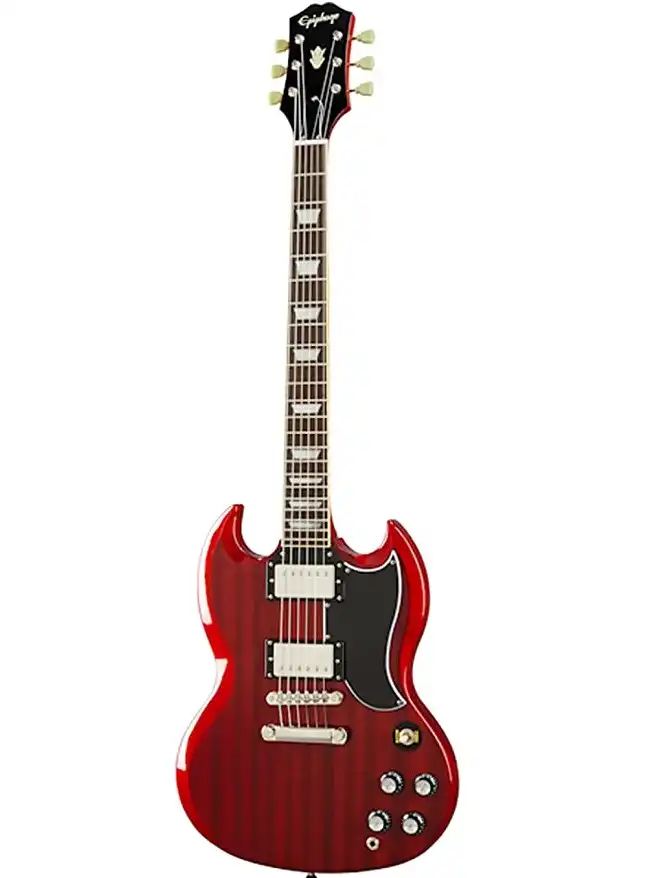 Epiphone SG Standard 61 Electric Guitar | Amazon
The Epiphone SG Standard '61 from the new Inspired by Gibson Collection recreates the rare 1961 Gibson SG, from its first year of production. Featuring a classic Mahogany body in a Vintage Cherry finish and is powered by ProBucker humbuckers with CTS electronics.
Buy at Amazon
Buy at Guitar Center
We earn a commission if you make a purchase, at no additional cost to you.
09/30/2023 03:51 am GMT
Conclusion: What's the Best Grote Guitar for You?
Thanks to the variety of models and low prices, Grote has guitars for every type of guitarist and style of music.
I highly recommend these guitars for all jazz beginners and students. Mostly because, for an affordable price, you can buy an extremely good jazz guitar.
Besides the MG 404, the hollow body Grote GRWB series is also a good option. If you are looking for a low-budget gig guitar for playing rock and metal, Grote has the LP models.
A model that is also worth checking out is the Grote headless guitars. These 24 frets guitars with a tremolo bridge are a perfect shred guitar.
Lastly, for absolute beginners, there is also the Grote starter kit. Simple but well-made strat guitars that come with a guitar amp – everything a beginner needs.
Grote MG 404 | Amazon
Unique Metal truss rod cover and Laser Security Trademark. It looks super upscale. New Grote Brand 335 style electric guitar semi hollow body.
Buy at Amazon
We earn a commission if you make a purchase, at no additional cost to you.
09/30/2023 12:31 am GMT
Latest posts by Panko Gelev
(see all)