G&L Guitar is a brand that was created by Leo Fender, most notably known for being the founder of Fender Electric Instrument Manufacturing Company. The brand was born in 1979, more than a decade after Leo decided to sell Fender Guitars to CBS in 1965.
He founded G&L with George Fullerton and Dale Hyatt. Leo had a legendary reputation designing and building instruments, and he had been doing this for other brands such as Music Man before starting G&L.
The instruments that they have released since then are inspired by Fender's classic and widely known instruments since the 50s', but sporting Leo's modern design creations that improve aspects that he wanted to perfect on his earlier instruments. These include changes to the tremolo systems, bridges, string saddles, tone controls, and their pickups.
Most of their instruments are made in the USA, in Fullerton, California. This is the same place where Music Man had their early models produced. Some of their instruments are also built overseas, in Asia, but they do not account for the majority of their options.
G&L Guitars are known for playing well right out of the box, a good quality control, and lots of customization options in some of their models. This is possible because they do not produce instruments in enormous quantities like some of the biggest manufacturers in the market today.
They still have room for upgrades, if you like to tinker with your electric guitars until you feel like it is a clear reflection of your taste and style.
This guide is going to tell you about the most important aspects to take into account if you're considering getting a guitar made by G&L Guitars, show you some of the models you should look into, and also a few other examples of similar guitars that could potentially interest you.
What Are Some of the Innovations Present in G&L Guitars?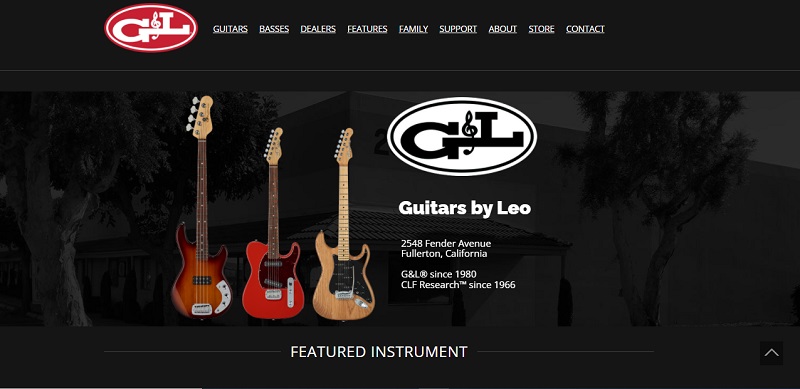 Leo Fender experimented with everything he could to make his new instruments as good sounding and easy to play as he possibly could. Such efforts paid off, as many of the improvements that he made to the guitars' hardware components and electronics made their way into G&L's spotlight, and they passed the test of time since you still see these features in their most recent guitars.
Let's go over the most important innovations that you can find in G&L's instruments nowadays:
MFD Pickups designed by G&L Guitars
G&L Guitars feature their pickups, designed to make the most out of the guitar and deliver as many different quality sounds as possible. MFD stands for "Magnetic Field Design", and their design mainly consists of using ceramic bar magnets.-
Doing so provides the pickups with a warmer, rounder sound that also benefits from wider frequency response. The fact that they have adjustable iron pole pieces allows you to be more specific when dialing in your bridge and string height. Most of the other single coils that you see on other guitars come pre-set from the factory and offer no possibility of customization by the player.
PTB Tone System
G&L's "PTB Tone System" is a reinvention of the classic tone controls that you see on most guitars. Leo observed that having 2 tone controls that roll off the high end of your pickups could do with a slight adjustment, and this thought resulted in the development of this tone system.
It consists of having 2 different master tone knobs: one of them is your old familiar tone control which cuts the highs of the corresponding pickup. The other one works differently and cuts lows instead. Think of it as if it is a hi-pass or low-cut filter on your EQ.
Having these two knobs and being able to set them in endless combinations allows you to easily change sounds on the go, without having to resort to any pedals or adjusting your amp settings.
Dual-Fulcrum Tremolo
The Dual-Fulcrum Tremolo is easily the biggest eye-catcher on guitars made by G&L. It aims to be an improved version of the original 6-screw tremolo system you typically see on Stratocasters and other S-Type guitars.
It offers low friction, greater comfort when using and the tuning stability is superior when compared to its less modern counterparts.
If you are into guitarists that are known for using several tremolo techniques such as Jeff Beck, or if you simply appreciate having one on your guitar, this is something you should investigate further as it could be one of the selling points of your next guitar.
Saddle-Lock Bridge
The Saddle-Lock Bridge system does exactly what its name implies – it locks the saddles in their place. By not having them loose, you can guarantee that the strings always have the same space between them, and a good setup will last a long time.
Another significant advantage of this design is that it promotes vibrations being transferred from the strings to the rest of the instrument, improving your overall sustain.
Who Are G&L Guitars Best Suited For?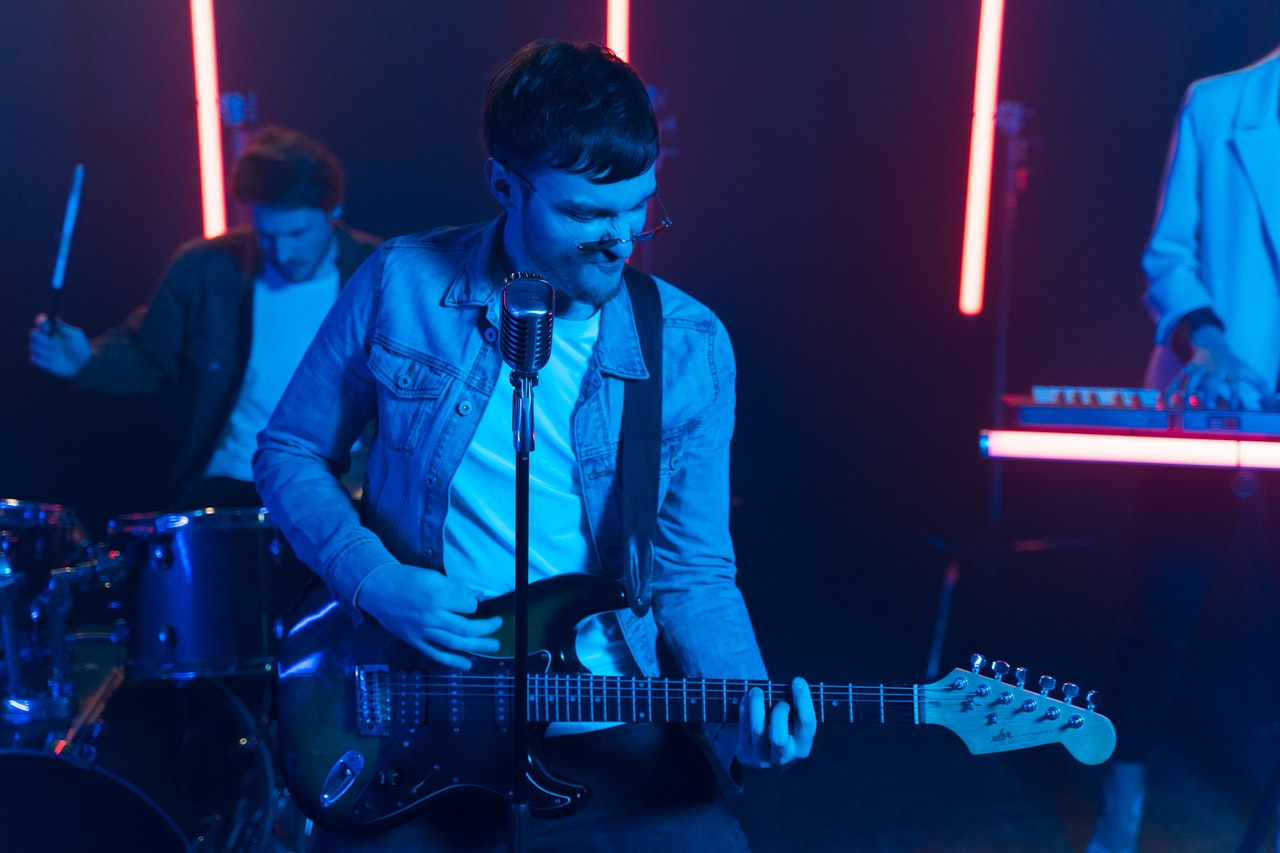 I would advise looking into the guitars that G&L offers to a guitarist that tends to enjoy the classic designs that have made Fender famous: the Stratocaster, Telecaster, Jazzmaster, Jaguar, and others. Since G&L Guitars was very largely influenced by Fender, those players will feel at home playing them very quickly, and they are likely to notice and enjoy the innovations that these instruments feature.
Many of the new components present on the G&L instruments are aimed at solving and tweaking some of the more inconvenient aspects of the older designs, which is why they are generally appreciated by musicians who pick up their guitars.
If you are into Telecasters, the ASAT Classic is probably the right guitar for you. It retains the main properties that you know Telecasters for but has some tweaks that increase the range of tones that you can get from it. Also, since the MFD pickups allow you to make adjustments to the pole pieces, you can always get closer to a more vintage sound if you want.
For those players who tend to grab the Stratocaster more often, there are several models from G&L that should pique your interest, such as the Tribute S500, which also features the MFD pickups, or the G&L Legacy, which comes with Alnico V pickups instead.
You can get all the sounds that you would normally expect from a Stratocaster, but there is added versatility in its unique tone control system, among other features such as the dual-fulcrum tremolo.
Some models would be great for the players who are more fond of Jazzmasters and Jaguars, each with its twist that makes them unique without losing their character.
G&L Guitars usually come equipped with single coils, even though some models also feature humbuckers, such as some of the T-Style models that have one in the neck. However, if guitars with humbuckers tend to resonate more with you (think Les Paul, SG, Explorer, etc.), there are probably other brands that offer a range of instruments that will do a better job for a similar price.
In any case, none of the G&L Guitars is a "one-trick pony". They carry tons of value in build construction, playability, and versatility. Each model allows you to quickly go from one tone to the other seamlessly, which unfortunately is something that can't be said about every guitar.
Our Favorite Picks From G&L Guitars
This section of the guide is dedicated to showing you some of the most interesting instruments that G&L Guitars has to offer. There are a few different price ranges in their line-up, so take your budget into account when scanning for your potential next guitar.
For example, the G&L Tribute Series has more affordable instruments that still feature the brand's iconic pieces of hardware and electronics that brought them so much fame. These are made outside of the USA, but they still get you a lot of bang for your buck.
The G&L USA Fullerton range is where you will find the most premium instruments that G&L has to offer. These are made in the USA by some of the world's best-trained luthiers, and every guitar that comes out of this facility is thoroughly inspected to make sure that it reaches your hands in optimal playing conditions.
Check out some of our favorite guitars from G&L below:
The G&L Tribute ASAT Classic Bluesboy is a beautiful and versatile instrument that anyone can find a place for in their guitar collection. Inspired by the Telecaster, this model feature a semi-hollow body construction and a humbucker in the bridge, which most definitely give it a different flavor from what you are used to from Telecasters other than the ones in the Thinline family.
It features a swamp ash body and a maple neck. You can get it with a maple or rosewood fingerboard. Both of its pickups are made in Fullerton, California. The alnico humbucker is designed by Paul Gagon, and the single-coil in the bridge is one of Leo Fender's MFD pickups that you frequently find in G&L guitars.
Main Features
Body: Swamp Ash
Neck: Maple
Neck Shape: Medium C
Fretboard: Maple or Rosewood
Bridge: Traditional Steel w/ Individual Brass Saddles
Fretboard Radius: 9″
Frets: 22, Medium Jumbo, Nickel
Pickups: AS4255C Alnico Neck Humbucker and G&L MFD Bridge Single Coil
Controls: 3 Way Switch, PTB System
Pros and Cons
Pros:
Semi-hollow: having a semi-hollow construction brings up tonal properties that other guitars do not have. Apart from a higher volume when unplugged, you will hear more harmonics resonating with the guitar's body.
Versatility: the combination of a single-coil in the bridge and a humbucker in the neck, paired with the PTB System gives you a huge range of tones to craft.
Cons:
No Case: most likely a decision to keep costs low, but a gig bag would be a nice addition to the guitar.
Feedback: a semi-hollow construction promotes feedback, especially on the bridge single-coil, but if you don't use too much gain, you should be fine.
Price
This guitar is generally found at around $600.
GuitarCenter – G&L Tribute ASAT Classic Bluesboy Semi-Hollow Electric Guitar Blonde Rosewood Fretboard
Designed with Stratocaster aficionados in mind, the G&L Tribute S500 delivers everything you would expect from this kind of guitar, alongside a few new twists and tricks, courtesy of Leo Fender's improvements on his earlier designs.
You can find a whole new palette of sounds by exploring the PTB Tone System, which incorporates a low-cut control that gets you an unmistakable glassy sound that could only come from an S-Type guitar. The newer Dual-Fulcrum vibrato offers unparalleled comfort while allowing you to bend either way.
Even if you already own a Stratocaster-type guitar from another brand, you should still try this affordable instrument by G&L Guitars and enjoy its unique features.
Main Features
Body: Mahogany
Neck: Maple
Neck Shape: Medium C
Fretboard: Rosewood
Bridge: G&L Dual-Fulcrum Vibrato
Fretboard Radius: 12″
Frets: 22, Medium Jumbo, Nickel
Pickups: G&L MFD Single Coils
Controls: 5 Way Switch, PTB System
Pros and Cons
Pros:
Value: for a very fair price, you are getting a guitar that can cover lots of ground in terms of tones, all while remaining comfortable, lightweight, and good-looking.
Vibrato: the improved Dual-Fulcrum Vibrato System is more usable than ever, with high tuning stability, comfort, and the ability to bend both ways.
Cons:
No case: just like in the previous example, this guitar doesn't come with a case or gigbag.
Price
The G&L Tribute S500 is typically sold at a price point of around $650.
GuitarCenter – G&L Tribute S500 Electric Guitar Sonic Blue
The G&L Tribute Comanche will easily catch your attention with its unusual pickup configuration. These are G&L's MFD Z-Coil Humbuckers.
They eliminate the dreaded 60-cycle hum usually present in single coils and still deliver a bright, clear sound without sacrificing any of the lower frequencies. There are countless sounds to be extracted from this guitar through its PTB System and an expander switch that allows you to either blend the bridge and neck pickups or engage all three of them at the same time.
All of these features are packed into a comfortable guitar with ergonomic contours, a trustworthy vibrato system, and low noise. With so many strong selling points, it is difficult not to consider the G&L Tribute Comanche.
Main Features
Body: Poplar
Neck: Maple
Neck Shape: Medium C
Fretboard: Maple
Bridge: G&L Dual-Fulcrum Vibrato
Fretboard Radius: 12″
Frets: 22, Medium Jumbo
Pickups: 3 G&L MFD Z-Coil Humbuckers
Controls: 5 Way Switch, PTB System
Pros and Cons
Pros:
Uniqueness: this guitar is a real attention grabber due to its unconventional pickup design. Fortunately, it also sounds the part (with lower levels of noise), since they can give you sounds that you wouldn't expect from this guitar shape.
Ergonomy: this is a type of guitar body that has been considered one of the most comfortable shapes for decades.
Cons:
No coil-split: even though you already have plenty of sounds to choose from on this guitar, it would still be great to be able to get some classic single-coil sounds, if there was a coil-split feature.
Price
You should be able to find the G&L Tribute Comanche being sold for approximately $700.
GuitarCenter – G&L Tribute Comanche Electric Guitar Emerald Blue
A quick look at the G&L Doheny and you will probably figure out that it has been inspired by the legendary Fender Jazzmaster. Many features are reminiscent of its design, but this model also has exclusive details of its own, giving it a unique voice that will surely spark interest in surf-rock fans everywhere.
It owes much of its character to its Wide Bobbin MFD pickups, which draw inspiration from the Jazzmasters' classic pickups. However, these have been modified to present a larger frequency response.
Like many other G&L guitars, this one features their signature Dual-Fulcrum Vibrato System and the PTB Tone System for added control and versatility over your sound.
Main Features
Body: Alder
Neck: Maple
Neck Shape: Modern Classic
Fretboard: Maple
Bridge: G&L Dual-Fulcrum Vibrato
Fretboard Radius: 9.5″
Frets: 21, Medium Jumbo
Pickups: 2 MFD Wide-Bobbin MFD Single Coils
Controls: 3 Way Switch, PTB System
Pros and Cons
Pros:
Looks: the Doheny captures the irreverent look of an offset guitar that has been captivating musicians for decades. It comes in a variety of finishes too.
Tone: the G&L Wide Bobbin MFD pickup is the icing on the cake. These have the perfect balance of brightness, sharpness, and dynamics.
Cons:
Pickups: this type of single-coil can be prone to feedback with higher gain levels, but this shouldn't be a problem at all if you don't usually crank the gain up.
Price
The G&L Doheny's price is usually around the $2000 ballpark.
GuitarCenter – G&L Doheny Maple Fingerboard Electric Guitar Jet Black
The G&L Legacy is one of the most premium instruments that you can pick from this brand. It is built by the best-trained luthiers that G&L employs in the USA, and every guitar is thoroughly examined to ensure that it reaches its owners' hands in perfect condition.
With its higher price point, you get quality hardware and electronics, a premium finish, and an instrument that will last you a lifetime if you treat it well.
Main Features
Body: Swamp Ash
Neck: Maple
Neck Shape: Modern Classic
Fretboard: Maple
Bridge: G&L Dual-Fulcrum Vibrato
Fretboard Radius: 905″
Frets: 22, Medium Jumbo
Pickups: 3 G&L Vintage-Style Alnico V Single Coils
Controls: 5 Way Switch, PTB System
Pros and Cons
Pros:
Finish: one look at this guitar and you will instantly notice the higher quality of its finish. The blonde model looks beautiful and translucent, showing off the beauty of the wood's grain.
Tone: the trio of vintage-style Alnico V pickups are like a swiss-army knife of sound. Paired with the PTB System, you can get nearly unlimited tones from this guitar, all of them usable in several situations.
Cons:
Price: the price tag on this guitar is indeed a bit high, and for this amount, there are many amazing choices on the market. It ultimately comes down to personal taste.
Price
The G&L Legacy can generally be found for a price close to $1550.
GuitarCenter – G&L Legacy Electric Guitar with Tinted Maple Neck Blonde
The G&L Fullerton Deluxe ASAT Special is Leo's improved take on his first guitar design ever – the Telecaster. This guitar can fit into pretty much any genre that you might want to play, except maybe for high gain.
It comes in 3 different finishes: Sunburst, Fullerton Red, and Lake Placid Blue. It features G&L's classic MFD Pickups, but in a jumbo version that puts its own spin on the T-Style's legendary tone.
Main Features
Body: Swamp Ash
Neck: Maple
Neck Shape: Modern Classic
Fretboard: Caribean Rosewood
Bridge: G&L Saddle-Lock Bridge
Fretboard Radius: 9.5″
Frets: 22, Medium Jumbo
Pickups: 2 G&L Jumbo MFD Single Coils
Controls: 3 Way Switch, Master Volume, Master Tone
Pros and Cons
Pros:
Tone: you get the expected sound properties of a T-Style guitar, with some more tricks in the bag such as the increased frequency response, made possible by the Jumbo MFD Pickups.
Hardcase: a nice touch, this guitar comes with an included hardshell Tolex case.
Cons:
No Vibrato: while this might not be a disadvantage at all for some people, others enjoy having the option of including a vibrato system.
Price
The G&L Fullerton Deluxe ASAT Special is priced around the $1400 price range.
GuitarCenter – G&L Fullerton Deluxe ASAT Special Caribbean Rosewood Fingerboard Electric Guitar Lake Placid Blue

The G&L Tribute ASAT Deluxe Carved Top means business. Its gorgeous flamed maple top is topped off with a gloss polyester finish, and the C-shaped maple neck has a satin finish.
This guitar is ready for high-gain territory due to its pair of alnico humbuckers, a configuration that isn't very frequent to find on G&L guitars.
Main Features
Body: Mahogany with flamed maple top
Neck: Maple
Neck Shape: Classic C
Fretboard: Rosewood
Bridge: G&L Saddle-Lock Bridge
Fretboard Radius: 12″
Frets: 22, Medium Jumbo
Pickups: Twin Chrome Alnico Humbuckers
Controls: 3 Way Switch, Master Volume, Master Tone, Coil Tap
Pros and Cons
Pros:
Pickups: the fact that this guitar has humbuckers allows you to feed them significantly more gain than its other cousins sporting single coils. Also, by having a coil tap switch, you can get even more sounds out of them.
Modern Look: this guitar comes in two finishes, Transparent Black and Transparent Red. Both show off the flamed maple top underneath superbly, giving this guitar a modern, edgy look.
Cons:
No case: it would have been great to see this guitar ship with either a gig bag or a case.
Price
The Tribute ASAT Deluxe Carved Top by G&L Guitars can usually be found for a price of around $500.
GuitarCenter – G&L Tribute ASAT Deluxe Carved Top Electric Guitar Transparent Black Rosewood Fretboard
The G&L SC-2 sports one of the most irreverent looks out of all the options offered by them. Its looks are somewhat reminiscent of the legendary Fender Mustang, a guitar that many players in the Indie scene have embraced.
Even with simple controls and pickup configuration, this guitar can cover a lot of ground, from clean to distorted sounds, handling them easily and comfortably.
Main Features
Body: Alder
Neck: Maple
Neck Shape: C Shape
Fretboard: Rosewood
Bridge: G&L Dual-Fulcrum Vibrato
Fretboard Radius: 9.5″
Frets: 22
Pickups: Dual Large Rectangular G&L MFD High-Output Single Coils
Controls: 3 Way Switch, Master Volume, Master Tone
Pros and Cons
Pros:
Comfort: the SC-2 is lightweight and comfortable to play for hours on end, something that is very important if you intend to play it frequently.
Versatility: its pickups, tone controls, and Dual-Fulcrum Vibrato allow you to play music spanning across most genres, which makes this an excellent guitar for a studio context.
Cons:
Knobs: not a major inconvenience, but the knobs could be somewhat taller to make it easier to adjust your settings on the fly.
Price
The G&L SC-2 can be found in guitar stores for a price of around $1550.
GuitarCenter – G&L SC-2 Electric Guitar Vintage White
Other Guitar Brands to Consider if You Like G&L Guitars
Nowadays, many brands offer an extensive range of instruments that are reminiscent of the early and most popular models from legendary brands such as Fender. Each of them has their strong points, their takes on certain parts of the guitar and their construction methods, plus other features that make them have their identity.
This section is going to feature some of those brands and models that you might find interesting if you have also been considering trying out a guitar made by G&L.
Some of them will offer a more exclusive range of options than others, such as roasted flamed maple necks, custom pickups, among others. However, the more premium options you want, the higher the price will be.
Suhr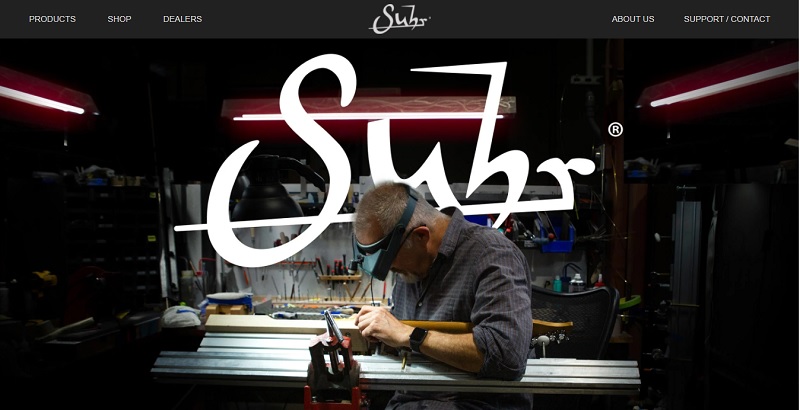 Suhr Guitars was founded by Steve Suhr and Steve Smith in 1997. It is without a doubt up there among the best instrument makers in the world today, and with a price tag to match too. Even the most accessible guitar from them will set you back around $2000, but they are some of the finest guitars you can buy today.
They also offer a significant degree of customization. You have several shapes of bodies, pickup configurations, different finishes, necks, you name it.
If you have a large budget and you are looking for the best guitar you can find, Suhr is one of the main contenders you should look into.
Check below for a couple of examples of instruments that you can find on Suhr's catalog:
Fender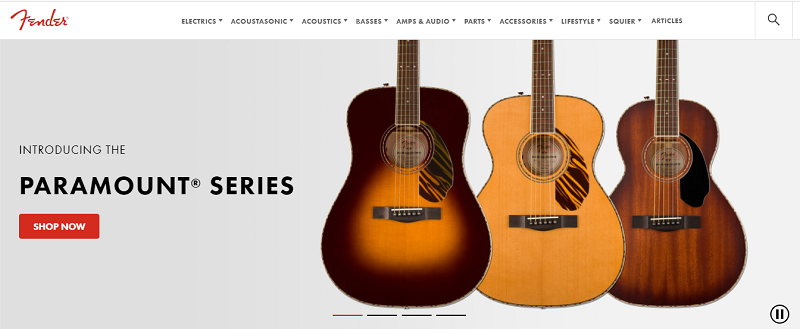 It is obvious to say that you should check out Fender's guitars if you enjoy G&L's catalog, and you have probably done that already. In any case, it is worth mentioning that Fender instruments remain some of the most reliable, durable, and quality instruments in the market today. Their prices can be a bit steep on their American-made guitars, and even more, if you get into Custom Shop territory, but they are as authentic as you can get.
Here are a few of Fender's guitars that are worth trying out if you have the chance:
Squier
If Fender guitars are a bit more costly than what you would like, you can always check out Squier's range of instruments. Squier is Fender's subsidiary brand and focuses on putting out more affordable guitars that are still perfectly decent sounding and playable.
You can even spot professionals playing them frequently. Their Mexican-made guitars are excellent in terms of cost/benefit ratio, and they are perfect guitars to upgrade over time. A premium-sounding set of pickups can bring new life to an intermediate-quality instrument.
The guitars shown below are some of Squier's most interesting options, particularly the Classic Vibe models which have an amazing value for their price tag.
Tom Anderson Guitars

Tom Anderson Guitars has been around since 1984, and they have built a huge name for themselves over the years. They build less than a thousand guitars per year, but this kind of operation scale is what allows them to make sure that every single one of their instruments exceeds the quality of what most people are expecting from a guitar when it comes out of the factory.
They feature several models and offer a huge range of custom options ranging from finishes, necks, pickup configuration, and much more. Their price is higher than Squier and many G&L models, but their quality standards are notable.
Here are a couple of instruments that will give you an idea of what to expect from Tom Anderson Guitars:
Xotic Guitars
Xotic is well known in the music industry for making legendary pedals such as the SP Compressor, EP Booster, and SL Drive, which you can spot on the pedalboard of many pro players. However, they also have guitars of amazing quality. If you are into Stratocasters, you will love the roasted flamed maple necks that some of the Xotic S-Type guitars feature.
These guitars are not particularly cheap, but they are some of the best out there. Not only do they sound great, but they are also quite the piece of eye candy.
Take a look at these guitars by Xotic to get a better impression of what they are like:
FAQ – Frequently Asked Questions About G&L Guitars
Question: Who are some of the musicians that use G&L Guitars?
Answer: Over the years, many guitarists started using G&L Guitars frequently or even exclusively.
Here are a few examples of musicians that you can find playing G&L instruments:
• Jerry Cantrell (Alice in Chains)
• Elliot Easton (Creedence Clearwater Revival, The Cars)
• Jonathan Cain (Journey)
• Laurence Juber
• Dan Lutz
• Peter Frampton
• JB Eckl (WAR, Santana)
• Matt Hornbeck (John Legend)
• Erik Halbig (Thompson Square)
• Eliot Lewis (Average White Band)
Question: What are some of the unique features of G&L Guitars?
Answer: You will find hardware and electronic designs on G&L Guitars that aren't present on other brands because they are their inventions to improve on what was commonly established for guitars. These innovations seek to increase playability, consistency, intonation, and the overall tone of the instrument.
Some of the most important are:
• PTB Tone System: This system consists of having revamped tone controls for added versatility. Instead of having the usual tone knobs that roll off treble, you get two independent tone controls: a typical one that works just as you would imagine, and a second one that works as a low-cut filter.
• Magnetic Field Design Pickups: G&L came up with a new pickup design that was meant to yield a more balanced sound with more warmth and roundness to it. The key ingredient to this is using ceramic bar magnets alongside adjustable iron pole pieces, which give you a much larger degree of control over how you want your pickups to be.
• Dual-Fulcrum Tremolo: One of the easiest to notice when you glance over one of G&L's guitars. This tremolo system is meant to be an improvement on the frequently seen 6 screw tremolo. Its design innovations allow for increased tuning stability, more comfortable action, and offer more possibilities during the setup of the instrument.
• Saddle-Lock Bridge: The Saddle-Lock Bridge system was designed with two main objectives in mind: to increase tuning stability and sustain. It achieves this by locking the saddles, guaranteeing that the strings stay at an optimal distance from each other, and also by allowing the instrument to conduct vibrations through itself.
Other design improvements can be found on G&L Guitars, but these are without a doubt the ones that make the most difference in how these instruments sound and feel.
Question: What brands can be an alternative to G&L Guitars?
Answer: Several brands offer guitars that fall in the same ballpark as G&L Guitars, both in their sound and in their looks.
Since G&L Guitars are similar to Fender's classic models, you can look into Fender, or if you want something a bit more budget-friendly, you can also check out Squier, their subsidiary brand.
Other examples of brands that also make guitars reminiscent of Fender's golden period are Xotic, Suhr, Tom Anderson Guitars, Schecter, LSL Guitars, and Grosh Guitars.
They all offer different features and distinct ranges of customization on their models.
Closing Considerations About G&L Guitars
Overall, G&L Guitars is a brand that you should consider trying the next time you visit your local guitar store. If you like Fender classic models, there is bound to be a guitar that catches your attention in the G&L catalog.
The innovations incorporated into these guitars make them even easier to play than before, and some of these improvements are destined to make each instrument sound as best as possible.
In any case, like with everything related to music gear, something that sounds just like you dreamt might not be the most attractive sound to someone else, so it is important to have as many options as you can and try out instruments with different specifications until you find what resonates with you the most.
Latest posts by Gustavo Pereira
(see all)