All the modern-day Princeton amplifiers are vintage reissue models based on previous Fender blackface or silverface models made famous back in the '50s and '60s. In this Fender Princeton review, we'll look at the various models out there:
Bottom Line Up Top: In this article, I will be reviewing the first model: The Fender Princeton 65 Amplifier, for its price point and popularity. It is priced similar to the '68 Princeton Reverb but differs in its circuitry, which is based on the traditional blackface circuit; it is made in America (whereas the '68 is made in Mexico) and sports a Jensen C10R speaker, compared to a more run of the mill Celestion 10 30 speaker. If you cant afford 1400€, have a look at a Vox AC 30, like the C2X Blue Bulldog, slightly cheaper, less authentic, and a bit more all-rounded.
Princeton 65 Amplifier | Fender
This is one of the coolest amps around, period, it's ideal for anyone who demands top-notch tube tone, naturally dynamic clean and overdriven sound, and unmistakable long-spring Fender reverb and tube vibrato.
Check Price
Check availability on Reverb
We earn a commission if you make a purchase, at no additional cost to you.
Introduction
The Fender Princeton 65 is a 100% tube amplifier with a Jensen speaker that faithfully recreates the characteristic sound of the classic Fender equipment of the sixties. In combination with Fender guitars, a must-have for lovers of the music of that time. It has a clean, crystal-clear sound, typical of Fender, and features the classic spring reverb and valve-generated vibrato.
Thanks to the combination of tubes, the Jensen speaker and the mythical 5R4A rectifier valve, playing this guitar amp is quite a blast from the past. If you like the clean Fender sound and bluesy warmth, you don't have to look further.
15 Watts make it an ideal amplifier for playing at home, in the rehearsal room and for performances in small venues. It is also easily transportable due to its small size.
Breaking Down the Fender Princeton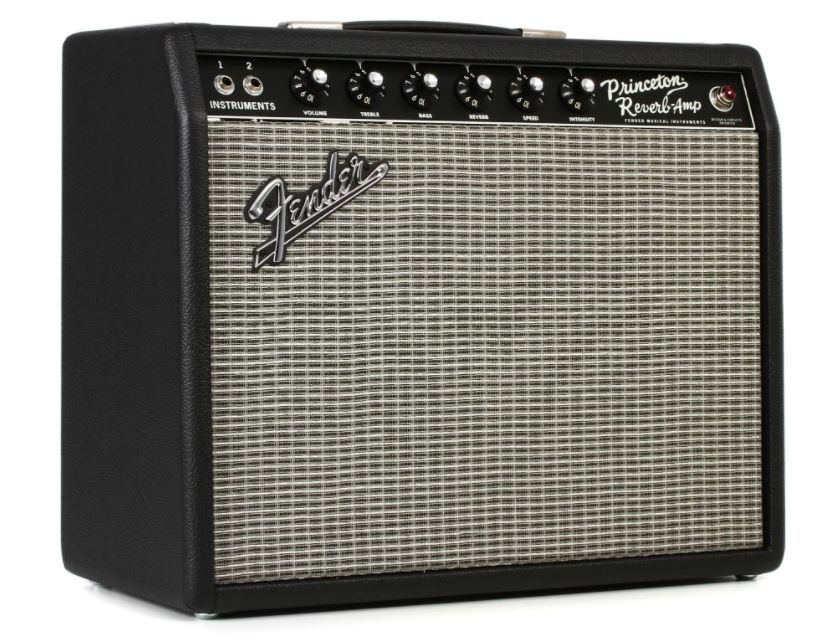 The Fender amp line includes one of the most legendary combos ever made. The Fender '65 Princeton Reverb was, and still is, one of the most impressive guitar amps you can get for just over 1000 euros.
The first thing you need to know about the Fender '65 Princeton Reverb is that it's a revamp of a legend. Fender's decision to do this has proven to be one of the best things that can happen in the guitar amp industry. In terms of controls, this is simple setup. We are looking at two instrument inputs, a volume knob, a simple two-band EQ, and reverb controls.
These include a reverb knob, a speed knob and an intensity knob. Nothing complicated at all… In fact, getting used to this amp is surprisingly easy. It takes maybe a half-hour to figure things out. This amp could have been packed with all the things we see on modern tube amps, but they didn't. This is something I wholeheartedly appreciate.
Specs
The core of the Fender '65 Princeton Reverb is its combination of vacuum tubes. We are looking at 12AX7s, a single 12AT7, two 6V6 tubes and a single 5AR4 rectifier tube. That's pretty much the same configuration the initial amp had back in the day. The total power output is 15 watts at 8 ohms. All the juice is pushed through a single Jensen Special Design C-10R 10″ speaker that does the whole package justice.
Overall, if you're looking for a proper vintage sound, it doesn't get much better than this. One quick way to increase the Fender '65 Princeton Reverb flavour, even more, is to swap out those 6V6s for an even better pair. not that these are mediocre tubes- they are made by Groove Tubes.
Sound
There are numerous tube amps on the market right now, designed and produced by almost every major amp brand. Still, the Fender model we're looking at here stands out. It's a single channel amp with one of the most beautiful cleans I've ever heard. When people talk about a "vintage guitar sound", this is exactly what they mean.
Best of all, it can push you into warm, natural overdrive without any consequences. It produces that harsh dirt that has long since become the trademark of classic rock. If that's not enough, it's worth noting that the Fender '65 Princeton Reverb plays great with guitar effects pedals. Its 15 watts of power might not make it the best tool for gigs at large venues, but put this bad boy in a recording studio, and you're in business.
It is inevitable to compare it with the Deluxe reissue; the personality is very similar. The Princeton loses in punch but wins (by far) in comfort. You can rehearse without going deaf and "break" the sound even at a reasonable volume. It is also relatively light, appreciated for small format live performances.
The sound is archetypical Fender. To put a downside, I would say that the range of both reverb and vibrato is limited, or in other words: it is easy to add little or much reverb, but it seems that the amp does not allow intermediate nuances.
Princeton 65 Amplifier | Fender
This is one of the coolest amps around, period, it's ideal for anyone who demands top-notch tube tone, naturally dynamic clean and overdriven sound, and unmistakable long-spring Fender reverb and tube vibrato.
Check Price
Check availability on Reverb
We earn a commission if you make a purchase, at no additional cost to you.
Pros and Cons

Pros
Lightweight
Small, considering it is a tube amp
The sound resembles the traditional blackface very, very well.
The reverb it includes is delicious and right on par with the sound it tries to emulate.
Probably one of the best sounding and portable amps for a Jazz and/or Blues guitarist.
Cons
Slightly overpriced for the wattage it puts out.
Reverb and vibrato are difficult to fine-tune
Direct Competitors
The DRRI is a tube combo, with a diverse range of tubes, including two 6V6 Groove Tubes power tubes and a 5AR4 rectifier tube, as well as six preamp tubes (four 12AX7s and a pair of 12AT7s).
This amp is rated at 22 watts with a single 12″ Jensen C12-K speaker, which is more than enough to make itself heard in a live situation.
As a giant amp, it is loud but quite portable with an overall size of 24.5″ x 17.5″ x 9.5″ and a weight of 42 pounds. It is a guitar amp created for guitarists who like the vintage sound of the classics but are not willing or able to empty their pockets to get it.
For the price point, that is a bit hefty, it is delivering a high-quality amp, and amongst some famous players that love the deluxe sound, you can find names like Michael Landau. On the other hand, you might have expected a bit more juice than 22W.
65 Deluxe Reverb | Fender
Played on countless hit recordings for decades now, the mid-'60s Deluxe Reverb is a timeless Fender classic and one of the most indispensable workhorse guitar amps ever made.
Check Price
We earn a commission if you make a purchase, at no additional cost to you.
The Fender 68 Custom Princeton Reverb is one of the oldest and most classic amplifiers, as it was created in 1964. This amp was designed for guitarists in various genres, but the most prominent was in rock and jazz.
In addition, this amp has been widely used both in studios and gigs but with frankly modest volume requirements. In the late 1970s, Fender discontinued the Princenton Reverb. But a few years ago, they reissued the Princeton Reverb 65 to its catalogue.
Later on, they introduced this Fender 68 Custom Princeton Reverb with modern technology. It has been given more in tune circuit adjustments with tonal flexibility via pedals, which gave an immediate and positive response.
This amp pays homage to the look, sound, and performance of the late 60's Fender Silverface amp.The Fender 68 Custom Princeton Reverb has an incredibly lovely, deep vibrato and authentic reverb sound.
The modified tone circuit gives users greater tonal flexibility with the pedals, and the reduced negative feedback gives great touch sensitivity and quick onset of overdrive.
To produce an overdrive tone, you will need to turn the amp up to 10, or you will need to stick a pedal in front of it. This amp is considerably cheaper than the 65 Princeton because of its more compact features, only one 10″ Celestion speaker, 12 Watts, and fewer tweaking options on the front.
The Celestion speaker is much more common on cheaper amps, whereas the Jensen speaker that the Princeton 65 has is much more prone to giving you that unique pristine Fender output.
Still, if your budget is around 1000€, and you're a blues or jazz guitarist, you'll love this amp.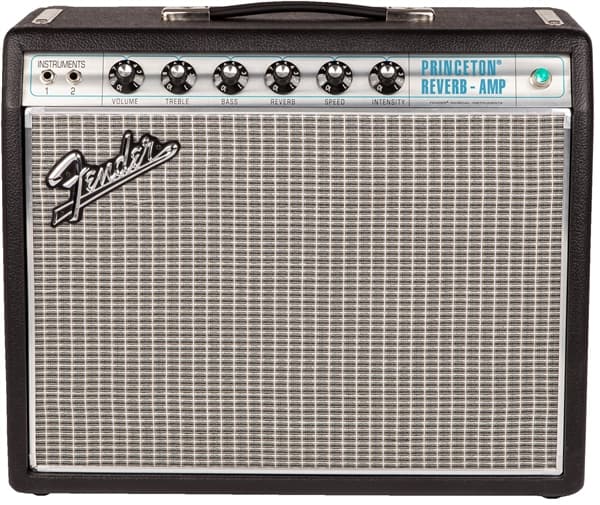 I couldn't mention Fender clean sounding amps without bringing up a Vox AC30. Personally, one of my favourite amps of all time, Vox just keeps on adding features and reissuing this amp with updated and tweaked options.
The AC30 C2X is the most expensive AC30 in its series, with a price of $1,499.00 US Dollars. It incorporates two Celestion Alnico Blue (Aluminum, Nickel and cobalt) made for Vox, 12″ and 16 ohms, which gave it the nickname of the AC30 Bulldog, since its sound is warmer, fuller-bodied, with greater tonal options than its series brothers which makes it suitable for blues, rock, and country.
In this sense, it's a slightly more varied and all-rounded option than the Fender amps we've just discussed. If you're not exclusively looking for a blues and/or jazz sound, this might be a better option.
30 watts coming from 2 EL34 tubes in the power amp and 3 12AX7 tubes in the preamp, it incorporates a spring Reverb Box, with Tone and Level controls, and a very vintage tremolo with Depth and Speed controls.Each channel is (circuit-wise) completely independent, each channel with 2 inputs Low and High.
Channel 1 incorporates circuitry from the original classic AC30 preamp and volume control, while channel 2 incorporates the AC30's TOP BOOST circuitry with Volume, Treble and Bass controls. This gives you four modes to experiment with according to the model and pickups of the guitar.
Both channels can be switched by connecting a second cable to the high of channel 1 and low of channel 2, and the guitar cable to the High of channel 2, which will combine the sound and controls of both channels in addition to the Master and Tone cut controls. This amp is a beauty to play and to look at, too; the AC30 aesthetic stays untouched.
If you're interested in an even more budget-friendly option, this Orange Rocker 15 is also something to keep in mind. Orange are a great amp manufacturer, I still remember my first gigs with my Fender strat through an Orange stack, sounding like bliss itself.
This one has 15W and a 10″ Orange speaker with 16ohms, so not a loud amp, but still sounding very good. The Rocker 15 is an extremely portable combo to take with no problem from home to the studio or the stage.
With a Bedroom/Headroom switch, capable of delivering 15 or 7 W output, including 1w or 0.5w. A small, two-channel, all-tube amplifier with a custom Voice of the World Gold Label 10″ speaker. A very versatile amp for all occasions.
Finally, it is important to note the construction and design of these amps, designed for maximum durability. The Rocker 15 uses the same custom transformers found in the iconic Terror Series.
As with their tube heads, the Rocker combos do away with plastic connector blocks and ribbon cables in favour of hand-soldered cables. With an 18mm plywood enclosure. As for the amp's effects loop, it is designed to maintain the signal path of all the tubes to preserve the amp's tonal integrity.
FAQ
Question: Where is the 65 Princeton made?
Answer: The Princeton Fender amp is assembled in the U.S.A. Most Fender amps are, however. The Vox AC30 C2 listed above is made in China, in comparison. This allows lower manufacturing prices and overall cheaper and better quality amps for the price point.
Question: Who uses or used a Fender Princeton Reverb originally?
Answer: This amp was a popular choice for studio recordings in the '70s. Ryan Adams, Marty Stuart, Jim Capilongo (Norah Jones) are amongst the players that have used this ubiquitous amp.
Question: What is a Fender tweed amp?
Answer: Tweed amps are Dender amps that were generally the amps built between 1948 and 1970. The name derives from the cloth covering the front, which is not actually tweed but a varnished cotton twill.
Question: Who uses a Vox AC30?
Answer: Just to name a few, this legendary British amp was used by the likes of The Beatles, Rolling Stones, Queen, Dire Straits, U2, Radiohead…the list goes on and on. It is supposed to be quite representative of the Brit Rock era.
Question: Did The Beatles use Vox or Fender?
Answer: The Beatles were loyal to Vox right up to 1968 curiously, when they switched over to Fender amps, and keyboards and guitars. By this time they had stopped touring, so it might have just been a paid commercial strategy.
Summary
If you're tired of lugging around heavy amps and would like to switch to a combo amp, this is a great choice for rehearsals and gigs. It has enough power to make you hear next to a drum kit.
The clean channel is pure cream, with a classic Fender reverb and a delicious vibrato, switchable by footswitch. The only downside is the noise, it's built like the old ones with their noise included.
It is not a product with many features, it has only one channel and no loop, it is "simplicity" made amp. This has its pros and cons; if you plug it in and don't like it, keep looking because you won't get much variety in the sound, but if you like the Fender sound, it's just plug in and enjoy.
It also reacts very well to TS or BB type pedals. Do keep in mind though, that you are not only paying for vintage sound or modern features. You are mostly dishing out for a vintage touch, the classic Fender stamp and having a piece of music history to plug your guitar into.
Princeton 65 Amplifier | Fender
This is one of the coolest amps around, period, it's ideal for anyone who demands top-notch tube tone, naturally dynamic clean and overdriven sound, and unmistakable long-spring Fender reverb and tube vibrato.
Check Price
Check availability on Reverb
We earn a commission if you make a purchase, at no additional cost to you.
Latest posts by Taylor Petrie
(see all)