You've probably realized how overwhelming your search results were if you've searched around for a great quality (yet affordable) acoustic guitar recently.
Whether you're a complete beginner, a parent shopping around for a birthday present, or a veteran looking for a travel guitar to bring around with you. It almost seems like there are too many options on the market.
I have to say, I agree with you. When I was shopping around for my first travel guitar, I quickly realized I wasn't going to be able to pop my question into Google and immediately be faced with the best choice for my budget.
I wasn't looking for anything crazy; after all, I have a decent guitar collection after ten years of playing. I just want something that my husband and I could throw into our car for worship practice (and hanging out with our music friends).
The Orangewood Brookyl was a guitar that came up a few times, and I was interested in it because it wasn't priced too cheap. Sometimes, guitars can be priced just a little too low, making you not want to trust them. Thankfully, that wasn't the case with the Orangewood Brooklyn.
But is this guitar worth the hype? More importantly – is it worth your money? Continue reading our Orangewood Brooklyn review to find out.
Bottom line up front: The Orangewood Brooklyn is a beautiful guitar. A few quirks come with it, but that's to be expected with any type of guitar you buy. This is a great guitar for both performing in front of an audience and a great option for someone just getting started playing the guitar!

Who is Orangewood?
So, if you've never heard of Orangewood before, you're likely looking for more information about this brand. Orangewood guitar's work is very different from other guitar manufacturers' work. Orangewood doesn't offer any guitars in the store. Instead, all of their guitars are only available online.
In my opinion, Orangewood offering a direct sales model comes with both pros and cons. But, it depends on your opinions, too; I love how much cheaper their guitars are since there isn't a middleman involved in their sales model.
However, it's inconvenient that you can't go to a store and try one out before buying. Whether these pros/cons affect you depends on Your experience playing the guitar and your opinions.
The guitars that Orangewood offers online are made in China. But, what sets this company apart from other guitar manufacturers that have their guitars made in China, is that Orangewood uses a group of techs based in Los Angeles to set up their guitars.
So, before your guitar is shipped out to you, it's set up by a company tech. This means when your guitar arrives on your doorstep, it's ready for you to pick up out of the box and play.
The shape of this guitar is a grande concert. You'll find that the top is made from solid Sitka spruce, while the back and sides are comprised of layered Pau Ferro. The neck is made up of mahogany, while both the bridge and the fretboard are made from Ovangkol.
When the box gets to your door, they'll actually have to apply the pickguard yourself. Moving on to the hardware, I love that it's all made up of gold. It helps to make this guitar look very visually pleasing and stand out from other instruments that Orangewood provides.
With the Pau Ferro sides and back being layered, the wood used on this guitar isn't solid wood. That doesn't mean anything bad, but if you're an experienced guitarist, you'll know to expect a difference in the richness in the overall sound this guitar produces.
My favorite part of this guitar is the Abalone rosettes and inlay around the soundhole. That's what first caught my attention with this guitar; they're so striking and beautiful without making this guitar flashy!
Orangewood Brooklyn Playability
When I picked up this guitar, I felt like this fretboard was made with ebony. But it isn't! I think this guitar felt nice in my hands. It wasn't very heavy, and the body wasn't too big that it was uncomfortable for me to hold (especially as someone with a shorter reach).
I like how the neck is small. As someone who has smaller hands, I find it's really difficult to play a lot of guitars, simply because my hands are too small. In all honesty, I was expecting to have the same problem with this guitar. But, that wasn't the case. The neck was super easy to hold onto and grip!
I would recommend this guitar to anyone who has smaller or medium-size hands and has struggled to find a guitar that's easy to play. This is the solution for you, my friend!
I do have one complaint about the playability of the guitar, though. I found that the more I moved up the neck, the less smooth the neck felt. There was some roughness on the neck, making it slightly uncomfortable to hold. But that wasn't a big deal, especially because I have callouses on my fingers from all of my years of playing.
Yet, I do understand this may be very uncomfortable if you're someone who has just started out and doesn't have anything to protect your fingers from the roughness on the frets.
Brooklyn | Orangewood
The solid sitka spruce top, gold hardware, and abalone rosette make the Brooklyn as pleasing to the eye as its vibrant tones are to the ear. You'll be a hard act to follow when stepping offstage with this beauty.
Check Price
We earn a commission if you make a purchase, at no additional cost to you.
Sound
When your Orangewood Brooklyn arrives on your doorstep, it comes with Ernie Ball Earthwood 80/20 Medium-light strings with 12-54 gauges. You know all about these strings if you've been involved in the guitar community for a bit. But if you're new to the guitar world, the Ernie Ball Earthwood 80/20 Medium-light strings are *chefs kiss* marvelous.
And if you're a beginner, don't worry about these strings being too tough on your fingers. It'll be an adjustment for you, but they aren't going to chew up your fingers too much.
Playing this guitar, I love how balanced this sound is. We can largely thank the shape of this guitar for the balanced tone; if this was a dreadnought guitar, its sound would be a lot heavier on the low end. Yet, we get a really nice mix from this guitar.
However, I do wish there was more depth and clarity coming from this guitar. But that's with me being very picky for my more experienced musicians. I think the top end is smooth and buttery, which made it so easy for me to fall in love with this guitar.
I found that the top end is what suffered the most when it came to the clarity, but if you are a beginner (or you aren't someone planning on playing live for other people), this lack of clarity and depth isn't a huge deal.
The Electronics
Now, the electronics are sometimes what make (or break) the deal with a guitar. You'll find the Orangewood Brookly has a Fishman Flex EQ system. If you don't know anything about guitars, this is super awesome!
Inside the Fishman Flex EQ system, you'll find:
Treble controls

Onboard volume

Tuner

Bass controls
It has everything you need to get started and then some! I think the electronics offered with this acoustic guitar make it a wonderful option for a beginner.
You don't have to worry about rushing to buy the extra accessories that you normally need to purchase when you're first starting. At the end of the day, this will help you to save some money in the long run.
Orangewood Brooklyn Pros and Cons
Let's take a closer look at the pros and cons of the Orangewood Brooklyn guitar:
Pros
The battery for the electronics is very easily accessible

Does great for both fingerpicking and strumming

A great option for a beginner, someone who is looking for an affordable guitar, it makes a great backup guitar for a traveling musician

Pretty durable build

Comes with a lot of features you won't find on other guitars at a similar price point

Nice looking aesthetics

Comes with a gig bag to keep your guitar protected
Cons
The electronics are a piezo system, which some experienced guitarists don't love

Doesn't have tonewoods that are commonly used with other guitars
Other Alternatives to Consider
Haven't fallen in love with the Orangewood Brooklyn yet? No worries! There are a few other alternatives you should look into if you don't feel like the Orangewood Brooklyn is the best option for you:
Yes, that's right! Orangewood came out with a smaller version of the Brooklyn guitar. This JR-sized guitar is a great option for smaller children (or people with a smaller body) to learn how to play on. Basically, if you don't feel like the Orangewood Brooklyn is a great fit for you because it's too big for your body, look no further than the Brooklyn Jr!
Brooklyn Jr. Live | Orangewood
Smaller body, same big sound. The Brooklyn Jr. Live is a scaled-down version of our grand concert model – featuring a solid sitka spruce top, gold hardware, and an abalone rosette. Comes equipped with a Fishman Flex Plus-T EQ for well-balanced projection.
Check Price
We earn a commission if you make a purchase, at no additional cost to you.
Looking for a name-brand model you can love and trust? Look no further than the Yamaha FGX800C! Not only are the aesthetics of this guitar amazing, but the amazing price and sound prove this acoustic-electric to be a great choice. It also uses a solid Sitka source top, just as the Orangewood Brookyl guitar does!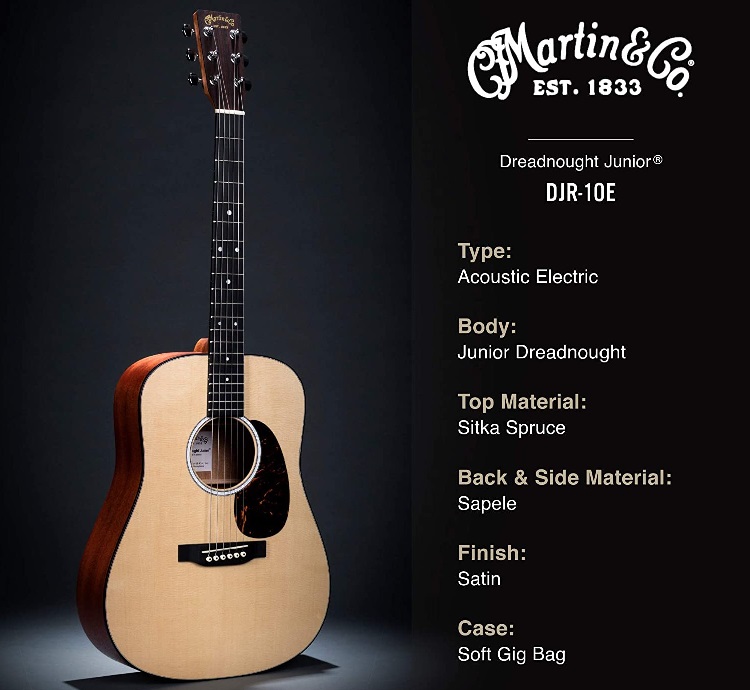 This is an acoustic-electric guitar, but instead of a grand concert body, you'll find a dreadnought body! This guitar is priced amazingly, especially considering it's a solid wood acoustic-electric guitar from Martin.
It's hard to find any other acoustic-electric guitar from such a well-known name brand at a low price. If your experience position is looking for something that will keep up with your skill, oh, you should look into this guitar.
FAQs
Question: Are Orangewood Guitars Made in China?
Answer: Yes, the guitars are technically made in China. However, the parts of the guitar that are made in China are shipped over to the USA. All of the guitars are put together in Los Angeles.
Question: What Strings do Orangewood Guitars Use?
Answer: They use Ernie Ball acoustic guitar strings!
Question: Where is Orangewood Located?
Answer: They're located in Orangewood, California!
Is Orangewood Brooklyn Worth the Hype?
If you're trying to decide between Orangewood Brooklyn and another guitar, my vote is for Orangewood Brooklyn. It's so easy to play, and that's not something that can be said for a lot of guitars.
It'll be really tough for you to find an acoustic-electric that would be something you would be proud to bring on stage with you. But, this would be an awesome guitar to bring on stage to play in front of others, no questions asked!
Also, I think the price point of this guitar makes it such a wonderful buy. Personally, I think it would be hard for you to beat the quality of this guitar for the price that it's offered at.
Brooklyn | Orangewood
The solid sitka spruce top, gold hardware, and abalone rosette make the Brooklyn as pleasing to the eye as its vibrant tones are to the ear. You'll be a hard act to follow when stepping offstage with this beauty.
Check Price
We earn a commission if you make a purchase, at no additional cost to you.
Latest posts by Alizabeth Swain
(see all)