Hermida Audio and Lovepedal might not be names that you see popping up as much as BOSS or TC Electronic when discussing guitar effect pedals. However, you still see their pedals on many professional players' pedalboards.
Although the Zendrive is arguably their most popular pedal and the one that put their name on the map, today we are going to talk about a different drive pedal in their catalog, born out of a collaboration between Lovepedal and Hermida Audio.
In this Hermida Audio Dover Drive Review and Guide, I will walk you through all the features and details of this unique and valuable stompbox that any guitarist would appreciate having on their collection.
The B.K. Butler/Chandler Tube Driver, a pedal made famous by artists such as Eric Johnson and David Gilmour was the inspiration for the Dover Drive. Aside from its brilliant touch sensitivity, the Dover Drive can go from low drive and crunch to a full-blown saturated sound that resembles that of a fuzz pedal causing the guitar amplifier to sound as if it is melting. Other noteworthy features include a very responsive Tone knob and an internal trim pot that adjusts the BIAS.
Bottom Line Up Front: Built in a collaboration with Lovepedal, the Hermida Audio Dover Drive is the perfect pedal for those who want to be able to do it all with a single pedal. Capable of going from an edge-of-breakup sound to a fully saturated lead resembling a dimed fuzz face, it will allow you to get all the sounds you need simply by adjusting your instrument's volume knob and your picking dynamics.
If you'd like to own a B.K. Butler/Chandler Tube Driver but feel like it is too large, expensive and high-maintenance due to being tube-powered, the Dover Drive might be your next best choice!
Hermida Audio Dover Drive Main Features
Semiconductor Circuit
As I've previously stated, the Dover Drive is based on a legendary pedal used by many famous musicians, the B.K. Butler/Chandler Tube Driver. One of its main features is the fact that it is powered by a real 12AX7 tube. There are several conflicting opinions regarding tube-powered pedals, but you can't deny that this one has a unique sound.
In order to make the Dover Drive smaller, lighter, and easier to maintain, Hermida Audio has gone with a semiconductor circuit instead of a tube-powered circuit. The good news is that this pedal still has an extremely satisfying touch sensitivity, and it consistently acts and responds as you would expect a tube amp to.
Internal Trimpot for BIAS Adjustment
If you take a small flathead screwdriver and unscrew the back plate of the Dover Drive, you will uncover the internal circuit. The internal trimpot that adjusts the pedals BIAS is located towards the upper left corner of the circuit board.
Turning it to the left will give a more spitty character, with less sustain, sort of like what you hear with a gated fuzz. While it is not my preferred setting, this can come in very handy in certain contexts. It is also good to know what kind of sounds your gear is capable of producing, even if they are not something you would play all the time.
If you turn the trimpot to the right side, you will start getting a smoother sound, with a lot more sustain. This will get you closer to that singing lead sound that you have heard so many times on Pink Floyd records. Keep reading to find a couple of audio samples that fit right into this category.
Personally, the only downside of this trimpot is the fact that you have to unscrew the back plate to access it. If it had been placed on the exterior side of the pedal, I would end up using it a lot more.
Wide Range of Gain
You have probably realized by now that touch sensitivity, dynamics, and an organic response to the guitar's volume knob are features that I highly value in an overdrive or distortion pedal. However, if you haven't got a lot of available gain on your pedal to start with, your cleanest and most saturated possible sounds aren't going to be very far apart.
With the Dover Drive, you can get anything from an edge-of-breakup sound by setting the Gain knob to zero, to a heavily saturated tone that almost sounds like a blown speaker cone.
Having these two extremes is particularly useful when you plan on using the Dover Drive to obtain all of your overdriven tones. Set it to the most saturation you'll ever need during a certain song/gig/session with your guitar's volume on 10, and then you can get all of your other sounds by adjusting the volume knob and the way you attack the strings while playing.
Hermida Audio Dover Drive Audio Samples
If you can't go out and try the Dover Drive by yourself conveniently, the next best thing is always to hear as much as possible of the pedal in action to see if it looks like it would fit into your setup the way you need it to.
There aren't many demonstrations and audio samples of this pedal online, although I'd recommend watching Andy's review from when he was still with ProGuitarShop (but first, here's my clean tone!). Several of the Dover Drive's tones are showcased with different guitars, giving you a good idea of how it might sound through your rig.
Luckily, I have recorded a couple of videos featuring the Dover Drive in which you can hear how well it can get into fuzz territory, especially if you want to play David Gilmour-influenced solos. In the videos below, the only drive pedal I'm using is the Dover Drive.
In the first video, I'm playing through a Fender 68 Custom Deluxe Reverb, and in the second video, the guitar goes through my pedals directly into a Focusrite Scarlett 2i4, two very different approaches to recording guitars.
In this video, you can see how much gain is available on this pedal by listening to the solo section. Once the solo is finished, I decrease the guitar's volume just a little bit, which gives me a perfect rhythm guitar sound that is still responsive and dynamic.
In this second sample, there are even more moments in which you can see how responsive this pedal is to the guitar's volume knob and picking dynamics.
In my opinion, it works better with single coils rather than humbuckers, but that tends to be my preference with most pedals that delve into this fuzz territory.
Nevertheless, it is also a blast to play through it with my Gibson SG or with my Hagstrom Viking, both guitars that feature dual humbuckers.
Hermida Audio Dover Drive Complete Specifications
You can check the complete specifications of the Hermida Audio Dover Drive below:
Effect Type: Distortion
Circuit Type: Analog
Mono/Stereo: Mono In, Mono Out
Controls: Volume, Tone, Gain
Bypass Mode: True Bypass
Power Supply: 9V DC, Center Negative
Power Consumption: 10 mA
Battery Powered: Yes
Battery Type: 9V
Dimensions (W x H x D): 58 x 30 x 108 mm
Country of Origin: United States of America
Others: Internal BIAS Control
Hermida Audio Dover Drive Pros and Cons
Pros
Touch Sensitivity and Dynamics
I feel like this pedal could have a long list of pros, but I have to say that the biggest one is its touch sensitivity. A pedal that is able to mimic the responsiveness of a tube amp that is hot and distorting grabs my attention much quicker than any other that sounds the same regardless of your guitar's volume and picking dynamics.
My favorite way of setting the Dover Drive is to set my guitar's volume knob to 10, adjust the Gain knob to get the most saturation that I'll need during that gig/session, and then roll back the volume on the guitar to get my crunch sound.
If I need to sound even cleaner, I will decrease the volume on the guitar to nearly 0, and pick softer. With my Stratocaster, I am able to get an almost crystal clear tone coming from a silky smooth lead tone, something that few pedals that I have owned can do.
Most guitar players tend to prefer pedals that have a 2 or 3-band EQ section instead of a single Tone knob, since this gives them a higher degree of control over their sound.
I like to be able to cut off a little bass without affecting other frequencies, or bumping up the treble without enhancing the mid-frequencies, but I have to say that the Dover Drive's single Tone knob does its job easily and intuitively.
You can effectively use it to compensate for a brighter/darker guitar or amplifier, or to help you cut through a mix effortlessly. There is a fair amount of mids in this pedal, allowing for clarity and definition even when playing full chords with a moderate amount of gain.
It also reacts very positively to being stacked with other gain stages. Personally, I love pairing it with the clean boost side of my Analogman King of Tone, which lets me shape its EQ a little more.
Enhanced Versatility with BIAS Adjustment Trimpot
If you unscrew the back plate from the Dover Drive, you will gain access to an internal trimpot that allows you to adjust the BIAS of the pedal. This features grants you even more control over your sound.
This type of knob is extremely useful, and I was late to find out about this. After acquiring a fuzz pedal that had an external knob to control this, I decided to try adjusting the one on the Dover Drive, and I was surprised at how much more I could extract from this stompbox.
If I could make any changes to this pedal, it would definitely be having this control on the exterior of the pedal, so I didn't need to unscrew the back plate to access it.
Cons
Although I have certainly played a lot of noisier pedals, I have to say that the Dover Drive sometimes introduces a little bit more noise than I would like into my signal. This, however, is most noticeable when I crank up the gain, which is to be expected from a drive pedal that can get as saturated as this one can.
You should also take into account that the amount of noise is affected by several factors external to the pedal, such as how it is being powered, the quality of every cable being used in your rig, and even the electrical installations of where you are playing.
Also, there is a "whoosh" noise every time you rotate the Gain knob, but Hermida Audio states that this is normal and you shouldn't be worried, everything is working properly. Unfortunately, it isn't the best thing when you have to adjust your pedal's settings during a performance.
Not the Easiest Pedal to Find
Like many coveted and sought-after pedals, the Hermida Audio Dover Drive is not found as easily as a BOSS DS-1 or any other widespread overdrive/distortion pedal. This does not mean you should disconsider getting one, as it is definitely a keeper, and you might be lucky to find one at a music store or second-hand.
Other Overdrive Pedals to Check Out as Alternatives to the Hermida Audio Dover Drive
The Hermida Audio Dover Drive is an astonishing pedal that I doubt I will ever sell, even if I stop using it on my main pedalboard for a while. It feels so good to play it and feel how responsive and dynamic it is that I always end up coming back to it from time to time.
In any case, there are literally hundreds of overdrive pedals readily available at physical and online stores, many of them offering similar features in terms of touch sensitivity and versatility. My main criteria when looking for something that offers the same advantages as the Dover Drive are touch sensitivity and how much gain on tap the pedal has. The Hermida Audio can do a very convincing fuzz impression if you max out the gain, which also adds to its tonal palette.
Here are a few of my favorite pedal suggestions that could be a suitable alternative to the Hermida Audio Dover Drive:
The B.K. Butler/Chandler Tube Driver is a legendary overdrive that has been used by many legendary players such as David Gilmour, Billy Gibbons, Joe Satriani, Eric Johnson, and more. It was also the inspiration for the Hermida Audio Dover Drive.
It is handbuilt in the USA in small quantities and it is often hard to get one, which also drives up second-hand prices.
The most unusual part of the Tube Driver is the fact that it uses an actual 12AX7 tube to give it tube-like properties. It doesn't work exactly as tubes in an amplifier do, since you barely see it glowing and it operates at a much lower voltage, but it definitely gives it a unique character that has won over so many guitar icons over the years. Its large size and power supply might be a deterrent to some players, but for those who don't mind these things, this can be a wonderful addition to your rig.
The Tube Driver is sold for $299, but second hand prices can fluctuate depending on availability and demand.
The MXR FET Driver is a great alternative to the Hermida Audio Dover Drive. It is easier to find, and it has more EQ possibilities with its "Hi" and "Lo" knobs, further complemented by a "Hi Cut" switch that will make your sound a bit bassier and fuller.
Just like the Dover Drive, it allows you to dial a saturated tone and then control how much gain you have by adjusting your guitar's volume knob and picking dynamics, which makes you feel like you are playing through a tube amp without the hassles of maintaining tube-powered equipment.
Other interesting features of this pedal include its true bypass switching, and its op-amp gain stage that feeds into a FET stage, the main responsible for the MXR FET's unmistakable sound.
You can generally find this pedal being sold for a price of about $150.
The TC Electronic Tube Pilot is by far the most affordable pedal in the entire list. Surprisingly, this one is actually powered by a real tube, unlike most of the other alternatives presented here. Just like the original Tube Driver, the Tube Pilot features a 12AX7 tube, aimed at bringing some of the tube characteristics into a small pedal that fits on any pedalboard.
It is extremely simple, featuring only Drive and Level controls. Unfortunately, this means that you can't adjust the EQ without the help of something like an EQ pedal or another overdrive that lets you shape its tone further when stacked.
The Tube Pilot is a true bypass pedal, meaning that it will not color your tone at all while it is disengaged. If you are on a tight budget, this would be my first recommendation, but I would go for something else on this list if I could afford it.
The TC Electronic Tube Driver can be found for a price of around $60.
The Buffalo FX TD-X Drive is meant to be a replica of the famous Tube Driver, which we have already discussed previously. Although it is not powered by an actual vacuum tube, it manages to capture the same kind of essence as the real deal. You can expect the kind of touch sensitivity and dynamics that pro players look for when buying overdrive pedals.
Buffalo FX added a few things to make this pedal more convenient and versatile, allowing you to use it in a wide variety of contexts. For instance, the headroom on the TD-X Drive is noteworthy, which lets you use it as a clean boost instead of cranking the gain to use it as a lead sound.
If you have to play at low volumes frequently, you will be happy to know that it manages to retain its character even at bedroom levels. Sometimes I have to be really careful with the amount of noise I'm making, and using this pedal with my Ernie Ball VP Jr is a perfect recipe for chunky, full tones without disturbing anyone else.
The Buffalo FX TD-X Boost can be found for a price of around $300.
The BOSS BD-2 Blues Driver does not need a large introduction, as it is already an extremely popular pedal among guitarists of various styles. This would not be my first suggestion if someone asked me what would be a good alternative to the Dover Drive, but depending on what you want to do with it, it can do a very good job at an affordable price point.
The BD-2 has a powerful Tone knob that can balance out any dark or bright amplifier you decide to use, and although it isn't the pedal with the most gain available out there, it can do a very good job at pushing the front end of your amp, and it responds very well to decreasing the guitar's volume knob and playing with a lighter touch.
BOSS has also released the BD-2W, their "Waza Craft" with a revisited circuit and additional features, but it is more expensive than the original one.
You can generally find the BOSS BD-2 Blues Driver for a price of around $110.
The reason why I am including a fuzz face pedal in this list of recommendations is their amazing ability to clean up with the guitar's volume knob.
The Jimi Hendrix Fuzz Face Mini is an accurate replica of the 69/70 Dallas Arbiter Fuzz Face, made famous by Jimi himself. This one features the renowned BC108 silicon transistor, a staple in many fuzz face pedals.
Pedals in the 70s were not as convenient and well developed as they are now, but this one has a few modern improvements that every player will appreciate, namely the reduced size and the possibility of powering this pedal with a 9V adapter, as opposed to the old ones that are huge and can only be powered by batteries.
The only obvious downside of this pedal is the lack of an EQ section, but that is how fuzz faces are by design. If you think that you could get a better tone by tweaking it a little, try placing an overdrive pedal or an EQ pedal after it.
You can find the Dunlop Jimi Hendrix Fuzz Face Mini for a price of around $130.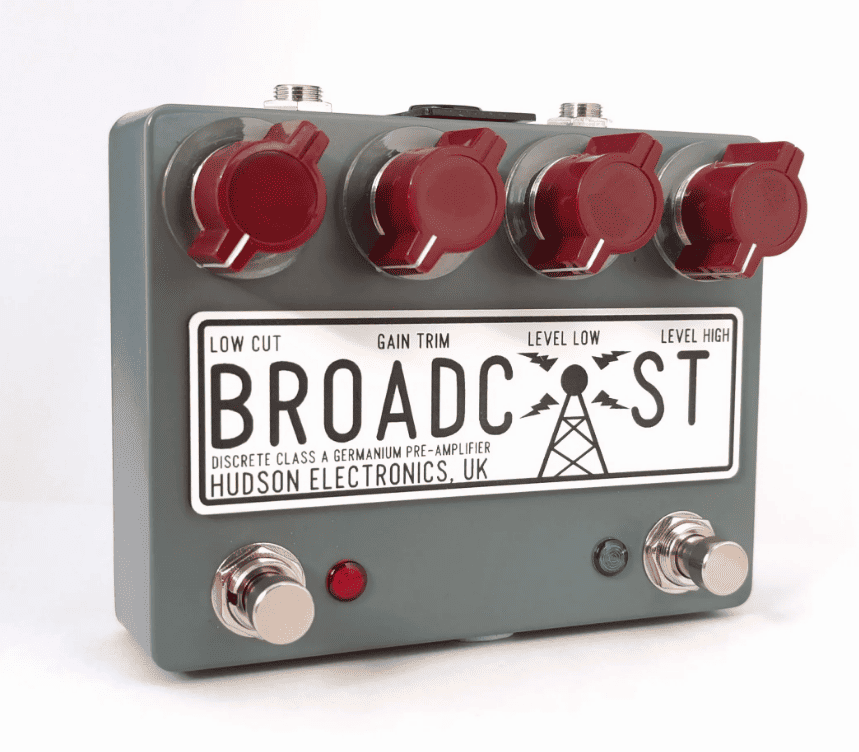 The Hudson Broadcast Dual is a very unique pedal that isn't based on the typical circuits we see all the time, like the Tubescreamer or the Bluesbreaker. It is inspired by the broadcast consoles of the 60s, featuring a discrete Class-A germanium pre-amp.
I cannot recommend it enough, as it is one of the most interesting pedals I have tried in the last few years! If you keep the gain low, it can be used as a clean boost or as a very light overdrive, but it is capable of much more than that.
If you crank it, be prepared for a fuzzy wall of sound that is as saturated as it is touch sensitive. Back down the volume of your guitar and watch as it cleans up extremely well.
If you need even more saturation, the Broadcast Dual has an extra footswitch that toggles the pedal between its Low and High Gain modes. Apart from everything you have on the surface, there are also a couple of internal trimmers to adjust how much gain you get from each of its modes.
You can find the Hudson Broadcast Dual for a price of around $285.
Last but not least, we arrive at the Mad Professor Amber Overdrive. This pedal is meant to capture a sound that pretty much every guitarist has been chasing forever. It mimics a tube amplifier that is running hot, distorting and compressing like it should when you crank up the volume.
The issue with this is the unbearable volume that many amps have to put out to achieve this kind of saturation, but that's where the Amber Overdrive shines. When placed in front of a clean amplifier, engaging it will achieve this tone without having to play at ear-shattering volumes.
Like all other Mad Professor pedals, the Amber Overdrive offers a degree of touch sensitivity and dynamics that is well above average, which is why I would not have any issues in recommending it as a Dover Drive alternative.
There is also an improved version that features the Midas Touch mod, but it is more difficult to find and naturally, it is also more expensive. I haven't tried this one myself, but players report this one to have more clarity, definition, and presence when compared to the stock version.
The Mad Professor Amber Overdrive can be found for a price of around $200.
FAQ: Frequently Asked Questions about the Hermida Audio Dover Drive
Question: Is the Hermida Audio Dover Drive a true-bypass pedal?
Answer: Yes, the Dover Drive's circuit is true bypass, meaning that when it is not engaged, it will not affect your tone, as if it was entirely removed from your signal chain. This is a nice advantage for those who have a lot of pedals on their board, which might lead to excessive tone coloration. On the other hand, having a couple of buffered pedals in between the guitar and the amplifier can also be useful, as it mitigates some of the high-frequency loss that can happen with a setup containing long cables.
Question: Is the Hermida Audio Dover Drive capable of being powered at 18v instead of 9v?
Answer: Although running the Hermida Audio Dover Drive at 18V is possible, the brand doesn't recommend it and openly states that it sounds better at 9V. While I run a few of my pedals at 18V (Analogman King of Tone, Xotic EP Booster), I don't do the same with the Dover Drive.
Question: What are some good alternatives to the Hermida Audio Dover Drive?
Answer: Even though the Hermida Audio Dover Drive is nothing short of amazing, there is a nearly limitless range of choices on the market today when it comes to finding a high-quality overdrive or distortion pedal. Here are some of my favorite potential alternatives to this pedal:
• Dunlop Jimi Hendrix Fuzz Face Mini
• B.K. Butler/Chandler Tube Driver
• TC Electronic Tube Pilot
• Hudson Broadcast Dual
• MXR FET Driver
• BOSS BD-2 Blues Driver
• Buffalo FX TD-X Drive
• Mad Professor Amber Overdrive
Question: Is the Hermida Audio Dover Drive a dynamic pedal that responds well to the guitar's volume knob and picking attack?
Answer: The Hermida Audio Dover Drive's number one quality is its touch sensitivity and natural response to how you set your guitar's volume knob and to how hard you attack the strings while playing.
You can set the pedal to have the most gain/saturation that you will need during your performance, and dial it back with the guitar's volume when you want a cleaner sound. If you are playing with a responsive amplifier, you are able to get almost infinite tones just by playing with one knob and your own picking dynamics.
Pedals that are able to do this have great value for me since they save me from having to pay a lot of attention to my pedalboard. Not only it saves space by eliminating the need for a booster or a second overdrive, but also keeps me from having to engage/disengage gain stages as often during a live performance.
Question: Which artists have used/use the Hermida Audio Dover Drive?
Answer: Although the Zen Drive is probably Hermida Audio's most popular pedal, the Dover Drive has also found its way into the pedalboard of quite a few renowned artists, and it is no surprise at all. Here are a few examples of players that you might find playing this pedal:
• Eric Johnson
• Chris Buck
• Budda (Budda Power Blues)
• Reeves Gabrels
Question: Can you operate the Hermida Audio Dover Drive by powering it with a 9V battery instead of using a power adapter?
Answer: Yes. If you don't want to use a dedicated power adapter or a pedal power supply, you can also open the Hermida Audio Dover Drive and operate it with a 9V battery instead. Some players actually prefer powering their overdrive, distortion and fuzz pedals with batteries instead, claiming that the tone is different and superior.
This strategy will also yield different tones when the battery starts to run out of juice, an effect that some power supplies such as the MXR Iso Brick try to emulate by allowing you to power pedals with less than 9V.
Closing Considerations about the Hermida Audio Dover Drive
The Dover Drive is a must-have pedal for players who are looking to nail those violin-esque tones that we are used to hearing from Eric Johnson. His tone on "Righteous" was the inspiration to design this overdrive, and I strongly feel like they've hit the spot. Obviously, the guitar and the amplifier play a big part in this equation, but the good thing about the Dover Drive is the fact that it can be adapted to a nearly limitless amount of scenarios.
Its touch sensitivity is its biggest advantage and selling point, as it can easily replace more than one drive pedal. Being able to control the saturation with the guitar's volume knob and picking strength feels a lot more natural and convenient than paying attention to your pedalboard all the time, even if you own a fancy pedal switcher.
I've used mine to play everything from blues, hard-rock, prog-rock, and although it wouldn't be my first choice for metal, I am still confident that I could make it work in a pinch by stacking it with a nice overdrive pedal.
If you do get one, don't sleep on the internal trimpot that adjusts the pedal's BIAS, as it is a great way to get an even bigger variety of sounds out of this small box. It stacks well with other overdrives, but frankly, I don't find it necessary since it can get a very fair amount of saturation and sustain on its own.
Latest posts by Gustavo Pereira
(see all)