Adobe Audition vs Pro Tools are two of the most popular sound editing software or DAW's on the market. Both are very capable of delivering good results no matter what you are using them for, whether it be for film scoring, professional recording, sound editing, etc. Pro Tools has been an industry standard for many years at least as far as live recording sessions with musicians go.
It also has more than a foot in the door in many companies that deal in sound design and sound editing for films and tv shows.
With the Adobe Suite on the rise, I feel that Audition is the less known element of the Suite. The most popular programs are After Effects, Premiere Pro and Lightroom. But with 2022 upon us, is Adobe Audition a worthy competitor for Pro Tools?
In my opinion, it is. I'll break down the pros and cons of each program, where it shines and where it slumbers. Both are very valid programs in the end, and whatever program you know the best is usually the better option. But sometimes we're curious about a change, aren't we?
Main Differences between Adobe Audition vs Pro Tools
The main differences between these Adobe Audition vs Pro Tools are:
Pro Tools's most expensive tier costs 1000 dollars each year, whereas Adobe Audition is only 600$/year
Pro Tools total track count reaches 768 tracks (although this means having several different licenses) whereas Adobe Audition can handle up to 256 tracks.
Pro Tools has dedicated hardware you can purchase and link up for your home studio, whereas Adobe Audition doesn´t, though it can work through third-party hardware.
Pro Tools has every single option and possibility you can think of, whereas Adobe Audition can route out to a 5.1 output mixing file
Pro Tools has a diverse plugin selection, whereas Audition is more focused on multiband compressors, slightly better EQ´ing, and noise cleaning plugins.
Pro Tools has no native cross-platform working pros, whereas Adobe Audition has Dynamic Linking, that works across the whole Adobe Suite.
Pro Tools is just not that ideal in my experience, whereas Adobe Audition has a great customer support
Similarities
These two programs are mostly oriented towards mixing, mastering, and editing, more than beat making or strictly composing.
Their GUI is decent; they have high-quality plugins, good EQ, 32-bit files, surround sound mixing, and are regularly updated.
You won't go wrong with either of them and they will both deliver good industry-level standards.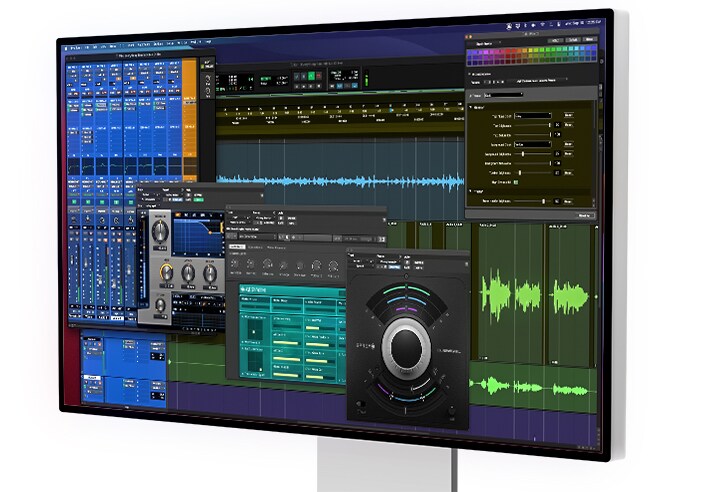 Pro Tools Flex costs about 1000$/year, while Pro Tools Studio, their mid-priced tier, costs bout 32$ a month. This is the standard for many high-level music production products. Their lowest tier Pro Tools Artist is only 9$ a month and is excellent for new musicians.
One of the great things about it too is that it loads all of the audio into RAM, so you're not using any hard drive space. It has a snappy response and nearly unlimited possibilities when it comes to implementing plugins.
Hundreds of tracks and the thousands of plugins that come with Pro Tools are already off the back really good.
The routing settings can be quite complicated, but for a reason, it is the only certified program to be able to do Dolby Atmos or 11.1 Surround, Binaural, or other complicated 3D sound output setups.
It's compatible with all the major hardware controller services; its automation options are solid. It plays very smoothly at very high track counts (depending on your PC's Ram, of course). It works with every audio accelerator except Resolve's accelerator.
Where the drawbacks begin are at its value, as most users might not need all the top configuration this is capable of, and the fact that its integration with video is a bit wonky; it only accepts very compressed video files.
If you're ready to dish out the amount and take the time to patiently learn how to use this program and set it up properly, it is a very trustworthy and reliable system.
Adobe Audition is a really interesting alternative if you're not looking to do top-of-the-line audio mixing, which is probably most common. It does nearly everything Pro Tools can do, except for a couple of things.
It comes from a video-centric background, and its capabilities have been slowly expanded to rival with other industry-level software- a bit like how Davinci Resolve has progressed.
Now at first glance, opening multitrack projects in both is less of a hassle to start up with Pro Tools. Pro Tools has a better colour scheme (in my opinion) for being able to gather much more information at one glance than Audition.
Adobe Audition has gone for more of a "Logic Pro X", clean and dark interface, which, while being more fancy and good looking, is harder to read than Pro Tools. You can also argue that the darker colour scheme is easier on your eyesight when doing hours on end long projects.
Adobe Auditions Advantages over Pro Tools
Cheaper: To effectively do 5.1 in Audition is only 600$/year compared to 1000$ that Pro Tools charges. Alongside this, you get the entire Adobe Suite, which includes Premiere Pro, Lightroom, After Effects, Photoshop, etc.
Adobe's Customer Support is superb, one of the best out there, hands down.
Adobe Audition (and most other Adobe programs) work as well on PC as they do on Mac, whereas I've found Pro Tools on PC to be less reliable than on Mac.
The Essential Sound Panel, Remix, and the Automatic Speech Alignment capabilities that Adobe Audition has are some of its strongest features and set it apart from other sound mixing software on the market.
Dynamic linking throughout Adobe's programs are a great point. Just edit one clip, and it will change automatically if you have it open in several programs at once. No more exporting for this and that program and having to reinsert it into whatever program you are working with at that moment.
Its plugins for de-esser, denoise and such are well built, enough for it to be a perfect option for what might be ideally for: cleaning up audio channels for working with them later on in video timelines.
Other Alternatives
First unveiled in November, Steinberg today announced the immediate availability of its long-awaited premium media production system, Nuendo 11. At the heart of Nuendo are two decades of technological advances, making it the exceptional DAW it is today.
At the turn of the millennium, the first version introduced native technologies with unparalleled audio and surround sound tools for the professional audio industry. Now, Nuendo is at the heart of countless audio production facilities, offering dedicated workflows and features to professionals around the world.
Nuendo now includes a full suite of measurement plugins with SuperVision. With more than 20 different display modules for level measurement, loudness measurement and analysis, SuperVision is extremely flexible and offers customizable configurations and layouts for up to nine module slots.
More options are integrated with the Netflix Loudness Meter and Intelligibility Meter. To ensure quality standards are met, the Netflix Loudness Meter in Nuendo 11 is calibrated according to official sound mixing specifications and best practices, and measures dialogue-controlled loudness as required by Netflix.
Based on algorithms developed by the Oldenburg branch of Fraunhofer IDMT in Germany, the new AI-driven Intelligibility Meter indicates in real-time the listener's effort to understand speech in the mix.
The suggested retail price for the boxed version of Nuendo 11 is 999 euros. The download is only available for 977 euros. Please note that download orders are exclusive to USB-eLicensers.
It is Apple's solution for music producers like me, and it is a very complete option for producers who have a Mac. It´s among the best for its price, considering its gigantic sound library, the synthesizers it incorporates and its renewed high-quality native plugins.
Its main disadvantage is that it is only for Apple, and those producers using a PC will not be able to use it. Logic Pro is a good option for music producing and recording.
The low price point makes it ideal for beginners, and the swipe composing tool makes it great for creating audio without hassle. Another bonus is that although Logic Pro X is easy to use, it sacrifices no power or performance.
You can get excellent results with this software, including assembling tracks from loops and stock instruments. Logic Pro X as a professional music creation toolkit normally costs $229.99 upfront, with the possibility of upgrades at a later date.
Check out our full Logic Pro vs Pro Tools comparison
Ableton Live has always been different from other DAWs. In many ways, it's probably more accurate to describe it as a DAW-instrument hybrid, especially when you factor in Ableton's Push 2 hardware driver.
In the Session view, you can maintain the fluidity of arrangements, launch clips, and keep coming back to ideas grouped as Scenes. On the other hand, the Session view is ideal for improvised live performances and DJs.
The Arrangement view can be used for linear song composition, just like other DAWs. But it can also act as a temporary sketchpad for modifying Session View ideas or as a multitrack recorder for the clip- and action-based performances.
Despite Live's DNA in performance, one of its great strengths is the number of use cases it serves, making it the production software of choice for a wide variety of audio professionals.
I never got my head around working this DAW, mainly because I have always seen it as software mainly marketed towards DJ's, which I'm not.
In this category, you would solely use Ableton for composition, and not so much for sound designing, or processing audio for film.
Cubase is a classic DAW, good looking and easy to use. Some DAWs are more oriented to work with audio (e.g. Pro Tools, Reaper), others aim to work with midi, loops and samples (e.g. Ableton Live, FL Studio); Cubase is an ideal middle ground, it offers great tools for audio editing, and at the same time it has very complete midi tools, besides bringing a generous amount of instruments, loops and samples.
It also has tools for composition and idea development (chord tracks, chord pads, arrangement tracks).
Since it is exclusively 64-bit it is much more stable, but it is not infallible. It is relatively demanding on computer resources, maybe not as much as Pro Tools, but more than Adobe Audition.
The Elements version, which is the cheapest, is already complete enough and perfect for the independent musician or for the home studio. The jump to the Pro version is recommended, although a bit expensive, and it is necessary to acquire the USB key (Elements works with e-licenser software).
Related: Check out our full Cubase vs Pro Tools
FAQ
Question: Can you use Adobe Audition for free?
Answer: Adobe does offer a 7 day trial for free on most of their products, from which point you'll have to pay to keep on using their services through the Adobe Creative Cloud. There are student and teacher discounts.
Question: What is Adobe Audition best at?
Answer: Adobe Audition's strong points are firstly restoring audio. That sets it apart from the rest, but it is also a very good program for mixing, creating and editing audio. Together with Premiere and After Effects, it works very well at streamlining the final video delivery.
Question: Can Adobe Audition remove vocals?
Answer: Adobe Audition has its own unique "vocal removal" plugin which is called Center Channel Extractor. It works by removing certain frequencies where the voice is usually contained, and later polishing the result with an AI.
Question: Can you use Pro Tools for free?
Answer: You can. Pro Tools has a free version (Pro Tools First), but there are certain limitations, to the number of tracks you can lay down, and the export options and quality are also hindered in this version. Quite honestly it's so limited, it's not even really worth it.
Conclusion
If you're fresh starting out and want to make your own mixes and work on your own, Adobe Audition might be the way to go. It's "fresher", newer, or at least Adobe keeps on updating and giving it a new haircut, so to say.
Pro Tools has been in business for years, they know their market is already there, and for the same reason probably won't change much. Their capabilities are buffed up every year to impress big well established studios.
If your goal is to work in the big sound design studios of Hollywood, you should definitely get more than acquainted with this program, because they'll be expecting you to use it like a pro.
Latest posts by Taylor Petrie
(see all)