I have an acoustic guitar and keyboard collecting dust in my home and have been wondering how to sell them. My initial thought was selling them DIY–after all, at least half of my friends are musicians, so I wouldn't have a problem finding buyers.
Selling them to a Guitar Center or Sam Ash is convenient, but if there's one thing I learned about working at a music store is that these companies often lowball sellers.
That's when one of my friends recommended I sell on Reverb. He's a touring musician, but when he's home, he has a little business where he fixes up old guitars and re-sells them. He uses many marketplaces but told me he has the best luck with Reverb.
The minute I went on the website, I had two thoughts: this looks more legit than Craigslist…but still looks like Craigslist. So, is Reverb legit? I decided to dig more into Reverb before listing any of my instruments. Here in the Reverb Review is all that I discovered.
Bottom Line Upfront
Reverb is a marketplace to buy and sell used instruments and gear. The company itself is legit, but since Reverb is a marketplace, there are always scammers.
That said, Reverb's platform is easy to use for both buyers and sellers and all payments are secure. If you decide to buy or sell instruments on Reverb, be respectful toward the other party but also stay on the lookout for any red flags.
About Reverb
Reverb is one of the newest instrument and gear online retailers, only launching in 2013. David Kalt formed the business, who is a former recording engineer and tech.
He purchased a music store in Chicago and struggled to buy and sell guitars online. The websites available didn't tailor to the needs of musicians and the music industry overall. His new goal was to create an online space where musicians could buy and sell gear easily and at affordable prices. Since then, Reverb was born.
Today, musicians globally buy and sell instruments and gear from Reverb, and the company has become one of the best-known marketplaces for music.
Even though Kalt is no longer the owner (Etsy purchased Reverb in 2019), the business retains its original values. While it's popular among individuals such as myself who want to earn extra cash, it's also become popular among large and small music manufacturers and stores.
Even though Reverb has a big name, customers and sellers have pros and cons to say about this company, which I will cover later. But before listing my instruments for sale, I wanted to discover Reverb's buying and selling process.
How to Use Reverb
Reverb has different features for customers and sellers. Here's a breakdown of both.
Buying
Using Reverb as a customer is super simple. When you first visit the website, you have the option to browse their numerous instrument or gear catalogs or search for what you need.
One look at the guitar section and I immediately saw major names, such as Fender and PRS. I still wanted to try using the search function, so I searched for BC Rich Warlocks. I found a bunch at decent prices.
I selected the Kerry King Signature Warlock and navigated the product page. I immediately see where I can buy the item, as well as other information such as the guitar and shipping costs, as well as financing options.
One of the first things I noticed about the listing was the expensive shipping. I was curious to see if I could filter by location the same way you can on Craigslist and Facebook Marketplace. You can, but it's difficult to figure out.
When you search for an item, a menu bar will appear below. Click "Sort by" and select "Within 100 Miles." Enter your zip code, and you'll find local sellers.
I was turned off because I didn't immediately see product specs, but Reverb took me to a separate page when I clicked "read more" under the About This Listing section. From here, I was able to read the guitar's description and specs. Reverb will take you to the same page if you click "View Full Listing."
Reverb also offers more cool features. You can click the heart on the listing to "favorite" an item and be the first to know if the price drops. They also offer a Deals and Steals section to buy cheap instruments and gear.
If there are any issues with your order, Reverb's team can assist you in negotiating or handling the seller. I'll talk more about this in another section.
Selling
I don't plan on using Reverb to buy instruments and gear (well, maybe one day). Selling on Reverb is the reason I went on this journey in the first place, so my priority was researching Reverb's selling features. Fortunately, Reverb has a Seller Hub that's easy to use. I also suggest downloading Reverb's mobile app so you can manage your listings no matter where you are.
When you sign up, Reverb will ask you the basics, such as your personal or business information, address, and billing card or bank account. You must have a card or bank account on file to sell on Reverb. Reverb will also ask you for additional information, such as your return policy.
When you create your listing, it's essential to be as descriptive as possible. You can search for the make and model of your product, which is how buyers will find your item. Reverb lets sellers upload up to 25 photos, and photos must be 620 x 620 pixels. Remember that the first photo you upload will be the featured image.
Reverb offers lots of information for sellers. For example, you must state the condition of your gear, but novice sellers may not know what terms such as "mint" means. Reverb offers guides such as this one to help sellers better classify their listings. If you're also unsure how to price your item or charge for shipping, Reverb offers pricing and shipping guides to help you.
Once you list your item, Reverb will reach out via email if you receive offers.
Pros and Cons of Buying From Reverb
If you plan on buying instruments and gear from Reverb, I learned very quickly there are pros and cons to using this service. Here's what I experienced.
Pro: Both Verified and Individual Sellers
The first thing I noticed when using Reverb is, while there are individuals selling their lightly used gear, there are also legitimate stores and manufacturers that sell brand-new gear. As stated in the last section, it's easy for anyone to list their gear on Reverb, so buyers can access different sellers that are selling what they're looking for. This brings us to the next section.
Pro: Huge Inventory
Reverb sells any instrument and piece of gear you can imagine. Not only do I see instruments, but I also see pro-audio, live sound, DJing gear, and gear for all instruments (such as effects pedals, microphones, amps, etc.). These items are available worldwide, so you should have no problem finding instruments and gear in your local area.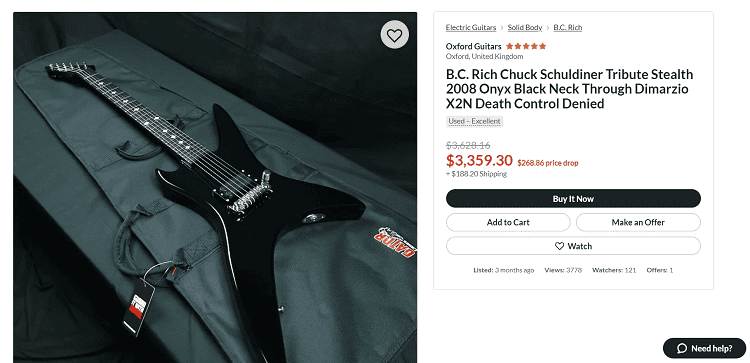 When poking around on Reverb, I noticed you can find lots of rare, limited edition, and vintage items. There are many special release custom guitars for different endorsed musicians, such as this B.C. Rich 2008 Stealth that was made as a tribute to late guitar player Chuck Schuldiner.
Pro: New and Used Instruments and Gear
Since anyone can sell their instruments and gear on Reverb, buyers can access new and used items. This is beneficial if you're looking for lightly used instruments or new items that have been marked down.
Don't think the new items aren't legit. I noticed new sellers and businesses use Reverb as their "taking off" platform so they earn enough money to form their own website or open up a shop.
There are also many reasons to buy used gear. I have used instruments and have never had any complaints. From my experience, beginners purchased brand-new gear to learn their instruments, only to abandon them.
Because of that, they're lightly used and still in pretty good condition. As stated in the last section, you can also find rare and vintage instruments.
Pro: Buyer Protection
When I was first digging into Reverb, the first thing I wanted to know was if there was any buyer's protection. Fortunately, there is! If you need to dispute a purchase or report a seller, you can do that by contacting Reverb. Understand that if you need to report a recent purchase, you must contact Reverb within seven days of receiving your item.
Pro: Financing
Even though you'll arguably save the most money by buying used instruments and gear on Reverb, a lot of the items here are still super pricey. If you don't have the money on hand, you can sign up with Reverb's financing service.
Reverb partners with Affirm for financing, so you pay for your item in multiple installments. Interest rates do apply, and they vary between 10%-36%. Understand this largely depends on your credit, so I don't suggest going with this method unless you need to.
Con: Sellers May Lie
This is a downside of buying from any marketplace, and I've had my fair share of sketchy sellers who weren't totally honest in their listings. It's easy to lie online, saying the instrument or gear is in excellent condition. In reality, the piece is falling apart. I noticed beginners tend to fall for these traps, so here's what I learned when buying used gear online.
Unfortunately, you can't zoom in on pictures on Reverb. That's why I only suggest buying from sellers who include multiple photos, zooming into the areas that may not be easily visible. Some wear-and-tear is normal but look at the front and back of the instrument to ensure there are no aesthetic defects (such as scratches).
In addition, read through the description carefully and screenshot it. The minute you receive the instrument, check what the seller claims and compare that to the instrument or gear.
If the seller lied about anything in their listing, take pictures of the instrument and send those images and the screenshotted description to Reverb. That way, you have a better chance of receiving a refund without dealing with a sketchy seller.
Pros and Cons of Selling on Reverb
While I noticed there are pros and cons to selling and buying on Reverb, I quickly noticed selling on Reverb has more downsides. Still, I believe it's important to weigh these against the advantages.
Pro: List for Free
The biggest advantage of selling on Reverb is all listings are free, even if you're a big-time seller. That said, Reverb isn't 100% free for sellers. If your item does sell, Reverb will take a 5% fee. Reverb payments will also take a 2.7% + 25 cent fee per transaction. These don't seem like a lot, but they add up if you sell on Reverb constantly.
Still, these are some of the lowest fees in the industry. You can also price your items yourself to make your return on the gear, as opposed to selling them to a music store and receiving what they offer.
Pro: Can Create Your Own Shop
When I was first using Reverb, I noticed the same stores were appearing. I decided to click on them and realized they're legit music stores that set up their own shop on Reverb.
Since creating a storefront is free and easy, using Reverb is a great option if you're new to selling music and can't afford your own shop yet, or if you only sell instruments and gear as a side gig and don't want to invest too much in your business.
Pro: Easy to Use
It only takes a few minutes to create a seller account and even less time to list your items. Reverb is super user-friendly and took me no time at all to figure out.
Since this is a business for musicians by a musician, every step of the listing process is tailored for the industry. You can easily select the make and model of your instrument or gear, and other aspects of the listing make it easier to describe what you're selling.
I really like how Reverb has an app. I like to do a lot of work on my phone, so communicating with buyers and tracking sales on my phone sounds super convenient.
Pro: Sales Tools
If you're a serious instrument retailer, Reverb has many partnerships to increase the visibility of your listings. I especially like how Reverb integrates with various e-commerce platforms, such as Magento, Shopify, and BigCommerce. This makes it easy to track sales on multiple platforms, and you can use your e-commerce platform to reach a wider audience.
Even if you don't use these e-commerce platforms, Reverb has an API to integrate into a website on WordPress or any other CMS or website hosting platform.
If you're an experienced instrument retailer and have a ton of inventory, you're in luck. Reverb lets sellers import their inventory via spreadsheet to set up your shop quicker.
Pro: Secure
Last but not least, Reverb is secure. Since you're entering your debit card or bank account details in their system, you don't have to worry about figuring out payments with the buyer–and risk a scam. Reverb also offers ways to support sellers, such as Safe Shipping (where Reverb will cover any lost or damaged items).
Con: Buyer May Not Complete Transaction
If you sold anything online before, I'm sure you know this problem. You're talking to a buyer interested in purchasing your instrument or gear, and then they disappear.
While this isn't a Reverb problem, it's still one of the pains of selling virtually anything. Fortunately, Reverb does support sellers in this way, such as by offering abandoned cart emails or notifications that an item on their "favorites" list is selling out.
Con: Buyer May Try to Negotiate
This is a general selling issue but is also a problem when selling on Reverb. When a customer finds your listing, they have the option to buy the product or make an offer. It can be frustrating dealing with someone who haggles you for a lower price on gear that you may price reasonably, to begin with.
That's the case with the listing of the Telecaster I attached, which is a decent price considering it's $200 cheaper than the full-priced guitar on the Fender website.
Con: Not as Popular as Competitors
This one is 100% a Reverb problem. Later in the article, I will mention alternatives to buying and selling on Reverb, and that's because these marketplaces are more popular than Reverb.
That's especially true when you consider Facebook, eBay, and Craigslist. These marketplaces are busy, and musicians tend to first look at Facebook and eBay for new instruments and gear. That said, I find Reverb easier to manage–especially coming from someone with eBay e-commerce experience.
Tips Before Buying and Selling on Reverb
Whether you're buying or selling instruments on Reverb, there are tips and best practices you should know. Since some tips apply to either buyers or sellers, and some apply to both, I marked each one to make things easier.
Buying: Read Through the Listing
I said it before, and I will say it again–always read through the listing before buying anything on Reverb! Retailers may make false claims to sell their products quicker.
Buying a defective product, even if it's at a lower price, still results in wasted money. And unless you're a luthier, you'll have to take the instrument to a professional for repairs, which will cost more money. Read the listing carefully to ensure the product is in top condition. Contact the seller or Reverb if you receive the item damaged or defective.
Selling: Write Honest Descriptions
That said, retailers should always be honest in their descriptions. It may be tempting to fib to expedite the sale, but this will only result in an unhappy buyer. Plus, if Reverb notices anything sketchy about your listing, they may remove it.
Don't think that being honest about a few defects will result in no sales. As I said in the intro, a friend of mine has a side gig where he repairs guitars and resells them. He specifically goes to places like Reverb and looks for imperfect guitars. Since he buys them for cheap, he doesn't worry about the cost since he will make that money back.
Buying: Look at the Pictures
A picture is worth a thousand words, right? It does when you're buying instruments and gear! From a picture, you can gauge the quality of the instrument and if the seller is honest in their description.
There are still some best practices I recommend taking. First, do a reverse image search of the pictures to see if the listing appears elsewhere under a different name. If so, that's a big red flag it's a fake listing.
Next, know the basics of good photography. The image should be high-res and have great lighting. This is the year 2023, and our phones have great cameras. There's no reason a seller should list a blurry or dark photo. If the photos are bad quality, skip that listing.
Selling: Take High-Quality Pictures and Videos
This should be common sense, but your pictures need to be high-quality enough to entice buyers. But what does "high-quality" mean in photography?
As stated in the last section, focus on lighting. Ideally, you should take the image in a room that has lots of sunlight or is bright enough to show all minor details. You can also find photography lights at an affordable price.
The backdrop should also be plain so the instrument or gear takes the most attention. Position your item on a blank wall, or hang a plain towel or sheet if necessary.
You don't need an expensive DSLR to take your photos–if you own a new smartphone, the built-in camera should suffice.
Focus on different angles of the instrument, front/back shots, take some close-up and full shots, and focus on the individual details (such as the strings, knobs, pickups, headstock, finish, hardware, etc.). Always take a picture of the serial number to build trust with the buyer.
Buying: Compare Prices
While you can find affordable gear at Reverb, I suggest comparing prices at other retailers. It's easy to go on Google and search for the brand and model in Shopping. I did this with a used B.C. Rich Ironbird and a ton of other results appeared, with eBay having the best prices (though always ensure the listing is legit).
Even if the instrument or gear has a lower price, that doesn't mean the shipping will be cheap. That's why I also suggest visiting the nearest Guitar Center, Sam Ash, or your local music store.
Selling: Price Fairly
All sellers should set fair prices for their instruments and gear. If you're selling a new item, list the price on the manufacturer's website, or price the item slightly down to be more competitive. For a used item, price it based on what Reverb recommends. Reverb has a simple pricing tool you can use, or you can conduct your own research.
For the most part, the instrument loses its value after you purchase it. If the item is in mint condition, subtract around 30% of the price you paid when you purchased it (though this also varies by instrument, brand, and model).
For a used instrument in excellent condition, price it at half of what you paid for. You can also search for the instrument on eBay or another competitor and see how much other sellers are pricing it. If you can, price it a little lower to stay competitive.
Both Buying and Selling: Use Excellent Communication
Whether you're buying or selling gear, always exercise great communication with the other party. Be respectful to the other party and remain professional.
You don't have to agree with the other person, especially if you're negotiating a lower price for an instrument or gear. But you should remain polite and pay attention to your words when accepting or declining an offer.
If the buyer or seller is inappropriate, don't try to fight them and immediately contact Reverb. While I can't find a communication policy on Reverb, understand that if there's any fighting or offensive language, Reverb can remove the listing or even suspend your account.
In addition to direct communication, buyers and sellers should conduct business respectfully. Buyers shouldn't let gear sit in their shopping cart without paying for it. Sellers must send the item to the buyer within the acceptable time frame (within three business days, though most recommend shipping within 24 hours).
Both Buying and Selling: Pay Attention to Red Flags
There are buying and selling scams on Reverb, so both parties must exercise caution when negotiating a sale. For example, a buyer may break the instrument or gear and blame the seller for the defect. For buyers, I often hear about sellers asking buyers for personal information not required on Reverb.
Regardless of whether you're buying or selling, always keep communication and transactions on Reverb. Either party can be the victim of a payment scam; for example, the seller may take the buyer's money and run, while the buyer may pay with a fraudulent credit or debit card.
That said, if you have been or feel like you're getting scammed on Reverb, contact their support team immediately.
Is Reverb Legit?
Is Reverb trustworthy? Or should you buy or sell music gear someplace else?
Short answer: yes, Reverb is legit.
Long answer: though Reverb is legit, be safe.
The company Reverb itself is not a scam. They're a legitimate marketplace created by a musician that makes the process of buying and selling used gear smooth. The platform itself is secure, and there's little chance of fraud or theft. They have multiple protections in place for their members and have an excellent support staff that can handle a sketchy buyer or seller.
That said, Reverb is still a marketplace. Marketplaces are hotbeds for scammers, as I mentioned in the last section. Whether you're buying or selling gear, you must do your due diligence and use your gut to determine if you want to proceed with a sale. Since Reverb itself is safe, always keep communication and payments on that platform.
Reverb Alternatives
After reading this guide, did you realize Reverb isn't for you? I've thought the same thing as someone who wants to sell some of my used instruments. Fortunately, there are plenty of alternatives.
Sweetwater is arguably one of the biggest music retailers in the country. Even though they only have one retail store in Fort Wayne, IN, they can ship to customers throughout the country and even internationally.
Customers in the continental U.S. get free shipping, and rates vary in Hawaii, Alaska, and internationally. If you live near their Fort Wayne location, you can access additional services such as music lessons.
Sweetwater offers new gear, but you can also shop their used and vintage sections. If there are issues with your new or used items, Sweetwater offers a free two-year warranty.
For people like me who want to sell, Sweetwater offers a Gear Exchange program where you can safely sell your used instruments. That said, I have no idea if Sweetwater pays well for used items, I've only purchased from them as a customer.
My only drawback with Sweetwater is their customer service is annoying. Even if I buy something simple like strings or picks, I get hounded with phone calls from their sales engineer. I also don't like how customers have to go out of their way to return a product, though I do like how they have a 90-day return policy for used gear.
Facebook
One of my ex-boyfriends was a B.C. Rich enthusiast and would always search on Facebook Groups for different deals on various guitars. I told him I thought that was sketchy. Isn't he worried about the seller taking his money and running? But my ex always had good experiences buying used gear on Facebook–and his impressive collection proved that.
As a buyer or seller, you can either use Facebook Marketplace or contact the seller personally. I suggest Facebook Marketplace since it's safer. As a seller, Facebook Marketplace is ideal because the social media giants don't charge fees.
Since Facebook is popular, finding a buyer usually isn't a problem. Still, Facebook doesn't handle shipping, so you must figure that out with the buyer.
I personally don't buy anything on Facebook due to privacy and safety issues. But selling on Facebook is a good option.
eBay
Most of my friends sell their used instruments and gear on eBay, and this is the first place they recommended I sell. There's a reason why so many people choose eBay to sell their used items–it's one of the most long-standing e-commerce sites.
It's trusted by many and attracts global web traffic. Even though eBay isn't geared toward musicians, it has a more reliable name than Reverb, and it may be easier to find a buyer there. For sellers, it comes with low fees, and you can use secure payment methods such as PayPal.
FAQs
Question: Who Pays for Shipping–Buyers or Sellers?
Answer: I asked myself the same question. In most cases, the buyer pays for shipping. However, sellers can offer free shipping. If there's an issue with the product, sellers must cover the shipping costs to return the item.
Question: I want to Order Something on Reverb. When can I Expect to Receive my Product?
Answer: There are no set delivery times, and shipping varies by where the seller is located in reference to the recipient. That said, sellers must ship the item within three days of delivery. If you need an item ASAP, talk to the seller about faster shipping options.
Question: I Want to Sell on Reverb. Do I Have to Wait for Them to Pay me After I Get a Sale?
Answer: Let's put it this way–you won't get the money immediately, but you won't wait too long. That's because Reverb will wire the money directly to you. In most cases, the money will end up in your account 1-3 business days after the buyer pays.
Bottom Line
Ultimately, I decided not to sell on Reverb. While I like how Reverb is a platform for musicians to buy and sell used gear, the cons of the platform outweigh the good.
That said, Reverb is a legit business and comes with pros and cons. The platform is easy to use, and all payments are secure. But since Reverb is a marketplace, it attracts scammers.
I decided to first ask around my friends to see if anyone would take the instruments off my hands. If that doesn't work, I will more than likely sell my instruments at Sweetwater.
Latest posts by Stephanie Jensen
(see all)