If someone mentioned the name Fender, what's the first thing that comes to mind? Electric guitars of course – Fender has a fantastic reputation for producing some of the highest quality electric guitars out there, with tons of the greatest guitarists getting their start with a Fender. However, did you know that Fender produces other types of guitars? That's right, they produce acoustic guitars, bass guitars, and even 5-string jazz basses!
This might come as a shock to you, or you may be fully aware that Fender is one of the biggest names in jazz bass guitars. Regardless of your position, there are several different options in their catalog, and it can be quite difficult to find the one for you.
If you're looking to play the jazz bass guitar, I couldn't recommend starting with Fender anymore, and over the years I've learned all about their different models. Whether you're new to the instrument or are looking to upgrade from a Squier, I'm here to help you find the best Fender 5-string jazz bass guitars!
Bottom Line Up Front: Fender produces some seriously cool 5-string jazz bass guitars, basses that are designed specifically to feel comfortable for double bassists and stringed instrumentalists. There are some insanely impressive products in Fender's catalog, but the Fender Classic Vibe '70s Jazz Bass V is my stand-out recommendation due to its fantastic cost-to-value ratio.
What Is a Fender 5-String Jazz Bass Guitar?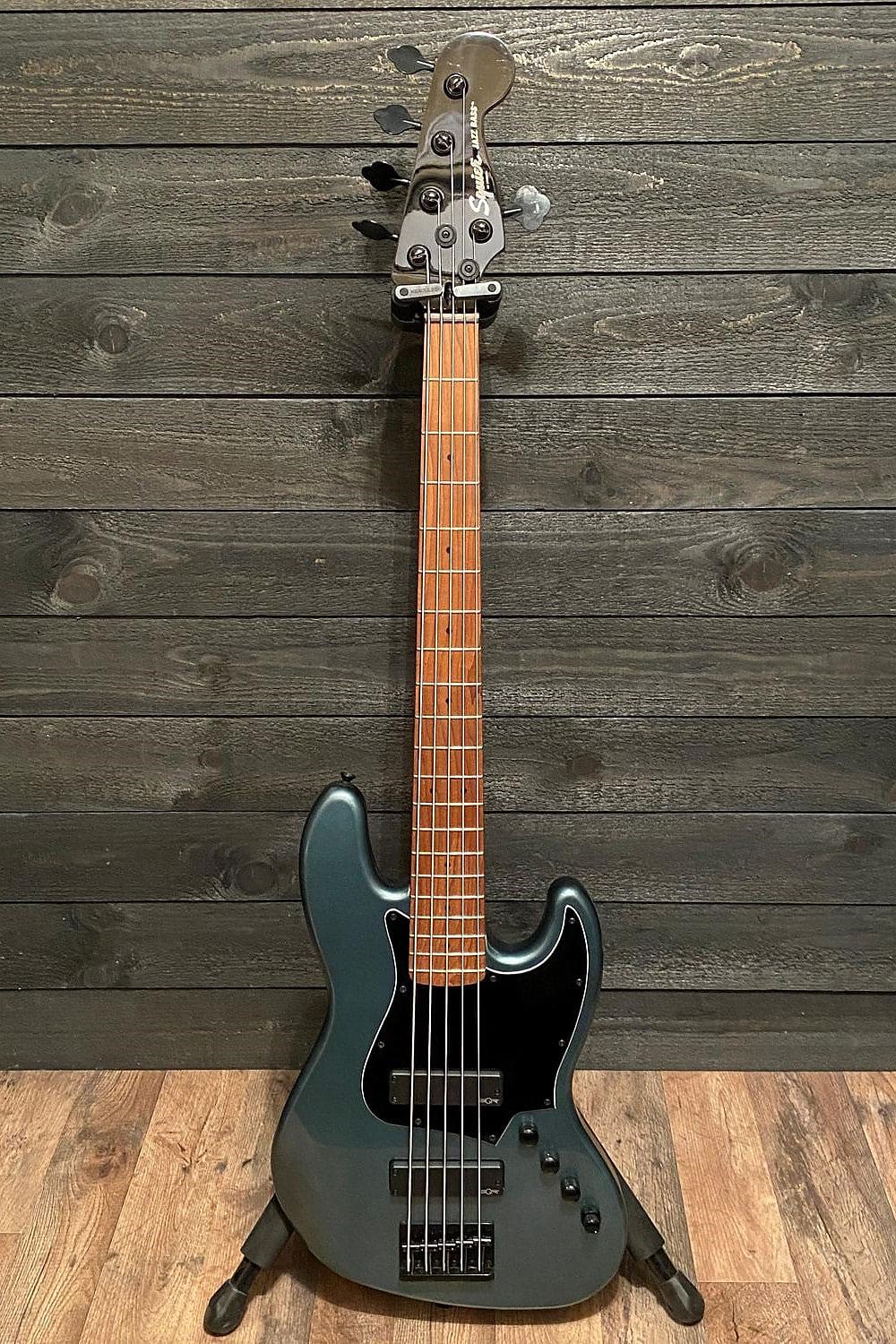 Before we start looking at different models of Fender 5-string jazz bass guitars, it's going to be important that you are fully aware of what we are talking about. As you may know, bass guitars typically have four strings, regardless of whether they are regular basses (otherwise known as precision bass guitars) or jazz bass guitars.
However, some bass guitar brands produce 5-string models, allowing the user to have a further range at their disposal. This is popular in a few genres, particularly in jazz, and experimental rock genres such as math rock, djent, and melodic death metal.
So this is a 5-string Fender bass, but what's the jazz bit all about? It's not that complicated, to be honest – jazz basses are almost identical to precision basses. However, there are differences, particularly when it comes to the feel of the instrument. Standard precision bass guitars are designed to be comfortable for electric guitarists.
Electric guitars have fairly thick necks and wide nuts, and if these musicians decide to learn the bass guitar, they're going to be hoping for a similar setup. Jazz bass guitars on the other hand have more narrow nuts and thinner necks, similarly to how acoustic jazz stringed instruments such as the double bass is configured.
So, the primary difference between standard bass guitars and jazz bass guitars is primarily to do with comfort, it all depends on what the musician is used to. However, there are a couple of other slight differences. Firstly, electric bass guitars typically have two or three split coils, whereas jazz basses tend to have two single coils, one on the bridge and one on the neck, giving the instrument an oakier and jazzy tone. Jazz bass guitars typically have less symmetrical bodies too, which is simply a cosmetic trait.
So there we go – Fender 5-string jazz bass guitars are exactly what they say on the tin – bass guitars designed for jazz musicians which include an additional fifth string. It's quite a niche instrument, but I guarantee that if you tried it out, you'd fall in love with it instantly.
Why Should You Consider Buying a Fender 5-String Jazz Bass?
Many of you reading this will already be aware of Fender's reputation in the electric bass world, but why go for such a specific model? Do you really need a 5-string jazz bass? You might not necessarily need one, but it could add a lot of potential to your journey learning the bass, and this comes under several circumstances.
Firstly, if you have already learned a classical stringed instrument such as the double bass, cello, or violin, you are probably going to find jazz bass guitars much more comfortable to play than precision basses. You'll be able to navigate the neck and fretboard with your hand smoothly, without having to adjust your hand differently to how you explore other stringed instruments.
However, if you've already learned the electric guitar, jazz basses are going to feel too cramped and narrow for your hands – better off sticking with a precision bass!
But what about if you've never learned a stringed instrument before? Should you just go for a standard precision bass, or choose a jazz bass instead? I would say this very much depends on your musical goals. Do you plan to exclusively learn the bass guitar, or would you consider learning the electric guitar, the double bass, or the banjo too?
If you're interested in learning other instruments, I would recommend that you choose based on the instruments of choice. If you can imagine yourself learning the electric guitar, then stick with a precision bass, but if you'd like to check out more classical instruments then maybe go with the jazz bass.
Ultimately, any guitarist regardless of experience level can find more comfort in using a jazz bass guitar. A lot of it all comes down to the shape and size of your hands, so my recommendation is to test both precision and jazz bass guitars, even if you're already using a precision. I knew a guy that used a precision for years, only to one day try his mate's jazz bass and instantly fall in love with the feel. You'll never know if you never try, so why not head to a music store such as Guitar Center and try them both for yourself?
There's one last question that I think is worth answering – why should you go for a Fender 5-string jazz bass guitar, as opposed to another brand such as Squier? Well, I would say that Fender guitars are excellent options for both beginners (if you've got the cash to splash) and intermediate guitarists. They're excellent value for money considering their high quality, and I would consider them generally to be in the mid-range budget.
They are higher quality instruments than the 5-string jazz bass produced by Fender's brother company Squier, yet they're only a couple of hundred dollars more expensive. Sure, there are fancier 5-string jazz bass brands out there, but many people choose Fender because they're looking for something that is high quality without having to break the bank.
The Different Properties of Fender 5-String Jazz Bass Guitars
Right, let's get down to the good stuff – we're going to take a look at the different properties found in different Fender 5-string jazz bass models, and what you should be looking out for when browsing.
Price Range
As I mentioned earlier, Fender is well known for producing excellent mid-range guitars, but they don't stop there in terms of quality. When shopping for Fender jazz basses, you will notice that there is a huge range of products when it comes to price.
Some are as cheap as $500, whereas you could easily spend up to $3,000! This is something Fender has always been good at – not being afraid to produce high-end premium guitars, without neglecting the fact that people also need cheaper options.
Consider what you are willing to spend on a jazz bass guitar, and I'm sure you'll find something around your budget. If a guitar is only a little over your budget, I'd say it's worth saving up the extra cash – this is an instrument you'll be using for a long time, after all! With that being said, some people may be learning the bass for the first time, and they may not want to invest too much cash into something they are not confident they will play for a long time. This makes the budget options worth considering.
Tonewoods
Various factors result in different Fender jazz basses being more or less expensive, but one of the primary factors is the tonewoods. In case you're not aware, tonewoods are types of wood that are used to produce a guitar, specifically chosen to amplify the resonance of the strings and allow rich tonal details to be projected.
One of the best tonewoods out there is Alder – it's widely considered to be the most balanced of the commonly used tonewoods. Fender sells a few guitars that are created with this tonewood and I'd highly recommend it, but you're going to pay a high price! On the other hand, Fender also produces 5-string jazz bass guitars made from lesser tonewoods such as Soft Maple. There's no denying that soft maple is a more budget alternative than other tonewoods, but the quality is still pretty good.
It's much better than the synthetic materials that many entry-level guitars are made from, but it's not going to be as rich and balanced as hard maple, mahogany, or Alder. There are budget Fender 5-string jazz bass guitars that feature such affordable tonewoods which I think is great.
It's not just down to the body though – tonewoods are also used for the neck of the guitar and the fingerboard, so you should investigate every instrument carefully to determine the exact materials used to make it. There are a lot of different types, so if you come across a tonewood that you are unfamiliar with, give it a quick Google and you'll figure it out.
Overall, it's well worth paying extra for fancy tonewoods as the resonance will be significantly richer and more balanced, but if you're on a budget or are only just learning your first instrument, I'd recommend going with a cheaper option. The differences are pretty subtle, so it's not like the tonewood is going to affect the way that you enjoy playing the guitar!
Left or Right Handed
This next pointer is a quick one – consider whether you need a left or right-handed 5-string jazz bass. Yes, this is getting very niche at this point, but there are many left-handed guitarists out there so it's great that Fender provides this option. You probably know what hand you use primarily in day-to-day life, and as a general rule, you'll probably want to use the same hand when playing the 5-string jazz bass guitar.
However, there are exceptions – I've met people who are left-handed usually who simply prefer the standard right-handed format. I've seen it the other way around too, with right-handed people for some reason preferring to use left-handed guitars.
It all depends on what feels most comfortable to you, so I would recommend always going to a music store to test out what works for you before buying. However, if you've already learned a stringed instrument, just stick to what you already know.
Color & Finish
I've left the most fun part for last – Fender provides its catalog of 5-string jazz basses in a wide variety of colors and finishes, and you should spend plenty of time figuring out what you like the look of the most. Sure, the aesthetic of your guitar isn't going to make you a better guitarist, but there's no shame in wanting your guitar to look cool.
Are you looking for a 5-string jazz bass guitar that has an organic wooden finish, or are you looking for something that looks a little jazzier? These kinds of decisions are completely up to you and there are no right or wrong answers, but as a general rule, fancier finishes are going to increase the price of the instrument.
Personally, I'd recommend going for something relatively subtle. Some of the jazz basses feature vibrant colors and whilst they look cool, I don't think this is versatile for many musical genres. More minimalist finishes on the other hand tend to look cool no matter what environment you are playing in. Ultimately though, you should choose something that you think looks cool – it's as simple as that!
My Top Recommendations for the Best Fender 5-String Jazz Bass Guitars
Now that we've taken a deep dive into the intricacies of Fender 5-string jazz bass guitars, I think it's time that we look at some specific products. Considering the niche nature of these instruments, Fender offers quite a variety, so hopefully, these recommendations will help you narrow down what you are looking for!
The first Fender 5-string jazz bass guitar on my list of recommendations is the Classic Vibe '70s Jazz Bass – I think this is a fantastically affordable jazz bass for anyone looking to upgrade from an entry-level guitar or learn the instrument from the start. There's no denying that it's more expensive than other low to mid-range jazz basses, but it looks seriously beautiful, particularly if you choose the natural finish.
The body is made from soft maple as is the neck, and there's no denying that this isn't the best quality tonewood out there. However, it's still a Fender-designed 5-string jazz bass, and with the kind of reputation they have, I can guarantee that the guitar is still going to sound great.
Pros
Available in a natural or black finish, both of which look great
Made from soft maple, instead of the synthetic materials used for entry-level guitars
Whilst it's a budget Fender 5-string jazz bass, their reputation ensures this will still be of a high quality
Cons
Soft maple is not a particularly bright tonewood
There are certainly more high-quality 5-string jazz bass guitars in Fender's catalog
Let's crank it up a notch with this next product, the Fender 5-String Player Plus Jazz Bass. The price jump between this and the previously mentioned bass is pretty big, and this is mainly due to one major difference – this bass is primarily made from Alder, one of the most balanced tonewoods available on the market.
This makes a massive difference to the tone of the instrument, allowing the musician to finely craft their tone with the tonal controls and their effects pedals with the reassurance that they started with a balanced tonal profile.
The only problem that I have with this guitar is that I have only found it in an Opal Spark finish. Now, take a look at images online and you might disagree with me, but I just don't like the color scheme. This is completely subjective and you may disagree with me, but it's the only thing that's been holding me back from this guitar. I'd love to see it with a natural finish, Fender!
Pros
Made from Alder, commonly known as the most balanced tonewood on the market
The balanced tones from the Alder tonewood make it excellent for professional recordings
A seriously high-quality instrument without going too far past the $1,000 threshold
Cons
This guitar is much more expensive than budget options due to its tonewoods, so it probably isn't a necessary purchase if you're a beginner
I'm not a fan of the blue finish at all, but you might disagree with me!
Okay, now we are stepping into some impressive guitar territory, and the price tag reflects this – you're going to have to save up around two grand for this beaut of a guitar. Now, I expressed my distaste for the finish of the last recommended guitar, and you might think that this looks pretty similar, but there's something about the Mystic Surf green color that I love. I've never seen this finish on any other guitar, and I'd love to own it someday.
It's not just about the look though – this guitar costs a lot of money due to much attention to detail, such as its rolled fingerboard edges, contoured neck heel, beveled neck plate, and Fender exclusive V-Mod II pickups. All of these additions make this guitar feel and sound incredible to play, and don't worry – it's made out of Alder too!
It's easily the sexiest guitar in Fender's 5-string jazz bass catalog in my opinion, but unless you have a ton of bass guitar experience behind you, this is probably an unnecessarily high-quality purchase!
Pros
A beautiful Mystic Surf Green finish that is rarely seen on other guitars
Includes several unique design details such as rolled fingerboard edges, a contoured neck heel, and a beveled neck plate
Made from Alder, the previously mentioned premium tonewood
Cons
A seriously expensive guitar purchase, not for the faint of heart!
Not everyone will agree with me on the beauty of the green finish
This is my final recommendation, and some of you might be thinking, "wait up, what about us left-handed folk"? Don't worry, I haven't forgotten about you I have saved the most beautiful Fender 5-string jazz bass, especially for you – the Fender Custom Shop 1961 Jazz Bass Heavy Relic Aged Lake Placid Blue Left-Handed guitar. This guitar is an absolute beast, just take a look at its insane bridge and unique finish.
I've honestly never seen a guitar that looks like this, and it would be my honor to even be in the same room as it someday! The tonewoods are also of a next-level quality, being made from 2-piece specially selected Alder, with a tinted quartersawn maple neck, and a flat-laminated AAA Rosewood fingerboard.
It's making me drool just thinking about it, to be honest, so I better burst the bubble and let you know that this guitar costs around $6,000. That's right, it might be an incredible left-handed 5-string jazz bass guitar by Fender, but you're going to need to sell at least one limb to afford it!
Pros
Incredible tonewoods, featuring a 2-piece select Alder body, a tinted quartersawn maple neck, and a flat-laminated AAA Rosewood Fingerboard
A highly unique bridge and stand-out finish
A true one-of-a-kind, it's not likely you'll come across this guitar in the wild!
Cons
Due to its immense quality, the price tag is enormous making this beautiful guitar unaffordable for most
FAQ
Before I leave you on your journey to finding the best Fender 5-string jazz bass for you, let's take a quick moment to get any final questions answered. I won't be covering anything new here, but it's just nice to finish up with a summary after information overload!
Question: What's the Difference between Standard Bass Guitars and 5-string Jazz Bass Guitars?
Answer: Whilst the obvious difference between 5-string jazz bass guitars from standard basses is that they have five strings, they also feature a more narrow nut and a thinner neck to make the instrument more comfortable for double bass players.
Question: Are Fender 5-String Jazz Bass Guitars High Quality?
Answer: Absolutely – Fender is highly reputable for producing excellent guitars, regardless of if you choose a lower-quality budget option
Question: Is There a Left-Handed Fender 5-String Jazz Bass?
Answer: Yes, Fender has got you covered with several left-handed 5-string jazz bass options.
Final Thoughts
Well, that's about everything I know about Fender 5-string jazz bass guitars! It's a highly niche instrument so it's incredible to see the wide range of guitars that Fender has produced, ranging from budget mid-range guitars to ridiculously fancy $6,000 guitars.
The whole catalog is full of impressive guitars, but my personal favorites are the Fender Classic Vibe '70s Jazz Bass V for beginners or bassists on a budget, and the Fender American Professional II Jazz Bass V Mystic Surf Green for a super high-quality lifetime guitar.
I wish you all the best on your journey, and always remember to test guitars out in shops such as Guitar Center, do your research, and read those reviews! There's no better way to ensure you're choosing the right guitar than to gain first-hand and second-hand experience with every model. Good luck!
Latest posts by Calum Vaughan
(see all)