When I picked up the guitar for the first time as a teenager, I was extremely keen on mastering the instrument as much as possible, so that I could play songs by Metallica, AC/DC, and Guns n' Roses, which were my favorite bands at that time.
However, just a few months later, I stumbled upon a few blues guitarists, such as BB King, Muddy Waters, and Stevie Ray Vaughan.
My jaw dropped to the floor when I heard Stevie for the first time. I had never seen or heard someone making a Stratocaster scream and wail as he did, and at that point, I knew that I had just discovered my new passion, the blues. Fast forward to about 13 years later, and I am still mindblown by Stevie's legendary playing and sound.
In this Stevie Ray Vaughan Amp Settings Guide, I will show you my approach to getting closer to his legendary tone. While the settings on your amplifier alone are not enough to nail it, they are certainly not to be overlooked.
Bottom Line Up Front
Even though Stevie Ray Vaughan's career was relatively short due to his tragic death, he is still considered to be one of the most influential blues artists ever. Countless guitarists have picked up the guitar because of him and tried to copy his signature sound. Stevie's guitar tone was heavy and powerful but rarely sounded extremely distorted.
His lead sound cut easily through the mix without being shrill, and his clean tones were warm, round, and full. In this Stevie Ray Vaughan's Amp Settings Guide, you'll learn how to get closer to this legendary tone by using new tools or by making the most out of the ones you've got already.
Stevie Ray Vaughan's Amplifier Settings
When you're setting up your amplifier with a Stevie Ray Vaughan tone in mind, you need to think whether you're going for a clean or an overdriven tone. If you are getting your drive from a pedal such as an Ibanez TS-9, you can also set your amp's gain differently.
Let's go over what would be a good starting point. I got to these settings while experimenting with an American Fender Stratocaster, always on the neck pickup, plugged into a Fender '68 Custom Pro Reverb through an Ibanez TS-9.
Bass: 5
Middle: 6
Treble: 7
Reverb: 3
Volume: 4.5
These were the settings on the Ibanez TS-9:
The Fender Pro Reverb starts to compress slightly with the volume knob at nearly half, especially when you start to dig in on the guitar. When I engage the TS-9, I can get a great lead sound, and lowering the volume on the guitar allows me to get a softer rhythm tone.
This kind of setup is excellent because it gives you a lot of control over your sound by adjusting your picking dynamics and the guitar's volume knob, eliminating the need for a complex setup with an amplifier footswitch to switch channels or multiple overdrive/boost pedals.
If your amp has a clean and a dirty channel, you can experiment with the Tubescreamer on both. The mid-heavy EQ curve of this pedal works really well with a Stratocaster-style guitar and an amplifier that is already starting to break up into natural overdrive.
Tone: Overview & Properties to Take Into Account
Every guitarist loves to talk about tone, exploring their equipment to see what kind of sounds they can get out of their gear.
To do this properly, it is extremely important to know what makes a pleasing guitar sound, what to analyze in other players' tones, and what changes or adaptations can you employ to get as close as possible to nailing it.
In general, an electric guitar's tone is affected by a variety of factors, such as:
Electric Guitar Type – Solid body, Semi-hollow Body, Hollow Body
Pickup Configuration – Single-coils, Humbuckers, P90's
Amplifier – Solid State, Tube, Plugin/Amp Emulator
Amp Settings – Volume, Gain, Bass, Mids, Treble, Presence
Effect Pedals – Overdrive, Distortion, Modulation, Time-based Effects
The fact that the combinations are limitless can be a bit overwhelming, but that isn't something that should you off the quest of nailing your guitar hero's tone. I've been chasing sounds since I picked up the guitar and it has been extremely fun and rewarding.
Not only it is satisfying when you find something that gets you closer to what you want, it ultimately makes you a better musician in general, as you will be better at crafting tones for guitars, and even other instruments in a music production context.
Last but not least, let's not forget the biggest part of what makes a great guitar tone – the player! Stevie managed to sound "like himself" even when he was playing on something other than his typical setup.
The technique, expression, dynamics, picking style, and many other aspects of one's playing ultimately make the most difference in how you sound, so make sure you keep your eyes and ears open when checking out Stevie Ray Vaughan's records and live performances!
Stevie Ray Vaughan's Guitar Amplifiers
Stevie Ray Vaughan played an immense variety of amps throughout his career, both live and in the studio.
The vast majority were Fender amps manufactured between the '60s and the '70s, such as the Vibroverb, Twin Reverb, and Super Reverb. All of these are loud amps that have considerably more headroom than smaller models such as the Deluxe Reverb or the Princeton.
Stevie also used other amplifiers, such as a 1959 Fender Bassman (the amplifier that inspired the Marshall JTM45), a 150W Dumble Steel String Singer, and a Marshall Town & Country combo.
In the studio, he used a collection of over 30 amplifiers that could be used simultaneously in virtually endless combinations. Even if you decide to stick between 2 or 3 amps, you can still configure them to sound drastically different depending on their volumes, settings, and added effects.
Let's take a closer look at some of his most frequent amp choices.
Fender Vibroverb
Stevie used Fender Vibroverb amps quite frequently during his career. He reportedly used a pair of 1964 Vibroverbs during the "Texas Flood" era. These blackface amps were the first Fender models to incorporate reverb and tremolo.
At 40W of power, it could move some air, while still having just enough headroom to allow for compression and overdrive when cranked and pushed by an Ibanez Tubescreamer, Stevie's go-to OD pedal.
Stevie's amp tech, César Diaz, says that although these amps originally came with a single 15″ JBL speaker, he swapped them out for a 15″ ElectroVoice speaker. He also replaced other components such as input resistors, tubes, and capacitors.
Fender Twin Reverb
While this was not his most frequent choice, Stevie also used Fender Twin Reverbs from time to time, such as in his 1985 Japan tour, or later in 1987 when he used them as a replacement for his usual Vibroverbs.
The Fender Twin Reverb is a 100W, 2×12 amp known for being extremely loud, heavy, and for having a lot of headroom, meaning that you can play them at significantly high volumes without causing the sound to "break up", which is when the amp starts to produce overdrive and compression naturally.
Fender Super Reverb
The Fender Super Reverb was also a part of Stevie's arsenal of amps. This is a 40W combo that features four 10″ speakers, which give it a punchier sound. He mostly used them for his clean tone, but later in his career, he started using them for overdrive instead of the Vibroverbs.
Since the Vibroverb is not manufactured anymore, a Super Reverb Reissue model is certainly an amazing choice if you want to get closer to Stevie's sounds, both clean and overdriven. Pair it with a Stratocaster and a Tubescreamer-type pedal, and you're guaranteed to be in that ballpark!
Modern-Day Alternatives to Stevie's Amps
Getting your hands on an original Fender Vibroverb today is going to be difficult and expensive. The vintage market can also be tricky to navigate, so here are a couple of amp suggestions that would be good choices for nailing an SRV-inspired tone.
Fender '68 Custom Deluxe Reverb
The '68 Custom Deluxe Reverb is a superb amp choice in general. Countless artists have relied on the Deluxe Reverb in the studio and on the stage for an excellent clean tone and lush reverb. Turning it up reveals its true voice and a sweet overdrive that pedals have been trying to replicate for years.
It has two separate circuits, "Custom" and "Vintage". I tend to use the Vintage channel more often as it is less bassy, but if I'm playing a Stratocaster and I can turn the amp up loud, the Custom channel sounds marvelous.
Sweetwater Music – Fender '68 Custom Deluxe Reverb 1×12″ 22-watt Tube Combo Amp
Fender Blues Junior Lacquered Tweed
Out of the cheaper tube amps by Fender, the Blues Junior is by far my favorite. It has a great balance of power, weight, affordability, and overall tone. This version's reverb is also far superior in comparison to the standard Blues Junior.
If you can play it loud enough so that it starts to break up, it has a great sound to pair with a Stratocaster and the "FAT" switch on the amplifier, which beefs up your tone and bumps the mid frequencies.
Sweetwater Music – Fender Blues Junior 1×12″ 15-watt Tube Combo Amp – Lacquered Tweed
Stevie Ray Vaughan's Guitars and Effect Pedals: The Guitars
Stevie Ray Vaughan owned a lot of guitars, as you can imagine. Among a few Telecasters, Les Pauls, and other body types, he was undoubtedly a huge Fender Stratocaster fan. When you search for a live performance, you're almost certain to see him playing one of his favorite Stratocasters.
One thing worth mentioning about Stevie's guitars was their strings. He was notoriously famous for using heavy strings. Most guitarists don't play .013 gauge strings, and if they did, they'd have a hard time bending and using vibrato.
He also tuned his guitars to Eb (a semitone lower than standard tuning), which helps compensate for the high string tension.
If you're very keen on getting closer to Stevie's sound, I'd advise you to start experimenting with a lower tuning and slightly heavier strings than the ones you're using now.
Taking your guitar to a luthier or a technician to set it up for a lower tuning and heavier strings is also a great idea, as that will ensure there are no intonation issues, and that you will still be able to use your tremolo arm properly (if you're playing a Stratocaster).
Let's take a look at some of his most famous instruments.
1962/63 Fender Stratocaster "Number One"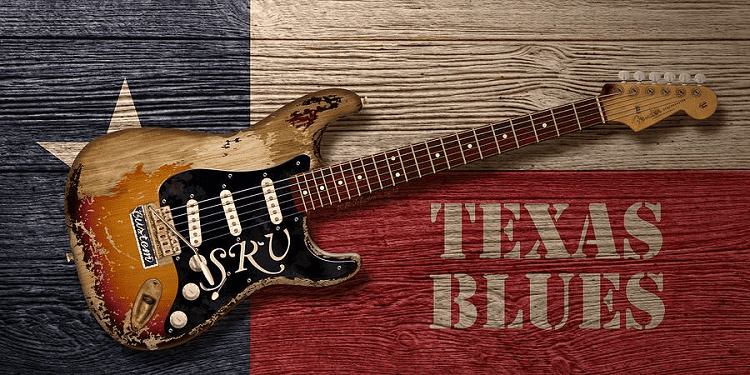 The "Number One" was Stevie's favorite guitar and the one that people identify best. Seeing and hearing this guitar in action as a teenager led to some serious jaw-dropping moments for me, and I couldn't ever mention my love for Stratocasters without this one popping into my head.
Stevie used this guitar extensively during his career, and it suffered quite a few changes throughout that time, such as a neck replacement, new tuner pegs, and a customized pickguard, among other parts.
1963 Fender Stratocaster "Lenny"
"Lenny" appeared in Stevie's life through his wife, Lenora. He had originally seen it at a pawn shop, but he couldn't afford it at the time. She surprised him by getting some of his friends to chip in, and they managed to pool together enough money to give that guitar to him at a nightclub where he frequently played.
You can hear this beautiful guitar on tracks such as "Riviera Paradise" and, obviously, "Lenny".
1961 Fender Stratocaster "Scotch"
"Scotch" was one of the last guitars acquired by Stevie, and he used it for the last 5 years of his career.
It was meant to be given away as a prize at one of his shows, but it turns out he liked it so much that he decided to keep it for himself, and he gave away a different guitar.
This butterscotch Stratocaster also had its pickguard replaced by a custom one made by Rene Martinez, with Stevie's initials on it.
You can see it on the cover of the "Live Alive" album, and on live renditions of songs like "Superstition" and "Leave My Girl Alone".
Modern-Day Alternatives to Stevie's Guitars
Buying an original Fender Stratocaster from the '60s isn't possible for most of us due to their ludicrous prices. However, this does not mean that you can't get amazing guitars without diving into the vintage market. Here are a couple of my favorites:
Fender Stevie Ray Vaughan Signature Stratocaster
I guess this goes without saying, but Stevie's signature model is one of the most spot-on guitars you can find for an SRV tone.
Aside from having the looks down to every small detail, including his initials imprinted on the pickguard, it has a set of Texas Special single-coils that will get you closer to his sound.
The biggest downside is the price since you could easily buy two quality Stratocasters for the price of this one.
Sweetwater Music – Fender Stevie Ray Vaughan Stratocaster – 3-Tone Sunburst
Fender Vintera '50s Stratocaster Modified
This is a more affordable option than the SRV signature (about half the price) that still gets you classic Stratocaster tones and flexibility to pursue other sounds and genres that aren't inspired directly by Stevie Ray Vaughan.
This model comes equipped with a set of Tim Shaw-designed Hot '56 pickups, an Alder body, maple neck and fingerboard, and other modern tweaks that don't take away from the guitar's vintage vibe and feel.
Sweetwater Music – Fender Vintera '50s Stratocaster Modified – 2-color Sunburst
The Effect Pedals
Stevie was by no means a gearhead when it came to effect pedals. Rather than using an enormous pedalboard with a complex wiring setup, he used a couple of pedals that you can still find today for a reasonable price.
The most important piece of the puzzle is definitely a Tubescreamer. You don't need to specifically use the Ibanez TS808 (the one Stevie used the most), since other models like the TS-9, Mini Tubescreamer, or even alternatives from other brands such as the Maxon OD9 or the JHS Clover will do the job just right.
Apart from this, I'd really only worry about having a decent wah pedal, and maybe a reverb pedal if your amplifier does not have it already. Stevie did not need pedals for this since his amps always had onboard spring reverb (most Fender amplifiers have it).
Let's take a closer look at these pedals:
Ibanez TS808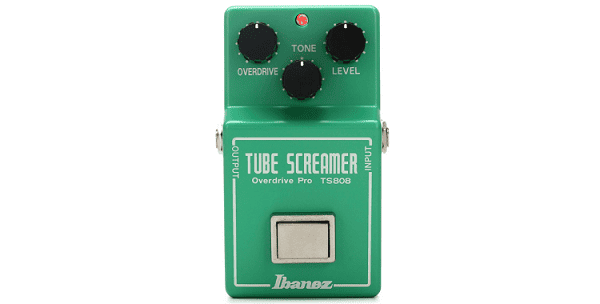 A Fender Stratocaster, a Fender tube amplifier, and a Tubescreamer are a match made in heaven. Fender amps tend to have fewer mids than others, and the Tubescreamer has a significant mid hump, meaning that it will boost these frequencies.
This opens up the sound, makes it sound bolder, stronger, and makes it cut through the mix much better.
Stevie also used this pedal in a very particular way: instead of increasing the Gain to produce overdrive, he'd have it very low, and he set the Level close to max.
Setting up a Tubescreamer like this makes it push the front end of your amplifier extremely hard, causing it to compress and overdrive. This sound tends to be much more natural and organic than when you obtain your overdrive by cranking the Gain knob on the pedal.
Sweetwater Music – Ibanez TS808 Original Tube Screamer Overdrive Pedal
VOX V846 Wah
Stevie didn't abuse the wah pedal a lot (yes, looking at you, Kirk Hammet), but you can hear him using it on songs such as "Voodoo Child (Slight Return)", "Say What!" or "Telephone Song".
As far as wah pedals go, you have a lot of affordable choices available nowadays, such as the VOX V845, V847A, or models from other brands such as the Dunlop Crybaby GCB95.
The current version of the VOX V846 is a bit pricier, but if it fits within your budget, it can be a great choice.
Sweetwater Music – VOX V845 Wah Pedal
Sweetwater Music – VOX V846-HW Handwired Wah Pedal
Reverb Pedal Suggestion
Even though Stevie Ray Vaughan did not use a reverb pedal (his amplifiers already had onboard reverb), here are a couple of suggestions that will help you get a bit closer to his sound, in case your amplifier does not have reverb.
TC Electronic Hall of Fame
The TC Electronic Hall of Fame is an affordable and complete reverb pedal. There are different versions, so you can choose the one that adapts the most to your needs and budget.
The ideal setting would be Spring since that is what Stevie used live, but the Plate reverb can also be very useful.
Sweetwater Music – TC Electronic Hall of Fame 2 Reverb Pedal
Strymon Flint
I have owned the Strymon BigSky (Strymon's flagship reverb pedal), and I ended up selling it to buy a Flint instead. I do not need very elaborate reverb patches, and the Flint has great Spring, Plate, and Hall algorithms.
I tend to stick to the Plate because my main amps have real spring reverb, but if I'm playing a rental amp, I know that I will always have quality reverb, independently of the patch I decided to use.
Oh, and you also get 3 amazing Tremolo algorithms to use, even though most of the musicians I know have bought this pedal just for the reverb.
Strymon also makes the "BlueSky", a smaller version of the BigSky.
Sweetwater Music – Strymon Flint Tremolo and Reverb Pedal V2
Danelectro Spring King
If you're a die-hard fan of real spring reverb, you don't need to look any further. Instead of having an advanced algorithm to mimic the sound and behavior of the spring reverb we all love, the Danelectro Spring King features a real spring reverb tank inside. It does not get more authentic than this!
It is obviously a bit more fragile than the alternatives mentioned before, and it is also significantly larger, but it is worth it for those who are looking for the most legit sound possible.
Sweetwater Music – Danelectro Spring King Reverb Pedal
FAQs
Question: What Guitar Amplifiers did Stevie Ray Vaughan Use?
Answer: SRV used a wide variety of guitar amps throughout his career, but some of his most notable choices are the following: Fender Vibroverb, Fender Super Reverb, Fender Twin Reverb, Dumble Steel String Singer, Marshall 4140 Club & Country, Fender Bassman, and the Marshall 1967 Major Lead.
Question: What Amp Settings should I Use to Sound Closer to Stevie Ray Vaughan?
Answer: The ideal amp settings for a Stevie Ray Vaughan tone depend largely on the amplifier itself, the guitar you're playing, and whether you're going straight into the amp or through any overdrive pedals such as a Tubescreamer.
A good starting point for an SRV-style tone would be Bass: 5; Middle: 6; Treble: 7; Reverb: 3. Some amplifiers don't have a Gain knob, so you should try to play it at a volume that makes it slightly compress and break up when you play harder.
Question: What Effect Pedals did Stevie Ray Vaughan Use?
Answer: Stevie Ray Vaughan did not use a lot of effect pedals. He mainly used an Ibanez Tubescreamer (TS-9, TS-808, or TS-10) to push the front end of his amplifiers into overdrive. He used a VOX V846 when he needed a wah (occasionally the Dunlop Crybaby), and sometimes used a Dunlop Fuzzface for fuzz.
Closing Considerations about Stevie Ray Vaughan's Amp Settings
As you can surely tell by now, amp settings alone aren't going to magically have your rig sounding like Stevie's, but they can definitely push you in the right direction.
It is important to know your equipment as much as possible to figure out what changes will have the desired effect. My rule of thumb is to always decrease what you have in excess instead of boosting certain frequencies straight away.
A Stratocaster or a similar guitar paired with a Tubescreamer, heavy strings, and a Fender-style amp with just a touch of reverb is a great starting point. Try to listen to Stevie's playing with as much attention to detail as possible to get closer to his style of playing, picking softer or harder depending on the song and tone you're going for!
Latest posts by Gustavo Pereira
(see all)