Purchasing a new guitar is an incredibly exciting experience – by the end of the process, you'll be practicing or even performing on a gorgeous new instrument, immersing yourself in the sweet tones that it produces.
From choosing the strings and the pickups to the guitar strap and fretboard, there are a ton of different ways to customize your choice and I love it.
However, perhaps the most important aspect of guitar customization is the woods used to build it – wood takes on many different properties in guitars, influencing the tones of the instrument's output, its weight, and its appearance.
Recently, I have been fascinated by guitars made out of lacewood, a tonewood that isn't particularly popular. Why this is, I have no idea, because it sounds and looks amazing.
Never heard of it? Not many people have, and that's exactly why I'm writing this. I want to spread the word about lacewood guitars, so read on to find out more about the history of lacewood guitars, what they sound like, and what you should consider when purchasing one!
Bottom Line Up Front: Lacewood is a fantastic tonewood for both acoustic and electric guitars, originally sourced decades ago from Australian and Brazilian trees.
Whilst the Brazilian alternative is used by many acoustic guitar luthiers, the Australian equivalent is far more popular, and even boasts a use in the form of a famous limited edition ESP M-II Hardtail Lacewood electric guitar!
The History of Lacewood Guitars
Choosing the best tonewood for a guitar is a controversial topic, mainly due to the subjectivity of the matter. Some people love the sounds of maple, some prefer spruce, some like mahogany, and many people like to torrefy these woods to produce a vintage sound.
However, lacewood rarely appears on these lists of popular tonewoods – it's relatively unknown.
The first time I (and many other people) heard about lacewood guitars was because of a man called John Greven. John Greven is a guitar luthier specializing in building acoustic guitars, and he has been doing so for over 60 years.
Across six decades, this man has experimented with many different types of tonewood, but in recent years it appears that it has been his mission to spread the word about lacewood guitars.
So, when did people first start making guitars out of lacewood? This is very difficult to say due to there being two different types of the tonewood. Firstly, you've got Brazilian lacewood, originating in the tropical South American country of Brazil.
It's sourced from two different trees, the Roupala Brasiliensis and the Roupala Montana, and has been used to produce the sides and backs of guitars as well as Flamenco boxes for decades. Its grain looks rather similar to reptile skins, appearing as ovals or small rounded marks, and its color varies from dark pink to reddish brown.
On the other hand, you've got Australian Lacewood – as the name suggests, this tonewood originates from trees in Australia, specifically the Cardwellia Sublimis.
However, it's commonly known as Silky Wood, due to its silky looks. Historically, this wood was originally used for architectural panels, doors, cabinetry, and even aircraft and yacht interiors, only being used as a tonewood for the last few decades.
It's got a similar pink-brown color to the previously mentioned Brazilian lacewood, although it has a more of a silver shine to it. The marks are still somewhat circular and lace-like, although they are flakier and have a more coarse texture.
It's difficult to say exactly when people first started producing guitars out of lacewood, especially considering that there are two main types of it. However, one thing is for sure – legendary luthiers such as John Greven put the tonewood on the map.
This luthier amongst others has put a particular emphasis on the benefits of Australian lacewood, as opposed to Brazilian tonewood. You can check it out online for yourself – google "Australian Lacewood", and John's name almost always appears!
Brazilian Lacewood Vs Australian Lacewood – How do they Sound?
Earlier, I provided some brief descriptions of Brazilian and Australian lacewood – they both get their name due to appearing similar to laced materials, often comparable to the scaley textures found on reptiles.
There's no denying that these woods look unique and many might say incredible, but how do they sound? It's a very important question because tone should always come first, with appearance coming second. They wouldn't be called tonewoods otherwise!
This is precisely why, as I mentioned earlier, John Greven amongst other luthiers has shown a particular fondness for Australian lacewood.
Both kinds of wood look fantastic, with Brazilian lacewood being particularly well known for being used as ornamental and decorative wood, and some luthiers online claim that any form of lacewood is worth trying as a tonewood. However, there is no denying that Australian lacewood prevails when it comes to tone.
So, why are all these people so excited about Australian lacewood, 'Ozzy' lacewood, or 'silky oak'? Well, it all comes down to its stiff yet light properties, described by John Greven as similar to mahogany.
Due to these properties, Greven claims that this tonewood is outstanding in its ability to sound like it has been aged for decades, producing a tonal envelope that sounds vintage regardless of the top material or the body size.
This is a huge statement – many luthiers spend decades aging woods in different ways, from drying them as slowly as possible to torrefying them to remove oils, natural compounds, and vapor.
Processes such as these are fantastic at emulating the natural aging process of woods and ultimately produce finer, richer, and rounder tonal profiles. However, John Greven is essentially claiming that with Australian lacewood, there's no need to wait around.
I've heard this tonewood described as punchy, articulate, woody, 'pre-war', vintage, neutral, and voluminous. That's one heck of a portfolio of descriptions, so I don't blame you if you want to give it a go.
Other people claim that other lacewood such as the Brazilian variety shares Silky Oak's neutral and voluminous characteristics, but the Ozzy variety pops up way more frequently, and when master luthiers like Greven are singing it's praise, it's certainly the tonewood that I would stick with.
My Top Guidelines for Building or Buying a Lacewood Guitar
So, now that we have taken a look at exactly where lacewood guitars originated and why they are so darn popular, you might be itching to try one out.
Not so fast – it's going to be important that you familiarize yourself with a few important details before you jump into this buying a lacewood guitar. Whether you're planning to build it yourself or purchase a prebuilt guitar, read on to find out my top guidelines for lacewood guitars.
Research the Luthier
If you're considering purchasing your own lacewood and building your own guitar, you can go ahead and skip this section, as it's a guideline for purchasing pre-built lacewood guitars. However, if you're looking to add a new guitar to your basket, read on.
Lacewood, much like any other tonewood, is a delicate material that has to be treated with respect and care. Whilst many people claim that this tonewood has excellent workability and malleability when it comes to advanced techniques such as steam bending, it's still a highly advanced process to mold any type of wood into a guitar body or top.
For this reason, it's essential that you only purchase a guitar bade from lacewood that knows what they are doing.
It's a pretty rare tonewood, so luthiers that use it are going to be few and far between. Sure, you have experts such as John Greven and a variety of other masters who you can rely on, but you will also inevitably have amateur luthiers who are trying out the wood for the first time.
Any decent luthier would experiment with a new tonewood first and then consider selling a guitar. However, not everyone has such a moral compass, and they may be simply looking to make a quick buck.
For this reason, you should always research the luthier who has built a particular lacewood guitar. It's rare tonewood, and therefore it's unlikely that you will be able to rely on popular brands that you know that you can trust.
Find a professional luthier who knows what they are doing with lacewood, do some research to double-check, and only then should you consider reaching out to them for a purchase.
Choose the Right Density
Okay, now let's talk about something that only needs to be considered by all the aspiring luthiers out there – density. This time, if you're not interested in building your guitar, you can skip this section. However, if you're looking into making your guitar, this is something that you will need to research.
Density is something that should always be considered when crafting a guitar from a tonewood, especially a rare one. Purchasing a well-known tonewood from a well-known brand generally won't yield this problem as woods such as spruce, mahogany, or timber will always be sold in a density that works for guitars.
However, lacewood is both rare (and thus less documented) and unique in its variety of densities.
Why is this? Well, it's actually due to how large Australia is as a country. As you may know, it's massive, and as a result of this, it spans a variety of timezones – just like the U.S. Believe it or not, research has shown that Australian lacewood varies in density depending on its timezone.
It can range from as light as 550kg per cubic meter up to 580kg, and this will make an enormous difference in terms of its tonal qualities. Lighter density forms will sound more crisp and light, whereas heavier alternatives will sound more bass-heavy and woody.
You will want to choose your density carefully based on the tonal profile that you are seeking out.
Luckily, tonewood marketplaces will almost always list the wood density or at least the weight of the amount you are purchasing, so it's easy to determine this.
However, if you come across a company selling Australian lacewood and there is no information regarding the density, I would reach out and ask them for yourself. If they respond with a useless "I don't know", then that's a company that you should avoid, simple.
Always Choose Australian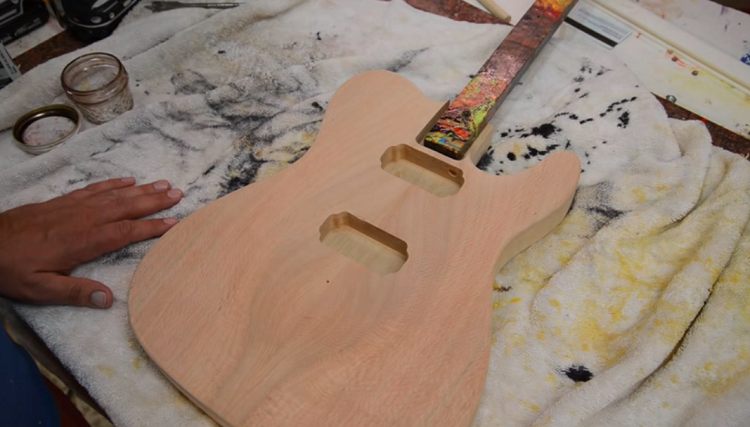 The next guideline can apply to anyone looking to purchase or build a guitar out of lacewood – always choose Australian lacewood. As I mentioned earlier, many luthiers and tonewood fanatics have claimed that all lacewood can be marvelous candidates for the crafting of unique guitars with fantastic tonal profiles.
However, do a little research online, and you will quickly see that within lacewood discussions on forums, luthiers such as John Greven always choose Australian varieties.
The second most common example is Brazilian, and whilst many people claim this tonewood sounds great, it's undeniable that its stand-out feature is its gorgeous aesthetic. Some people might claim that it sounds better and who knows, maybe to their ears that is the case.
However, I would recommend that you always follow the opinion of the experts and go for Australian lacewood. It may be quite rare and hard to get hold of, but it's generally cheaper than other tonewoods and has an excellent history of pleasing only the best luthiers.
Consider the Aesthetic
The final thing that everyone who is considering purchasing or building a lacewood guitar needs to think about is the aesthetic. Now, as I mentioned earlier, the tone should always come before the look of a guitar – that's just fact.
However, there's no denying that a huge part of why we play guitars is because they look and feel amazing. There's nothing better than purchasing a new guitar that not only sounds incredible but looks it too.
However, it's important to realize that not everyone has the same sense of style, and a guitar that I think looks amazing may look tacky to you.
Australian lacewood guitars are a prime example of this – I think they look amazing, and I hope to purchase one in the future to flesh out the uniqueness of my guitar collection. However, I've always known people to find the texture of the wood grain creepy, going far as to say the guitars look gross.
I can't imagine this, but this is why it's important to consider whether lacewood guitars are for you. Sure, they're going to sound great, but do they suit your style? The best way to find out is to head to a shop like Guitar Center or visit a luthier to truly get an idea of what the guitars are going to look like.
My Top 3 Lacewood Product Recommendations
Now that we've covered the history of lacewood guitars, the difference between Australian and Brazilian lacewood, and what you should consider when buying them, it's time to check out some of my top product recommendations.
It's somewhat rare to find lacewood guitars online so I've made sure to include a DIY element to my writing for all the wannabe luthiers out there. I hope that they provide you with some information to get started.
Lichty Guitars Brazilian Tonewood Sets and Guitars
The first lacewood guitar on my list of recommendations comes from Lichty Guitars, and my goodness is this a special set of products. The reason this listing is so unique is that Lichty is a one-of-a-kind luthier that sells both tonewoods as materials for aspiring luthiers, in addition to custom-created guitars.
This means that Lichty sells sets Brazilian lacewood guitar tonewood sets for people to design their guitars or ukeleles from, whilst also offering the option of building the entire guitar for you.
The tonewoods used for these build kits and guitars look simply stunning, but there's one slight problem – it's Brazilian lacewood, not Australian.
As I mentioned earlier, many luthiers claim that any lacewood is worth giving a go, but there's no denying that Australian lacewood is generally the favorite. Regardless, it's a great set of offerings from a fantastic luthier.
Pros
Lichty provides the option of selling the tonewoods sets or building the guitar for you
Stunning Brazilian lacewood aesthetic
Separate products for both acoustic guitars and ukuleles
Every product is created custom from scratch
Cons
It's made from the less desirable Brazilian lacewood, not Australian
Building a guitar takes a while, so don't expect a custom-made guitar too quickly
Ed Roman Australian Lacewood Quicksilver Guitar
The next product on my recommendation list comes from another fantastic luthier, Ed Roman! This Las Vegas luthier is famous for his Quicksilver designs, and these are different from the last recommendation due to being electric.
They're elegant looking, sound amazing, have some beautiful finishing touches, and most importantly they are available in Australian lacewood. The luthier uses this material for book-matched tops or even solid bodies for those who love the tonewood.
Much like the Lichty listing, Ed Roman also offers this tonewood independently for aspiring luthiers to produce. However, it should be noted that he mentions on his website that greater care should be taken when working with this tonewood than normal.
He has received multiple comments that it is prone to crumble due to its figure, which is worth noting. Other than this, these are fantastic guitars and tonewoods that are well worth checking out, especially if you're nearby Las Vegas and can pop over to check them out before purchasing!
Pros
Available as an electric Quicksilver guitar design
Also available as tonewoods for aspiring luthiers
Australian lacewood, not Brazilian
Ed Roman is based in Las Vegas and welcomes visitors who want to see before they buy
Cons
For people interested in buying the tonewood, great care must be taken due to the potential for the wood to crumble
Ed Roman only produces electrics with this material, not acoustics
ESP M-II Hardtail Lacewood
The final guitar on this list is in my opinion the most special guitar I am recommending and also the most viable to buy due to it currently being in stock and available for you to add to your basket. It's the ESP M-II Hardtail Lacewood electric guitar, a limited edition model made with Australian lacewood.
ESP is an electric guitar brand with a fantastic reputation for producing stunning guitars, and this guitar which is limited to 25 pieces is no different.
It's produced by the company's master luthiers in Southern California with a swamp ash body, providing a comfortable playing weight and excellent resonance that wouldn't be found if the guitar was fully made out of lacewood.
It has a satin finish, an extra thin maple neck for increased accessibility, 24 extra-jumbo Jescar FW561110 frets, and even includes a set of Seymour Duncan's high-end Saturday Night Special Humbucker pickups!
This is a truly special guitar and it's crazy that there are still some of these in stock – when I first came across it, I assumed that they'd have all been snapped up in an instant. I'd recommend this more than any other guitar on this list, I simply ask that you kindly don't order the last one as I'm hoping to grab one for myself!
Pros
Produced by ESP, a guitar brand with a stellar reputation
Limited edition to only 25 pieces
Includes an extra thin maple neck, a swamp ash body, and 24 extra-jumbo Jescar frets for a uniquely comfortable playing experience
Seymour Duncan's Saturday Night Special Humbucker pickups are included
Cons
Limited to 25 pieces, so your time to purchase one is limited
FAQs
Well, we're nearing the end of my guide to lacewood guitars and their history, so let's round things off with a quick FAQ. Hopefully, it helps answer any final burning questions that you may have!
Question: What is a Lacewood Guitar?
Answer: Lacewood is a type of wood sourced from either Australian or Brazilian trees, commonly used as a tonewood for guitars that has a unique reptilian scale-like appearance.
Question: Is Australian Lacewood Better than Brazilian Lacewood?
Answer: Whilst all lacewood is considered interesting tonewoods for guitars, Brazilian lacewood is more known for its decorative properties, whereas Australian lacewood is known to be better as a guitar tonewood.
Question: Is Lacewood used for Electric or Acoustic Guitars?
Answer: Both! Whilst lacewood is more commonly used for acoustic guitars, many luthiers have started to find the benefits of lacewood in electric guitars too, even leading to brands such as ESP producing one!
Final Thoughts
I'm sad to say that we have reached the end of this lacewood guitars history guide! I hope that you have learned a lot and that you have enjoyed reading it as much as I enjoyed writing it! Lacewood guitars are truly stunning in both appearance and sound, and they stand out as a highly unique candidate for any guitar collector!
If you can get in there before others do, I would highly recommend snapping up one of the ESP M-II Hardtail Lacewood electrics, there are only 25 in existence and they are truly something special.
However, if you miss out on this opportunity, don't worry because many reputable luthiers are working with the material too. I wish you all the best on your journey, and don't forget to leave one of those ESP M-IIs in inventory if possible, because I want one too!
Latest posts by Calum Vaughan
(see all)