Ever since the heady days of the late 1800's musicians have been playing the ukulele around the world. They've experienced surges and lulls in popularity in the years since but have very much been on the up over the last few years. This has been mainly down to the success of bands who embrace their sound.
Portable and easy to play, ukuleles appeal to a wide range of experienced and beginner musicians alike. But what makes a good one, and what should you look out for when looking to buy a baritone model?
In this feature, we'll be diving into the history of the ukulele, identifying what has made it such a popular instrument, as well as helping you to make an informed choice when looking for yours.
We'll outline five of our favorite models, look at the pros and cons of each, answer some of the most frequently asked questions about the instrument as well as making some recommendations on which ukulele suits which type of buyer.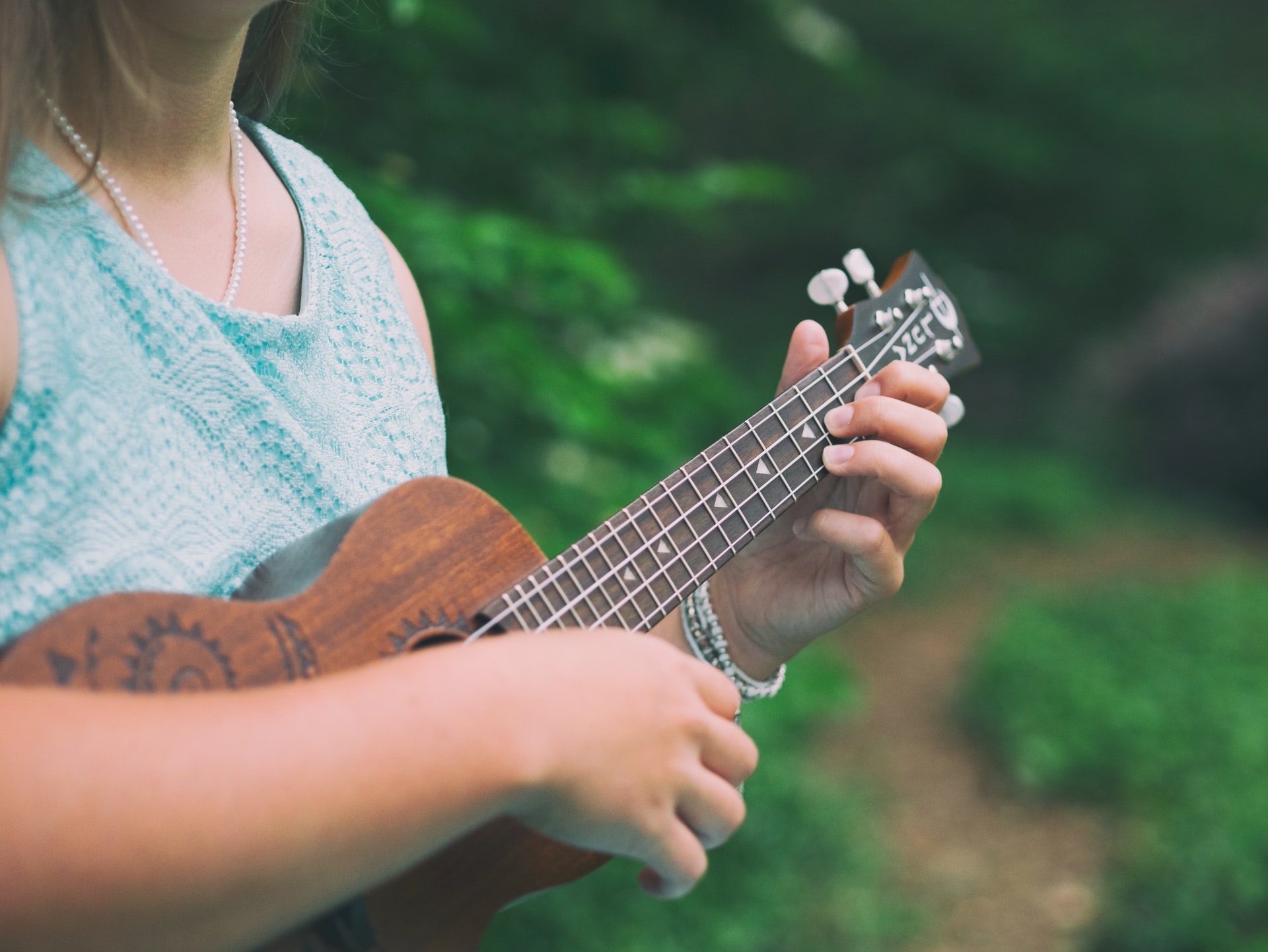 Best for Beginners
Lanikai LU22CGC Concert Ukulele Natural | Amazon
The LU22CGC is just a bit bigger than a soprano ukulele, and smaller than a tenor. This is particularly helpful for performers with larger fingers, and the slightly larger body emits a louder and deeper tone.
Buy at Amazon
We earn a commission if you make a purchase, at no additional cost to you.
What is a Ukulele?
The ukulele is an instrument akin to a miniature guitar. It features the same structure with a hollow body, neck, headstock, and strings. However, the overall size is much smaller, leading to a pretty different sound from that of its older brother.
The instrument itself was born in Hawaii and has a long-running history with western Europe and instantly conjures images of tropical beaches when you hear one played.
Interestingly, native English speakers tend to pronounce it 'you-ka-ley-ley' however, this is wrong as the original Hawaiian pronunciation is much closer to 'ju-ke-lei-li'.
Despite its obvious pacific roots, the instrument also owes a lot of its heritage to Portugal. The cavaquinho and the machete (or braguinha) are two Portuguese instruments that lent much of their design to the original ukuleles. Here we were, thinking they were just miniature acoustic guitars!
The designs and sounds from Portugal made their way over to the island nation in the late 1800s, where they were adapted into the popular instrument we see around the globe today.
What Makes a Good Ukulele?
When getting into the ukulele world for the first time, you need to know precisely when to be on the lookout for. As a beginner, there are a few key elements to focus on when choosing your new instrument.
The first thing to take into account is the materials used in construction. This may seem obvious, but as with any instrument, various ukulele models are available that all use different construction materials. Some will be more suited to beginners and those on a budget as they may feature a cheaper construction.
Then at the other end of the scale, you have your premium models that are usually aimed at more experienced players or just those with a larger budget. These tend to harness a better quality of material and construction techniques.
This variation in production can significantly impact the instrument's tones and is something to take into account.
Aside from the production quality, the manufacturer's skill (or luthier) will also play a significant part in overall quality. Opting for a brand that has a good reputation usually ensures a good standard of product – but don't just go for the most popular. These can often be mass-produced models that, although popular, aren't always particularly good.
A good tonewood is essential and finding one that possesses all of the sonic features needed matters. Ideally, you want a model that uses solid pieces of wood.
One such tonewood to look out for is Koa, although Mahogany and Maple's woods will also be just as good. The cool thing about Koa is that this was the wood that was used to build the original models. Finding a solid top, bottom, and sides uke made from one of the woods mentioned will have you in good shape once you get to actually playing.
5 of the Best Baritone Ukuleles
First up on our list is an offering from the well-known guitar manufacturer, Luna Guitars. It's well priced and well built, featuring a Mahogany body that produces a rich sound and looks beautiful.
The top, side, neck, and back are all constructed using Mahogany and feature a red satin finish that gives this uke a premium feel that is sure to stand out from the crowd but without the premium price tag.
The bridge and fretboard are constructed using another quality wood, Walnut. The Walnut has been darkened to match the rest of the instrument whilst chrome tuners provide a little bit of contrast that we thought worked well.
Away from the look, the tones produced were crisp and clear whilst being perfectly balanced and deep, as you'd expect from any baritone instrument. The tuners and Aquila Super Nylgut strings worked well and held their tune during testing, and the flat, 16-fret board provided a steady and secure base on which to play.
Overall an excellent choice to kick our list off!
Specifications
Fingerboard inlays: pearl triangle
Black neck binding: single-ply
Set neck construction
Strings: Aquila super nyglut
Flat 16-fret fingerboard
Laser-etched rosette
Chrome tuners and hardware
Pros
Affordable
Lovely red satin finish
Rich, deep, and clear sound
Held its tune well
Cons
We thought a few of the frets may just need a little further sanding
Next on the list of our favorite ukuleles is the Makala Classic from Kala. If you're looking to pick up one of these instruments for the first time then this is a great option. The brand Kala carries a lot of pedigree in the ukulele world and this offering from their ever-popular baritone line won't break the bank.
This is a uke that is basic but does the basics very well. Its solid build and Mahogany use for the top and sides mean this entry-level model packs a real punch. Usually, when instruments are offered at these entry-level prices, you'd expect a significant drop-off in sound quality and playability. This simply wasn't the case when we tested the Makala Classic and it may just well beone of the best budget options on our list.
Specifications
Baritone body
Mahogany top, back & sides
Satin finish
Mahogany neck
Walnut fingerboard
Plastic nut & saddle
Standard headstock
Aquila Super Nylgut strings
Pros
Excellent playability
High-quality materials used for construction
Great value for money
Cons
Perfect for beginners but intermediate and advanced players may require more.
Kala KABG Ukulele – Another Offering From the popular brand, This Time Aimed at Mid Level Players
The next uke to feature is another from Kala. The popular brand produces a whole host of products and caters to pretty much every type of player. With the KABG we have a model that is aimed more towards the intermediate player and is therefore priced accordingly.
Its traditional look and feel coupled with a quality mahogany build means the tones you'll be able to produce are crisp, rich, and clear with this baritone model, particularly impressing in the lower scales.
We felt that the satin finish with white trimming was a nice touch and a stand-out feature design-wise and the use of walnut for the fingerboard added to the overall feel and playability. It also has a surprisingly comfortable neck with low action. All in all an excellent option for those looking for a little more than a basic entry-level model.
Specifications
Both the body and interior are made using mahogany wood
Rosewood is used for the bridge and frets
Aquila Nylgut strings
Satin finish
Pros
Perfect for intermediate players
Great sound
Well made with solid materials
Cons
Not the most striking visually
The particular ukulele from Alvarez has been designed and built from the ground up with the beginner player in mind. Despite this, however, we found an instrument that was good quality and lovely to play, all at a very attractive price point.
We once again have a body that is made from a beautiful Mahogany with a quality satin finish. This is a popular look amongst ukes and a sure sign of a good one. Keeping further in line with traditional design, there is no cutaway but does feature some nice detailing around the main soundhole.
The quality and traditional feel extend through the neck, where a combination of more Mahogany and a Rosewood fretboard continues the theme of supreme playability.
The saddle and nut are made from real bone on this instrument which came as something of a surprise as the majority on our list feature plastic ones. On the headstock, you will find chrome closed tuners that seemed to keep in tune well. These both further add to the idea that this uke is yet another that represents great value for money.
Specifications
Baritone body
Mahogany top wood
Traditional Fan bracing
Mahogany back & sides
Satin top finish
20.08-inch scale
Mahogany neck
Rosewood fingerboard & bridge
18 frets
Real Bone nut and saddle
35 mm nut width
Chrome tuner
Aquila Nylgut strings
Pros
Nice additional features such as the bone nut and saddle
Very well made
Good playability
Great looks
Sounds clear and rich
Excellent for beginners and could suit some intermediate players too
Cons
The overall sound wasn't quite as expansive as we would have liked
Lanikai is a company that hails from the original home of the uke, Hawaii. Taking their name from a famous beach on the islands, Lanikai has established an excellent reputation amongst ukulele players around the globe. They pride themselves on using traditional methods and materials and have seen their ukes embraced in many studios and on many stages.
As a company, they are considerably smaller than many of the others who made our list, and maybe that is part of their appeal. They make great instruments at a great price, and they certainly don't feel mass-produced. Musicians have come to rely on their quality products, and the one we tested, the LU22CGC, most definitely didn't disappoint.
The build feels nice and solid, and much like with many of the other instruments on our list, Mahogany is used throughout the body to help generate those classic uke tones.
It's then finished with satin that helps bring out the natural grain of the wood as well as protect against minor bumps and scrapes. Overall we felt it was a classically good-looking instrument, especially given the price.
Sonically the sounds are very warm if a little quieter than others. Overall, though this ukulele represents pretty good value for money, it balances the instrument's looks, sound, and feel very well.
Specifications
4 strings
The mahogany used for the body, top & neck
15-inch scale
14th fret neck joint
Rosewood used for the fretboard
19 total frets
1.735-inch nut width
Rosewood bridge
Tuners are die-cast
Golden hardware
Satin finish
Pros
Great value for money
Lovely sound
Good quality materials used
Authentic branding
Cons
It may be a little quiet for some
Frequently Asked Questions About Baritone Ukuleles
Here we'll answer some of the most frequently asked questions about both baritone and regular ukuleles.
Question: What is the Difference Between A Regular and a Baritone Ukulele?
Answer: The two main differences between these ukes are their size and tuning. Baritone models are larger than their regular (soprano) counterparts. This allows for deeper sounds to be produced and an overall different tone to the instrument.
The second major difference is the tuning. Tenor ukes are tuned gCEA with a high G string, whereas baritones are tuned DGBE with a low D string. Again, these differences allow for different tones to be produced.
Question: Are Baritone Ukuleles Good For Beginners?
Answer: Yes! Baritone models offer a great option for beginners. Due to their slightly larger size, they can often feel more comfortable initially, especially if you have any experience playing a full-sized guitar.
They provide a great entry point into the world of ukuleles and the playing style is easily transferable should you wish to experiment with other models.
Question: Are Baritone ukulele Chords Different?
Answer: Due to their different tuning (DGBE) the chords on a baritone instrument will differ from other ones. This is something to bear in mind when playing and learning but does not make the process any more difficult. On the contrary, baritone ukuleles are great for beginners.
Question: What is the Most Popular Ukulele Size?
Answer: When most people think of a ukulele, they immediately picture a soprano size. This is the second smallest version of the instrument. In ascending order, the different ukulele sizes are; Pineapple, Soprano, concert, tenor, baritone.
Our Final Thoughts – Which is the Best Baritone Ukulele For You?
When choosing which uke from our list will ultimately be the best for you, it's important to factor in two things. First of all, your overall budget. This will determine which instruments you should be looking at more than any other factor. Secondly, your experience level will also play a huge part in determining which uke is best suited to you.
Beginners, intermediate, and more advanced players all look for and need very different things from their instruments. Make sure you don't fall into the trap of buying an instrument based purely on looks and not on your experience level; this can have repercussions on how well you are able to play it.
We recommend that for beginners, you opt for a value option such as the Lanikai LU22 CGC. During testing, we found that this model offered by far the best performance at the best price.
Best for Beginners
Lanikai LU22CGC Concert Ukulele Natural | Amazon
The LU22CGC is just a bit bigger than a soprano ukulele, and smaller than a tenor. This is particularly helpful for performers with larger fingers, and the slightly larger body emits a louder and deeper tone.
Buy at Amazon
We earn a commission if you make a purchase, at no additional cost to you.
The story behind the brand feels authentic, and we loved the idea of not just opting for the popular makes and trying something a little different. One to definitely check out if you're a beginner or just after the best value for money option.
For the slightly more advanced player, we'd highly recommend taking a closer look at the Alvarez RU22B Regent Series. Its overall feel really suited us when testing and the tones produced were a cut above the rest. If you're up for spending a little more (really not too much more) then this is also a great option that offers good value for your hard-earned cash.
Best for Advanced Players